The Loop
O'Hair, Sabbatini move past altercation
PONTE VEDRA BEACH, Fla. -- Rory Sabbatini and Sean O'Hair have put their altercation at the Zurich Classic of New Orleans behind them, having hashed out their differences in a phone conversation early last week. What ramifications come from the well-publicized incident remains to be seen.
O'Hair said Friday after shooting a second-round 71 in the Players that Sabbatini sent him a text on May 3 asking him to call so they could discuss what had occurred between them on the 14th tee at the TPC Louisiana during the second round of the Zurich Classic April 29. The two men got engaged in a profanity-laced argument overheard by spectators. Neither cares to reveal what precipitated their confrontation.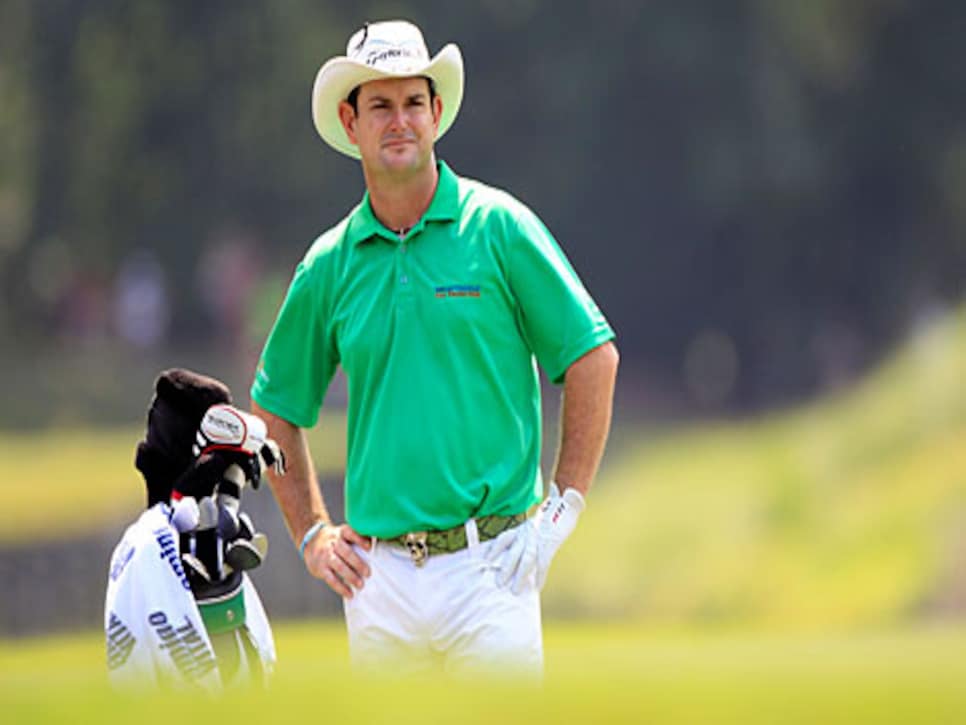 "He texted me to give him a call, and I called him. He apologized. I apologized. Life goes on. Life's too short to hold grudges," said O'Hair, who responded with a quick and emphatic "no," when asked if he thought he deserved to be suspended by the PGA Tour.
"I won't go into details, but I was defending myself, and it wasn't about pace of play," O'Hair said, refuting previous media reports. "Rory and I got into it on the golf course, which is true. I think I could have handled the situation better. I could have waited until after the round. I talked to the PGA Tour. I gave them my side of the story. I'm sure Rory has on his end. I think the Tour is dealing with it the best way they know how."
Said Sabbatini: "We talked and resolved things, because this is work out here, and you don't want there to be any kind of ill feelings or tension between anybody out here."
Because of a second incident that occurred earlier this year at the Northern Trust Open, where allegedly Sabbatini loudly berated a volunteer, the South African native could soon face a tour suspension. Butch Harmon on Sky Sports reported that Sabbatini might be suspended as early as Monday, after which he has two weeks to appeal.
"Oh, man, you guys go for the fishing stories," Sabbatini said after a 71 at TPC Sawgrass left him at 6-under 138, four behind leader David Toms. "I don't know where he (Harmon) gets his information, but he might want to check his sources."
Sabbatini has been one of the loudest critics of the slow pace of play on the PGA Tour, but on Friday, in a bit of rich irony, he was delayed after signing his card to come to the defense of playing partner Jonathan Byrd, who was given a bad time after taking several minutes to hit his second shot from the trees right of the 11th fairway. Sabbatini spent 15 minutes with officials arguing on behalf of Byrd, but it was to no avail.
"The shot he (Byrd) had, if it had been 99 percent of the guys on tour it would have taken them excessive amounts of time," Sabbatini said. "I just felt it was unwarranted that he got a bad time for it."
"I think that Rory is a stand-up guy," Byrd said. "He's said some things that have gotten him into trouble in the past, but most of the time he does a lot of good things, like he did today."
Sabbatini's wife, Amy, said that her husband was looking forward to time off after playing in the next two events in Texas, the Crowne Plaza Invitational at Colonial and the HP Byron Nelson Championship. "It's traditionally the time of year when we get away for a few weeks," she said.
(Photo: Sam Greenwood/Getty Images)