The Loop
Oh, Canada, not again: For 61st straight year, the Canadian Open is won by a foreigner
Golf is not the national sport of Canada, not surprisingly. Hockey gets the nod in winter, lacrosse in summer. They have history on their side.
History is not on the side of golf in Canada, not any longer, as it cruelly reminded the enormous crowd that turned out at Glen Abbey on Sunday, yearning to see whether the game has a benevolent streak after all.
Here's your streak: For the 61st consecutive year, a Canadian did not win the RBC Canadian Open.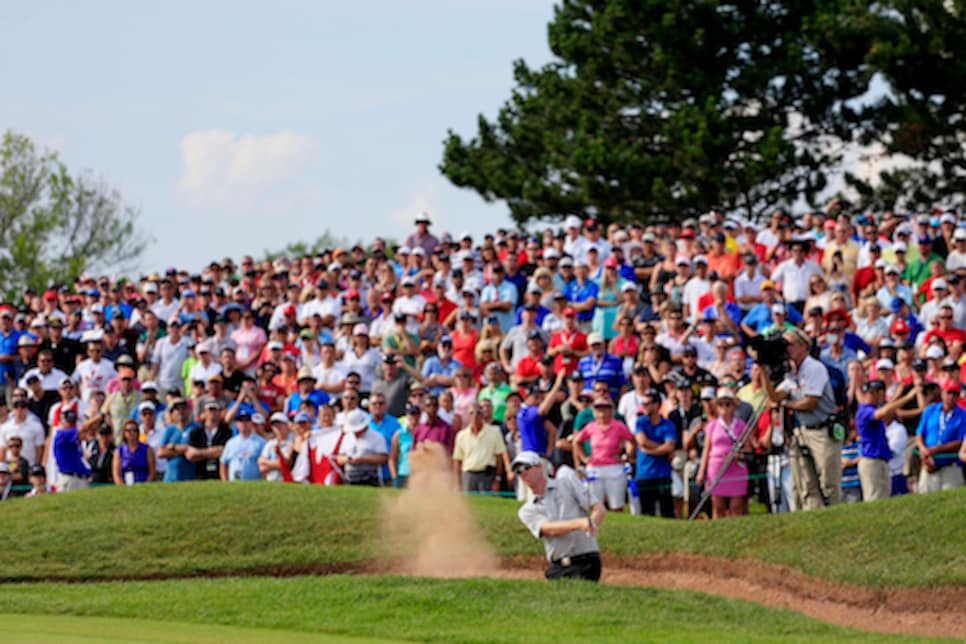 Canada's David Hearn needed to hole bunker shot at 18 to tie Jason Day (Getty Images)
Canadian David Hearn carried a two-stroke advantage into the final round on Sunday and hung around the lead all day, only to watch from the 18th fairway as Jason Day ahead of him holed a birdie putt that sealed a victory.
"I've had a wide range of emotions today," Hearn, who finished third, said. "I can't say enough about how spectacular these fans have been all week. If you talk to any of the Canadians who have been in the situation I was it's not an easy task."
It was only fitting, given how the week unfolded. First, Mike Weir, an Ontario native and highest-ranked Canadian golfer ever (third in the World Ranking for five weeks in 2003), and its most popular, announced he was taking an indefinite leave from the PGA Tour, citing personal reasons.
Then Graham DeLaet, now the highest-ranked Canadian (84th), injured his thumb in the opening round and withdrew on Friday morning.
Let it be said that Canadian golf deserves better. There was a time when its national championship was among the most prestigious tournaments on the calendar, one that unofficially was known as the fifth major. Its winners ranged from Walter Hagen to Tiger Woods, with Palmer, Snead, Nelson, Trevino and Casper winning in between.
History was on its side then. A tournament that began in 1904 has paid its dues, but the modern game doesn't respond in kind. The Canadian Open is stuck on a difficult spot on the schedule, the week after the British Open, precluding most of the game's elite players from entering.
Sponsor RBC has offset that some, by assembling an impressive roster of players to which it has signed endorsement contracts, ensuring it has recognizable names in its field. Among them are Day, Jim Furyk, Matt Kuchar, Luke Donald, Ernie Els, Graham McDowell and Brandt Snedeker.
And Day, 27, potentially is a champion worthy of mention among the Hall of Famers to have won in Canada. It was his fourth victory and second of the year.
Yet a Hearn win would have resonated from Prince Edward Island to Vancouver, and, for one day at least, given lacrosse some competition.