News
Offering a solution to the Vijay Singh/Korn Ferry 'problem'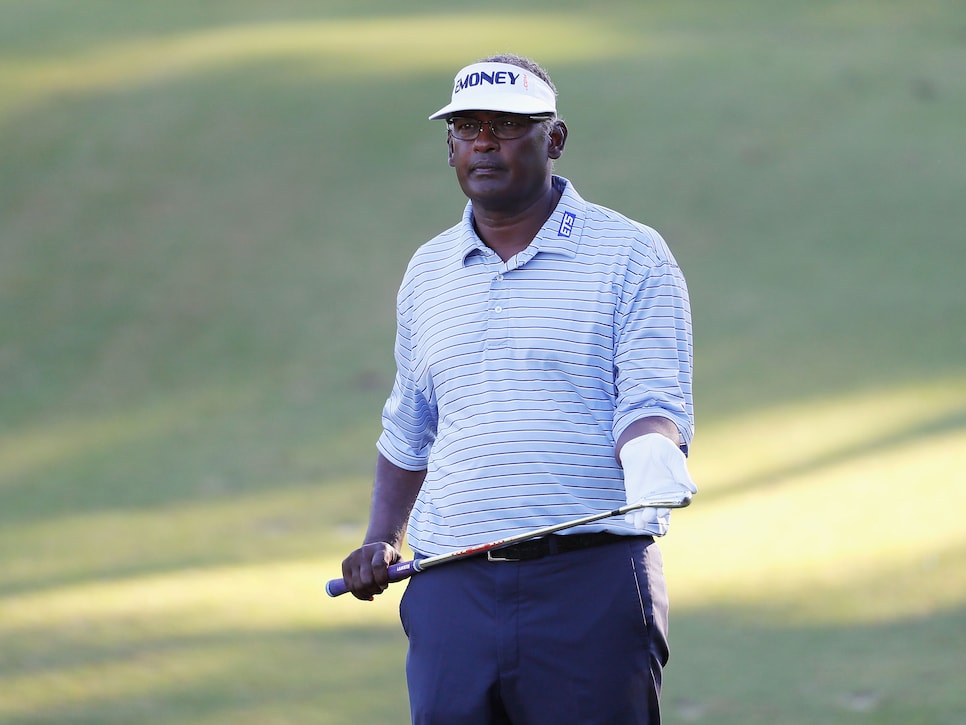 For the past 10 days, Vijay Singh has been battered on all sides for his decision to enter the Korn Ferry Tour event next month at TPC Sawgrass' Dye's Valley course that will kick off the restart of the PGA Tour's developmental circuit, the same week the big tour is scheduled to begin again at Colonial.
As a lifetime PGA Tour member with 34 victories, three of them majors, Singh is entitled to enter any tournament he wishes to—the caveat being that the "lifetime" category is not at the top of the exemptions list. That's why it's a lock he won't get into the PGA Tour's Charles Schwab Challenge and not even a certainty he'll get in at Sawgrass—although tour officials said this week the chances are probably a little better than 2-to-1 that he'll be in the field.
Singh is 57 and plays occasionally on the PGA Tour these days, but more often on PGA Tour Champions—the tour for the 50-and-older set. Because the seniors won't start again until late July at the earliest, Singh apparently decided to play in an event a few miles from where he lives.
Without a doubt, Singh has earned the right to do so, although a lot of people don't see it quite that way. The most emphatic critic of Singh's decision was Korn Ferry Tour player Brady Schnell, who tweeted that Singh was "a piece of trash" and "a turd," adding, "I'll say it to your face." Schnell has since deleted the tweet and apologized. Throw in the fact that Schnell has missed 13 of his last 14 cuts and is ranked 913th in the world, and it isn't likely he and Singh will cross paths anytime soon.
But Schnell's not, by any stretch, the only person critical of Singh's decision to enter the tournament. Let's also be clear on this: If there was actual golf going on right now, this wouldn't be nearly as big a story.
But there's not, so it's getting a lot of play. Plus, it's Singh, one of the most polarizing players in golf history. Let's be honest, if Davis Love III, who is in the same lifetime member category as Singh, had chosen to make the one-hour drive from Sea Island, Ga., to play, no one would have been critical of his decision to "take a spot" from a struggling player in the field.
Why? Because Love is as popular as anyone who has ever played on the PGA Tour.
Not so Singh, who has long battled with the media, often refusing to speak to them at tournaments. A number of writers have pointed out that Singh hasn't made a cut in six starts on the PGA Tour since he finished sixth at the Honda Classic last year. I would point out that many in the Korn Ferry field have NEVER finished sixth in a PGA Tour event.
One might think that all golfers, whether they like Singh or not, would admit to having great respect for his record and his legendary work ethic. Except there are still some—I know this firsthand—who will bring up his controversial banishment from the Asian Tour in 1985 after he was accused of altering a scorecard to make a cut when his exempt status was in doubt.
The incident was 35 years ago. Singh had to go back to giving golf lessons for $4 an hour afterward and eventually turned himself into one of the great players of his generation. Players will give him credit for that, but often grudgingly.
Singh further angered his peers in 2013 when he sued the tour after it had spent 12 weeks investigating his admission to using deer-antler spray, which had once been a banned substance. The tour dropped the investigation because the spray had been removed from the World Anti-Doping Agency's banned list and because it found Singh hadn't intentionally violated any rules. Singh sued for "public humiliation," and many of his peers felt he had betrayed them. "I feel as if he's suing me and all the other guys out here," Brandt Snedeker—who had always gotten along with Singh—said at the time.
Five years later, the suit was settled out of court.
That's a long list of reasons Singh won't be named a Presidents Cup captain anytime soon, even though his record seemingly would have already made him an automatic choice.
Not surprisingly, Singh had no interest in discussing the issue when I contacted his agent, Irek Myskow. "This is simple," Myskow said. "Vijay is fit like a 30-year-old and hasn't played since March. He lives around the corner and considers the golf courses home. Vijay is about the game of golf and wants to play, play, play."

Singh's 34 PGA Tour wins, three major wins (1998 PGA, 2000 Masters, 2004 PGA) and his World Golf Hall of Fame status should give him the privledge of playing in a Korn Ferry Tour event regardless of the circumstances.
That's certainly been true since Singh first arrived on the PGA Tour almost 30 years ago. The most intriguing defense of Singh, though, came not from someone paid to speak on his behalf, but from Phil Mickelson, a longtime antagonist.
"It's no secret that Vijay and I aren't close," Mickelson said in a recent tweet. "But I'd like to say on his behalf that in addition to being a member of the HOF [Hall of Fame], he's a big part of the PGA Tour's success, which subsidizes and always has, the KFT. He has earned the right to play where and when he wants."
There is some irony here. In 2003, when Annika Sorenstam accepted a sponsor's exemption to play a PGA Tour event at Colonial, Singh was one of the more outspoken opponents of her presence in the field, saying it was unfair that she take a spot away from a player who could have used that exemption to get into the field.
All of that said—on both sides of the argument—the Tour could resolve the issue and make everyone happy by expanding the field at Sawgrass with an extra threesome. That way, instead of Singh's presence costing someone a spot, it would actually add two spots. Given the time of year, there's plenty of daylight, even with social-distancing tee times, to add one group. The tour has apparently discussed adding players to all tour events this summer once play resumes but has thus far rejected the idea because it might mean finishing Thursday-Friday rounds the next morning. Let's pause a moment here to remember that commissioner Jay Monahan long liked to insist that pace of play on tour hadn't been a problem. Almost 15 hours of daylight isn't enough?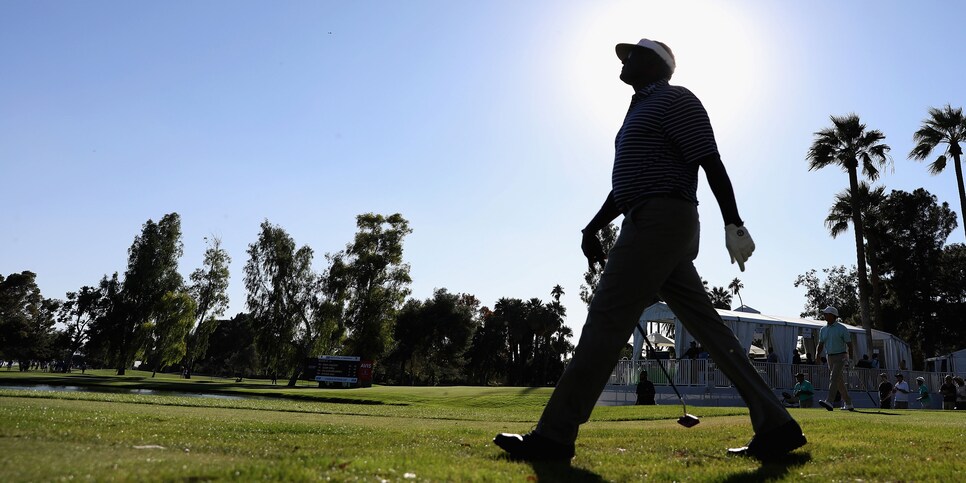 There is also the issue that there's nothing in the tour's regulations to allow for a one-time field increase. Given that these are unprecedented times with unique issues, how tough would it be for Monahan to say, "I'm doing this for the good of the game—and this tournament"? The only ones who might not be happy are the rules officials who will have to try to get everyone to finish before dark.
Though adding a threesome might not be in the tour's regs, there is precedent for it in golf. In 1994, the USGA added three spots to the U.S. Open field at Oakmont after handing out five special exemptions, to Seve Ballesteros, Ben Crenshaw, Larry Nelson, Johnny Miller and Arnold Palmer. All that did was lead to one of golf's great moments—Palmer's walk up the 18th fairway on Friday afternoon.
According to Stewart Moore, senior director of communications for the PGA Tour, there's been no discussion among KFT officials about a one-time addition of an extra threesome to the field. Actually, the tour should add a threesome—perhaps two—for the rest of the summer, given how much everyone is going to want to play. That, however, would require some out-of-the-box thinking.
Singh has an absolute right to play at Sawgrass. He certainly doesn't deserve to be called names by anyone. There is a way to resolve all this and to ensure that no one goes home unhappy. Are you listening, commissioner?