Ochoa starts farewell tourney with an eagle
You might call it determination to go out with a bang. Or, if you're a pessimist, a sad reminder that we're losing one of the most dominant players in the history of women's golf. Either way, Lorena Ochoa's opening eagle (on no. 10 of Tres Marias Residential Golf Club in Morelia, Mexico -- her first hole) in this week's Tres Marias Championship sends a clear message: she's still the best, even though she's retiring from professional golf at the end of the week.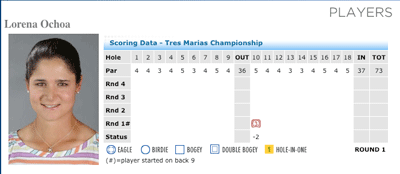 Is it too late to try to convince her to reconsider...?