The Loop
A story I wrote for the upcoming issue of Golf World...
It has been a tough couple of months for the golf resort and travel business, which has gotten caught in the backdraft of the economic downturn and the high-profile embarrassment of a few irresponsible companies abusing the concept of a corporate outing. So Roger Dow, president and CEO of the U.S. Travel Association, an advocacy group for the American travel industry, did what a lot of the country's business executives normally do: He organized an off-site meeting.
The destination wasn't a swanky resort, there wasn't excessive spending and it wasn't a business boondoggle gone wild. But it was at an exclusive venue with tight security, a focused agenda and an unexpected guest--Barack Obama.
To start with, the sobering news: Dow estimates that in the first two months of 2009 businesses canceled more than $1 billion in corporate meetings and travel, most of which were events at high-end golf resorts.
"The travel industry is used to tightening its belt in tough economic times," says Dow. "But this is a time when government and the media is discouraging the way a big part of America does business."
So Dow assembled a group of 12 other top travel tycoons--Jonathan Tisch of Loews Hotels, Bill Marriott of Marriott International Inc., and Barney Harford of Orbitz Worldwide, to name a few--and requested a meeting at the White House. They wanted the opportunity to educate and remind the government that travel may not be the appropriate use of stimulus funds, but with the jobs it provides and the spending it generates, it is a stimulant.
On March 11, in a conference room in the West Wing of the White House, Dow and company met with Valerie Jarrett, one of President Obama's top advisors. Dow presented Jarrett with some key travel facts: One American in eight works in the travel industry; $100 billion a year is spent on business meetings; $240 billion a year is spent on business travel and $740 billion a year is spent in travel. That's when Dow and his group got an unexpected shock: Jarrett told them that President Obama would be joining the meeting.
"He walked in, shook everyone's hand and pulled up a chair," recalls Dow. "He spent a half-hour with us. I don't want to speak for him, but I'll say he's a very engaging individual. He understands the importance of travel, the impact of tourism and how many jobs there are in this industry."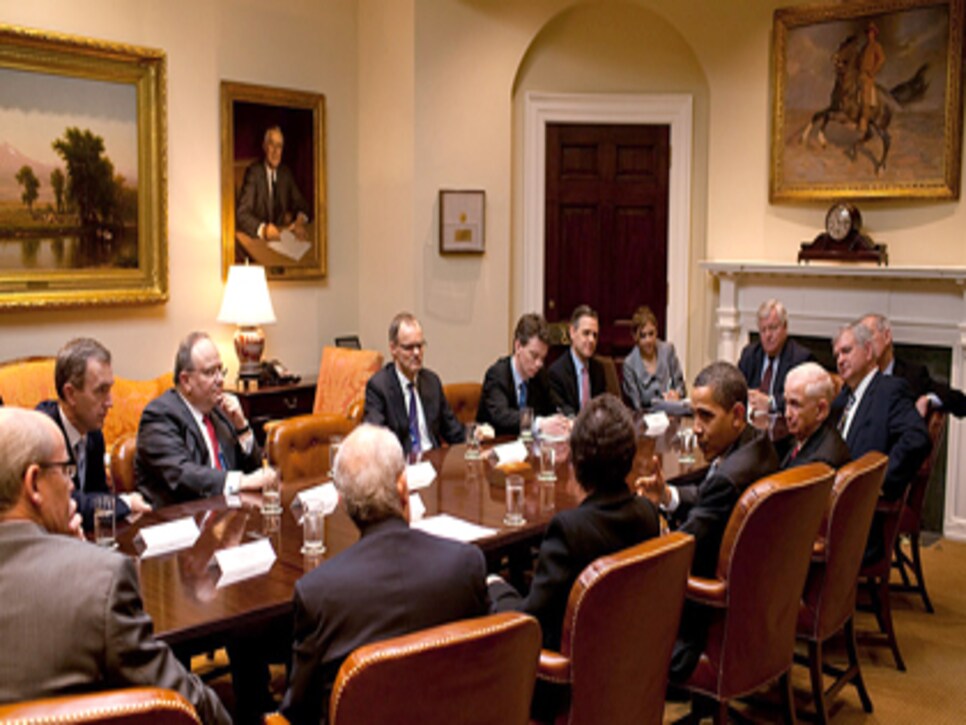 The travel industry will continue to navigate rough roads. But this meeting Dow inspired--and the public support of the Beltway's most powerful man--might provide a notch of relief on the belt of the travel industry's perception problem.
For more on a national campaign produced by the Travel Association, go to meetingsmeanbusiness.com. "We're providing on-line guidelines to a successful and efficient off-site business meeting," says Dow.
*Caption: Roger Dow, President and CEO of the recently formed advocacy group for travel, the U.S. Travel Association, is seated at the head of the table.
*__(White House photograph by Pete Souza)