Courses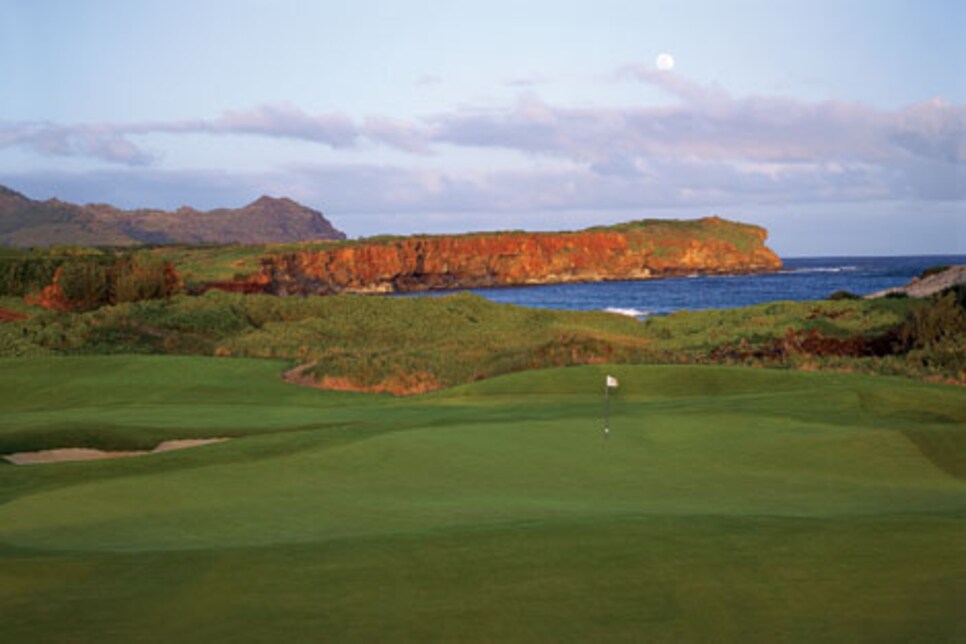 The 17th hole at Poipu Bay Resort.
Like sails buffeted by trade winds from the Pacific, Hawaiians—natives and tie-dyed transplants—swell with pride about two subjects close to their hearts: surfing and golf. They are as much staples of Polynesian mega-tourism as pineapple plantations and Pearl Harbor.
Just as the world's top wave riders have for years acquainted us with barrel waves on Maui and turned the North Shore of Oahu into a giant parking lot during winter competitions, professional golf tournaments have familiarized us with some of Hawaii's splendid courses. Winners from the previous year on the PGA Tour congregate every January at Kapalua on Maui for the Mercedes Championships. The Champions Tour competes at Turtle Bay on Oahu, and each November the four major winners gather at Poipu Bay on Kauai for the Grand Slam of Golf.
With more than 80 courses on six islands, Hawaii offers a diverse coterie of tracks. There's the ultra-posh Princeville, where a former president infamous for being math-challenged in scorekeeping can escape in a private setting for a six-hour round with the former James Bond actor, Pierce Brosnan, who resides on Kauai. And there are an assortment of munys where wild chickens and the occasional mongoose appear to peacefully coexist.
Maui and the Big Island are great golf destinations with fabulous layouts like Kapalua, Kaanapali, Mauna Lani and Mauna Kea. But if you're an island hopper with time constraints and a limited budget, you might confine your visit to Oahu and Kauai. They have a great mix of traditional courses designed by the famous (Arnold Palmer and Robert Trent Jones Jr.) and not-so-famous (Robin Nelson, architect of Coral Creek Golf Course), as well as affordable gems for the dollar-conscious.
Both islands have some of the most pristine beaches in the world and activities for the entire family: hiking, snorkeling, exploring caves and helicopter rides over magnificent waterfalls and inactive volcanoes. And then there's Bubba's, a no-frills hamburger emporium on Kauai with outdoor seating and friendly employees. The menu is both greasy and easy on the wallet.
The golf on both islands is every bit as palatable. A tip, though: Rent a car. There can be as much as an hour's drive between courses on Oahu, and taxis and limos (if they're available) are cost-prohibitive.
Another tip: You might want to save Princeville's Prince Course for last. With some of the most visually intimidating holes anywhere, it will leave you short on balls and waxing poetic about the magnificent views.
__ Prince Course__, Princeville, Kauai County, 808-826-5001, $125-$175. The Prince Course is named after Prince Albert, a kinsman of Kamehameha the Great. Ranked No. 63 among Golf Digest's 2005-2006 America's 100 Greatest Golf Courses, this Robert Trent Jones Jr. masterpiece is scenic, with panoramic views of the Pacific and the emerald mountain range, and challenging (perhaps too much of a test for high-handicappers because of the many forced carries). Heed the starter's warning and don't enter the thick bush. The islands might be devoid of poisonous reptiles, but the jungle has a merciless plant with razor-sharp leaves.
Skilled players will appreciate this wonderful layout with elevation changes, uneven lies and deep bunkering. Its length (7,309 from the tips) also favors "A" players, although five sets of tees make it appear more inviting to those of varying skills. Unlike a lot of highly touted courses, there is no sameness here and, because of the hilly terrain that winds through thick native vegetation, there are no parallel fairways.
The Prince Course has perhaps a half-dozen holes worthy of signature distinction. The seventh, at 205 yards over a ravine stretching down to Hanalei Bay, is a beautiful beast. And the tee for the 390-yard 12th sits 10 stories above a mango-lined fairway that appears no wider than a bowling lane.
Makai Course, Ocean/Lakes/Woods, Princeville, Kauai County, 808-826-3580, $105-$125. Trent Jones Jr. created three distinct nines. Any combination is spectacular, but those who desire the challenge of trade winds and target golf might prefer the Ocean/Lakes combo. The Makai has been the site of the World Cup and the LPGA World Match Play Championship, among other professional competitions. Despite Trent Jones Jr.'s reputation for target design, the Makai has an old-school feel to it. Fairways are generous, albeit canted toward thick Bermuda rough, water hazards and bunkers containing coarse sand not easily negotiated. Several Ocean holes provide breathtaking views of the deep blue, and the back tees on the seventh offer a 360-degree view of Kauai's North Shore.
Another beauty is the par-3 third, which drops 100 feet from tee to a water-guarded green. The Lakes' finishing hole, 544 yards from the back tee, is classic risk-reward target golf. Cut too much off the dogleg left and you'll have to fish your ball out of the lake; too little and you're through the fairway and possibly out-of-bounds.
Poipu Bay Golf Course, Koloa, Kauai County, 808-742-8711, $120-$185. Trent Jones Jr. couldn't have anticipated Tiger Woods manhandling his scenic test to the tune of 61 shots in the 2002 Grand Slam of Golf or Phil Mickelson shattering Tiger's course record by two strokes in '04, Lefty's first 59 as a professional. The links-style course is dependent upon strong crosswinds to keep mere mortals at bay, and the golf shop is stocked with memorabilia from 13 Grand Slams. Get someone to take your photo standing with the king-size scorecards of past winners. It might be the closest you'll come to a great score here.
Kahuku, Honolulu County, 808-293-8574, $130-$165. Locals refer to Turtle Bay's location as "the country" because of its remoteness along the North Shore of Oahu, famous for surfing spots Sunset Beach, Waimea Bay and the Banzai Pipeline. It's a 50-minute drive from the Honolulu Airport through pastoral countryside, pineapple fields, tranquil shoreline and the occasional tiny village bisected by a two-lane thoroughfare with a 35-miles-per-hour speed limit. The same laid-back atmosphere is reflected in the golf at Turtle Bay.
The George Fazio-designed course is typical player-friendly resort fare, with wide fairways, light rough and hazards in play for high-handicappers. It's considered a warm-up for the Palmer Course, a collaboration by the King and design partner Ed Seay. Water comes into play on 13 holes.
The Palmer Course was the first in the state to use Sea Isle 2000, a variety of paspalum turf similar to Bermuda but more resistant to saltwater air. It requires less watering and fertilizing, and leads to truer, less-grainy putting surfaces.
The resort has a full-service spa and tiki bar among its many amenities, all of which are often necessary after playing the Palmer.
High-end, low-end neighbors
Kapolei Golf Course, Kapolei, Honolulu County, 808-674-2227, $130-140. Kapolei, about 25 miles west of Waikiki, might be known as Oahu's "second city," but the course is second to none on the island. Host of the LPGA Hawaiian Ladies from 1996 to 2001, the Ted Robinson design is a traditional parkland layout known as much for its conditioning as its elevation changes, undulated fairways, 80 bunkers and five lakes with native names—Ukeke, Lele, Pohaku, Noni and Kukui. In most cases they provide aesthetic value only. The same can be said about the six-tier waterfall greenside at the 415-yard finishing hole.
Coral Creek Golf Course, Ewa Beach, Honolulu County, 808-441-4653, $40-$130. One of Hawaii's newest courses, this Robin Nelson layout is a blue-collar delight but far from a blue-light special. Although there are dozens of bargains on Oahu, like Ala Wai Golf Course ($7-42), Barbers Point ($29) and Ewa Village Golf Course ($12-$42), Coral Creek is by far the best. Water comes into play on 13 holes, and the 636-yard 11th hole is the longest par 5 on Oahu.
A moderate climate—daytime temperature range from the mid-70s to upper 80s, and it rarely dips below 60 at night—and lower humidity than most tropics are a huge appeal to tourists. What rainy season there is lasts from November through March with monthly precipitation averages of 3.5 inches. From June through September, Hawaii averages slightly more than a half-inch of rain a month, although the occasional morning shower is not uncommon during summer months.
Course ratings are derived from the exclusive 5-star Golf Digest Places to Play scale. A single star represents "basic golf." Five stars indicates "golf at its absolute best." Golf Digest's Best Places to Play guide, based upon the ratings of tens of thousands of readers, is available for $24.95.
Very good. Tell a friend it's worth getting off the highway to play.
Outstanding. Plan your next vacation around it.
Superb. Golf at its absolute best. Pay any price to play at least once in your life.
The equivalent of one-half star.
If a course has no star rating, it means that the course did not receive a minimum of 10 ballots, either because it is very new or simply was not visited by a sufficient number of Golf Digest readers. If you've played one of these courses and would like to rate it, click here.