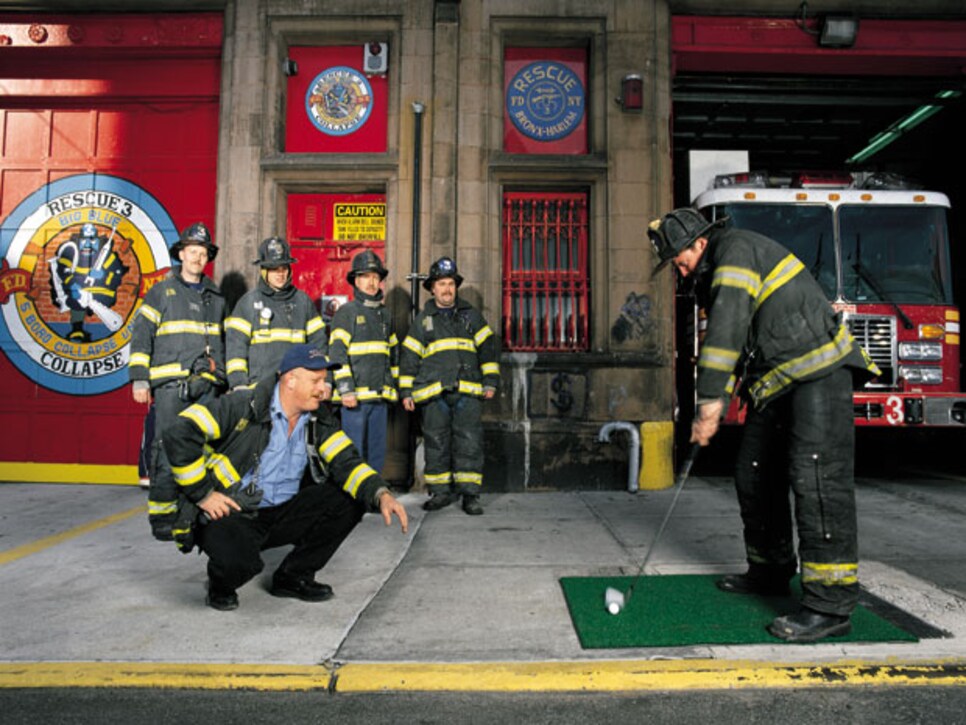 Kevin O'Brien (crouching), Patrick McKenna (swinging) and fellow firefighters tune up for their memorial tournament and the U.S. Open's arrival in their part of the world.
Somehow, three months after the attacks, golf came to that place of terror sanctified as Ground Zero. There among the ruins, New York firefighter John Gaine saw two men in loafers and khaki slacks. Hearing soft Southern voices, he said, "You guys aren't from around here, are you?"
Thousands of men and women from hundreds of places walked on the vast, dusty, acrid jumble of debris. They'd come, unbidden, to do the sad, dangerous, necessary work of search, rescue, and recovery.
If golf mattered to anyone, it could have mattered only as a reminder of a world that used to be. But as Gaine stood by his Special Operations Command truck, one of the Southerners, Bill Golden, said he'd come to invite firefighters to play golf in South Carolina. "We've seen what you guys are doing here, and we want to help," said Golden, who carried a proposal. "We'd like you to bring the Ronaldson to Myrtle Beach."
"The Ronaldson" is an annual New York firefighters' golf outing that has drawn as many as 1,800 players each summer in memory of Alfred E. Ronaldson, a special-ops firefighter killed in a fire March 5, 1991.
To take the Ronaldson south, Gaine knew, someone would have to sweet-talk its organizer, Kevin O'Brien, a special-ops man who'd finished his promised 10 years running what he called "the firefighters' Woodstock, rock 'n' roll, good times."
What Gaine didn't know was that O'Brien himself had invited the South Carolinians to Ground Zero. Because September 11 had changed everything, O'Brien hoped the Ronaldson could be done one more time, grander, more meaningful than ever.
But he needed reassurance. So when Gaine said, "Come on, Kevin," O'Brien challenged him: "Give me one good reason, John, why we should do it again."
Gaine swept a hand over Ground Zero, moving it across all those weary, dispirited heroes working the pile. "We need to say thanks to all these people."
Listeners nearby began to applaud, and O'Brien looked around, and he loved the moment, and he said sweet firefighter words he had hoped to say. "All right, you bastards," he said, "you got me."
So firefighters from New York and across America would gather at Myrtle Beach in May for the 11th annual Ronaldson.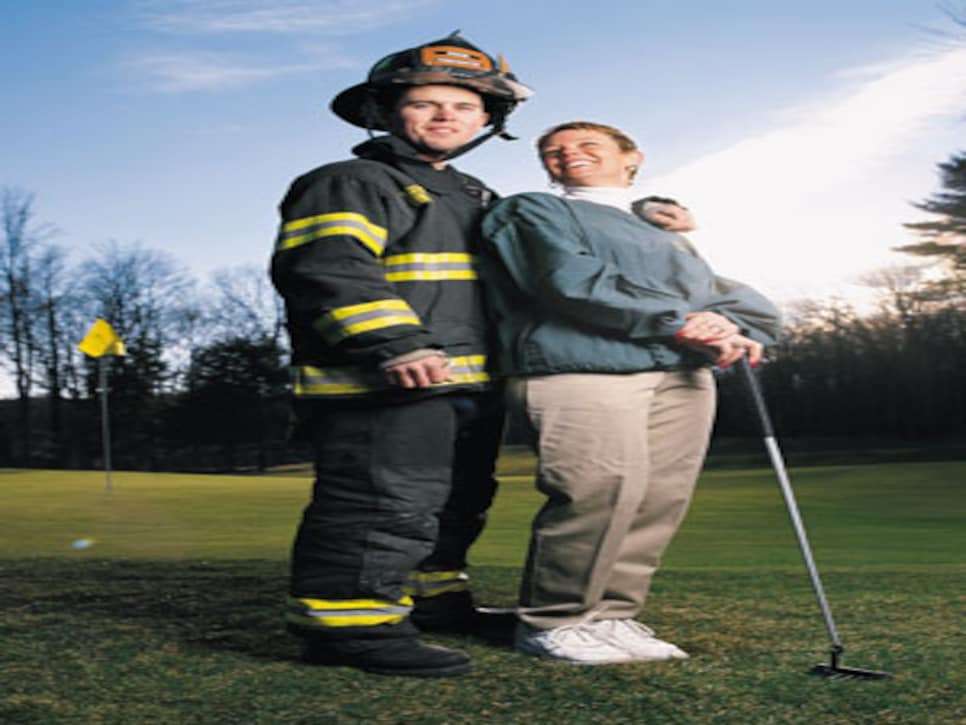 A course for everyday folks
Now comes the firefighters' United States Open. Let's call it that. It's played on a course a firefighter can afford five minutes from the firehouse on Main Street of the little Long Island town of Farmingdale.
From the first tee, players can see the charred buildings of the Nassau County Fire Training Academy.
has been a world-class test for years. But some part of its appeal to the U.S. Golf Association is its identity as a public course with a daily fee below $40. "The People's Open," they're calling it, and in these times there's no better example of blue-collar/working-class/everyday folks than firefighters -- such as Skip Schumeyer, once an FDNY firefighter, now a Farmingdale volunteer, a regular on Bethpage's five courses.
"Some people get there at 7 o'clock the night before and camp out," Schumeyer says. "I'm too old for that. I get up at 4 or 5 in the morning, go out there as a single and wait for a spot."
For the Open, Schumeyer has rounded up 132 firefighters from Farmingdale and New York to work as marshals at the 17th hole and two practice putting greens. Another 90 marshals working the 18th hole will come from Chief Mike Gilroy's Nassau County training academy.
Jonathan Barker, the USGA's Open manager: "As it happens, the firefighters were invited before 9/11. We wanted the 4,900 volunteers to represent the community here. But, certainly, after 9/11, it's even more appropriate."
America is in the tank for firefighters. We've seen New York's warriors in their numbered, swoosh-brimmed helmets and reflector-striped turnout coats. We've seen all those ruddy, beefy faces, those sweetheart roughnecks, gritty, profane, bawdy, brave.
Seems every other one is Irish or Italian. They're sons and grandsons, nephews and brothers. The job is a calling for men and women who believe the rewards, if intangible, are greater than the risks, palpable always. We saw them, most of us did, for the first time on September 11, 2001, and we saw them in shades of chalk and gray, covered by ash and fatigue, ghostly silhouettes moving slowly and silently in smoke and sorrow.
Kevin O'Brien's company out of Roosevelt Island arrived at the World Trade Center before the second tower fell. When the tower came down, it brought fearsome rolling thunder and a windstorm carrying concrete and steel.
"I stumbled over something," O'Brien says. "It was a body. Under stuff. I grabbed an arm and lifted it up. It was my best friend, Tom McGoff, a lieutenant in 217. He said, 'Am I in hell?' I said, 'I think we are.' "
Schumeyer and another 25 volunteers left Farmingdale that hellish morning to drive into New York. Such was the traffic chaos that the hour's drive took three. They were at Ground Zero the next 28 hours. "There was so much dust, even at 2 in the afternoon," Schumeyer says, "that it was dark, literally black."
The darkness was metaphorical as well, unrelieved for months, 403 firefighters and police officers dead. That part is not over, and will not be over, but there is a groping toward the light.
Kevin O'Brien jokes about his handicap ("Beer!"), and Schumeyer laughs about a Notre Dame football game. He and three other firefighters, suddenly 9/11 celebrities, were invited to South Bend. There they spotted the Fighting Irish leprechaun mascot. "We whispered in his ear, 'You got any cojones?' Then we threw him in the air."
Buddies remember happy times. They remember Pete Ganci's dimes. The FDNY chief dared fires for 32 years and died under a falling tower. Even as New York's top man, he worked as a volunteer at Farmingdale. "Pete was an avid golfer," says Mike Gilroy. "Only play you for dimes. He had a bag full of our dimes."
It's small surprise that firefighters should seek the light of golf. John Gaine says, "It's a chance to enjoy a beautiful day outdoors away from the dangers of work. You have a couple drinks, a cigar, let your guard down, enjoy life the way 9-to-5'ers do."
Sean Nelson, Al Ronaldson's brother-in-law and special-ops partner: "Golf and work are like salt and pepper. Work is stressful, tense, dangerous. Golf's not. Golf's a contest of you against the ball -- not you against the red devil."
Tom Sialiano, a lieutenant in a Chinatown firehouse and one of 16 New York firefighters this spring engaging British counterparts in the first "Cider Cup" golf matches: "On our jobs, things happen fast. In 30 seconds, we can be out of the firehouse and in front of a fire. Adrenaline's going, heart's pumping. It's good to have something -- golf -- to slow down for, to enjoy. You learn to appreciate life."
Al Ronaldson's widow, Kim, laughs about her man's golf: "He was a hacker who played as often as he could, especially when his brothers called. Golf was a family thing for the Ronaldsons, from their father and mother on. He loved it. Very competitive, like all firemen."
Not that Kim fully understands the game. "I'm just learning to play now. So I see these guys, all serious. They toss up grass before hitting? Oh, God, like that makes a difference? Wait, one thing I really like about golf. The clothes I get to wear. I love the clothes."
Married 17 years, she has five children, the youngest now 16; one son is a firefighter, another plans to be. Kim Ronaldson says, yes, her heart was broken on March 5, 1991. Firefighters put it together again.
"You see 'the brotherhood' is real when you see them on the golf course, just the way they stand together, laugh, talk, play jokes," Kim Ronaldson says. "They do take care of each other. You got a plumbing problem, somebody knows plumbing. A roof, somebody knows roofs. The brotherhood overflows. The Ronaldson is a memorial, but it's not an unhappy day. It's a very, very happy day. The man's still in my heart."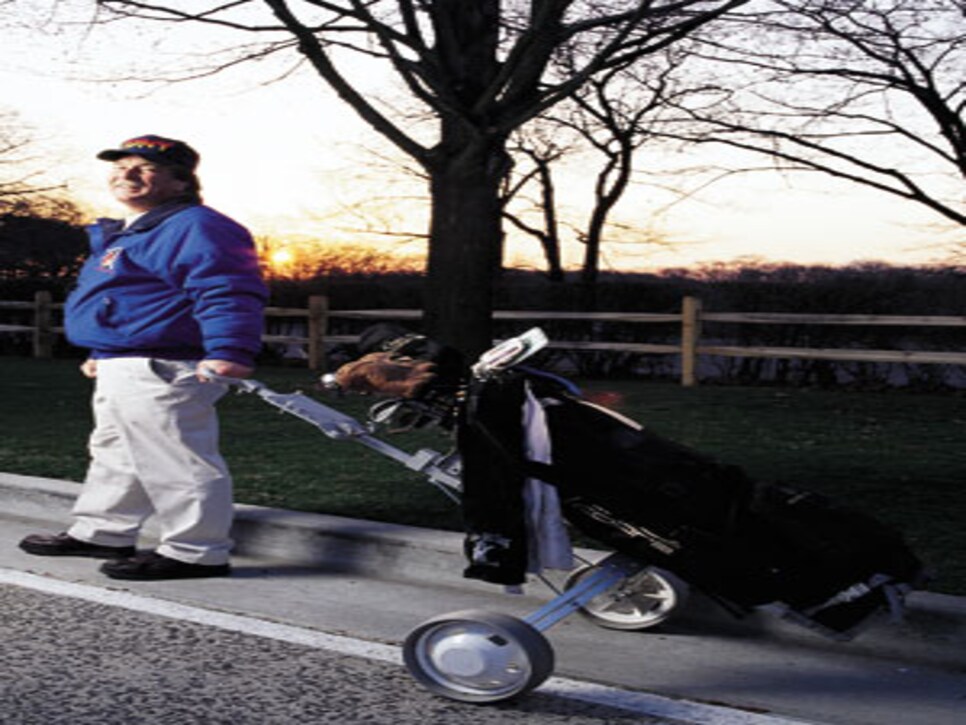 company will be on duty in a different capacity at the Open.
Firefighters will serve as marshals on the last two holes.
She met him, in a way, through golf. Al Ronaldson's parents didn't leave Brooklyn just for Staten Island's golf. But that had something to do with the move. Before any bridge connected the boroughs, Joe Ronaldson so often took a ferry to the island's courses that he finally decided to cut out the trip and live on Staten Island. A fire department captain, a lifer who would do 33 years before retiring to a Florida golf course, he used days off to tee it up.
It was at Staten Island's Susan E. Wagner High School that Al Ronaldson met Kim Nelson. Shortly after graduation, they married. As his father before him -- "Whatever their father did, the boys wanted to do," his mother, Ann, says -- Al became a firefighter and golfer.
"The kind of guy Al Ronaldson was?" says Nick Giordano, also in special ops. "Steady, determined, fun-loving, a million stories."
And this, the ultimate measure of a firefighter: "If I'm down, I know Al's coming to get me."
From hell to Pebble Beach
Kevin O'Brien on the phone: "Pick you up at your hotel at 9."
Someone asks, "What kind of car?"
"A truck. Red. With 'FIRE' on the side."
O'Brien is 48 years old, his brown hair going gray, his face weathered, the sort of stuff that comes to men after 20 years fighting fires. Twice in the past year, he says, he's been in building collapses of the kind that killed Al Ronaldson. He's gone to "more than a hundred" funerals after September 11.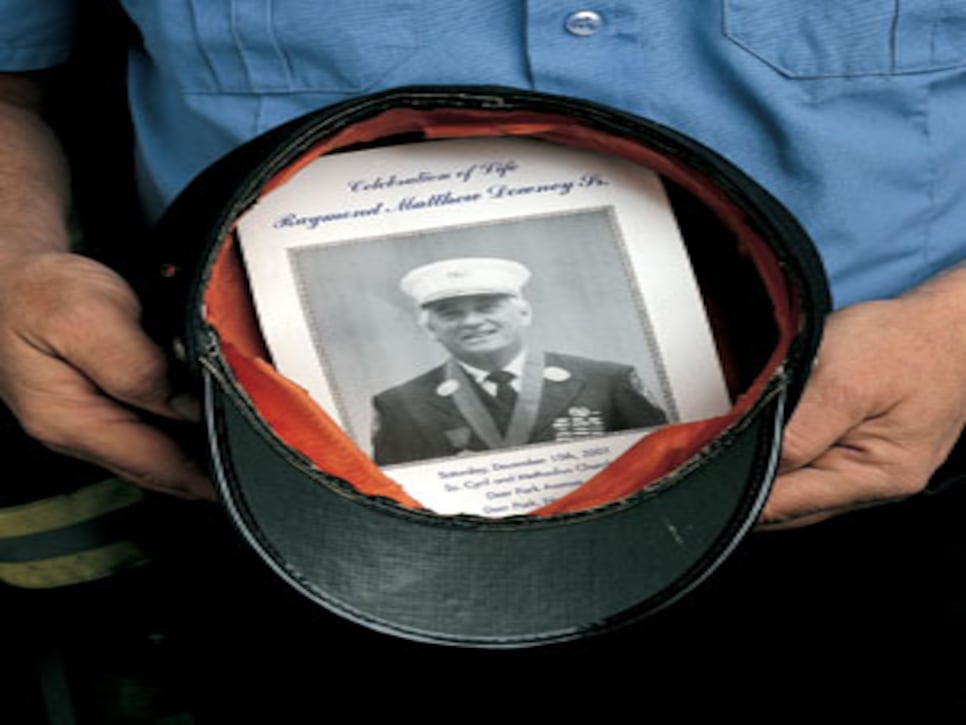 "From that morning on, we were on the site 72 hours straight," O'Brien says. "We had no idea what was going on outside us -- not until we left, like zombies, and all those people, thousands, were waiting on the streets to see us. Hundreds of thousands, cheering." When a celebrity golf tournament needed a FDNY representative, O'Brien got the call. "Had to leave the next day," he says. A wink. "Private jet." In the FDNY van, heading down Broadway to Ground Zero, O'Brien adds two more words: "Pebble Beach."
There on the Monterey Peninsula where a firefighter could never afford to play; there where Tiger Woods once screamed a profanity following an 18th-tee drive jerked into the Pacific Ocean; there on the 18th tee Kevin O'Brien thought of his old boss, Ray Downey, who had played some golf.
"I'd say he was 'an enthusiastic learner,' " O'Brien says. "He had a lot of hockey in his golf swing."
Downey was FDNY's deputy chief of special operations. His men did the department's most dangerous work. They called him God. Walk through fire the way that man did, you've earned the name. At age 63, with 39 years on the job, Downey had fought every fire every way and done rescues no one else imagined. Days off, he'd been a left wing and captain of the FDNY hockey team.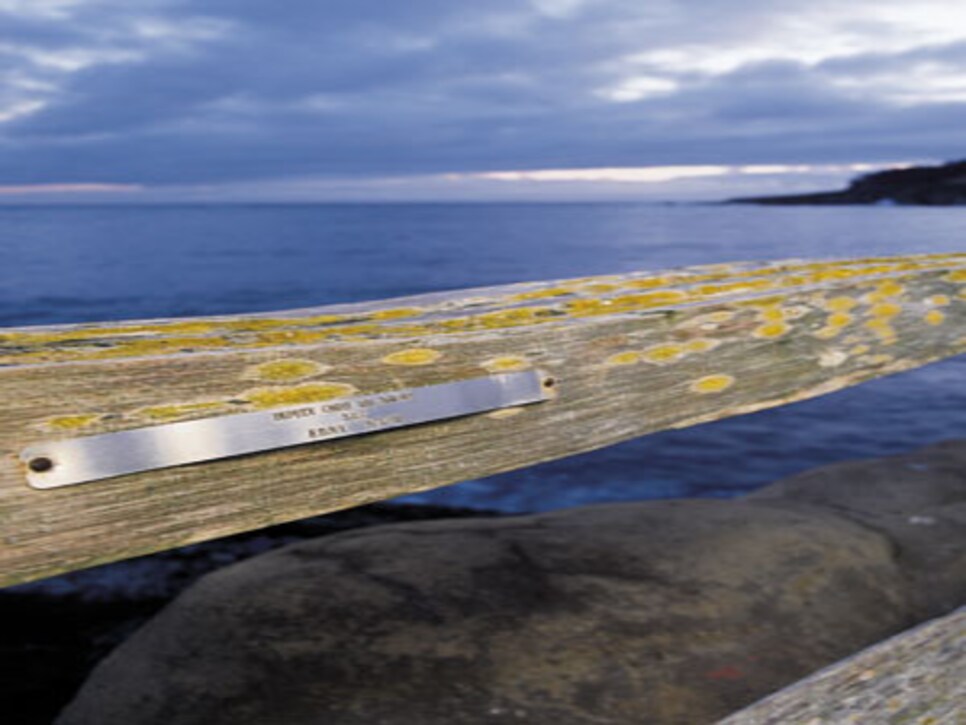 stays alive, thanks to a tribute on the 18th tee at Pebble Beach.
"He was the most famous firefighter in the world," O'Brien says, "and the smartest guy I ever knew. Nothing he couldn't do. One time I introduced Ray to a priest saying, 'Here's God. He's a little different from the one you know, but he's the one we know.' "
Downey was at the World Trade Center on September 11. Of FDNY's 450 special-operations men, 94 died that day with him.
There on Pebble Beach's 18th tee -- as grand a stage as golf gives its people, high on a cliff's edge above pounding surf, the game's most beautiful par 5 in front of him -- there Kevin O'Brien took off a silver memorial bracelet bearing Ray Downey's name. He tacked it to the split-rail fencing around the tee.
Then he hit a big drive. Knocked his second on. And quit. Walked away. Someone shouted, "Kevin, aren't you going to try the eagle putt?" The firefighter shook his head no. Said, "Let Ray finish it."