The Loop
9 numbers you need to know from Tiger Woods' energizing Friday performance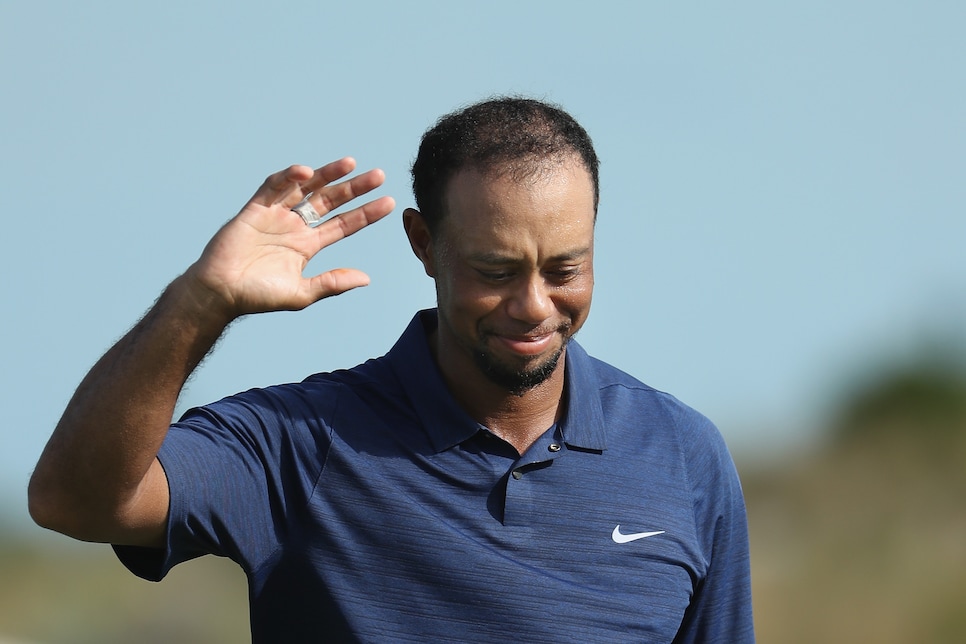 Thursday's return, while mostly a success, featured some bumps along the road for Tiger Woods. His follow-up performance was nothing but smooth sailing. Starting the day as the only one in the Hero World Challenge field over par, Woods turned in a rousing display on Friday. If Round 1 reminded us the 14-time major winner has gas left in the tank, Round 2 showed the 40 year old can still rev the engines.
Here are numbers you need to know from Woods' energizing Friday showcase:
8 -- Fairways hit on the afternoon, two more than he hit on Thursday. Infamously erratic off the tee, Woods curtailed his wildness on Friday, shortening his backswing and finding a better tempo with the big stick. True, Albany's fairways are expansive enough to land a 747. But for a guy still experimenting with various drivers, it's a step in the right direction.
2:54 -- Time he toured the course. Not bad for a guy playing by himself (a bad back forced Justin Rose to WD), but he's no Kevin Na.
6 -- "He did WHAT?" moments. A "3" at the first. An amazing up-and-down on the eighth. The almost ace. A 270-degree lip-out for birdie. A bomb off the 15th tee. The dramatic drain for par on the 16th. More than enough to light a fire on social media.
1 -- Old-fashioned Tiger fist pumps. A sight for sore eyes: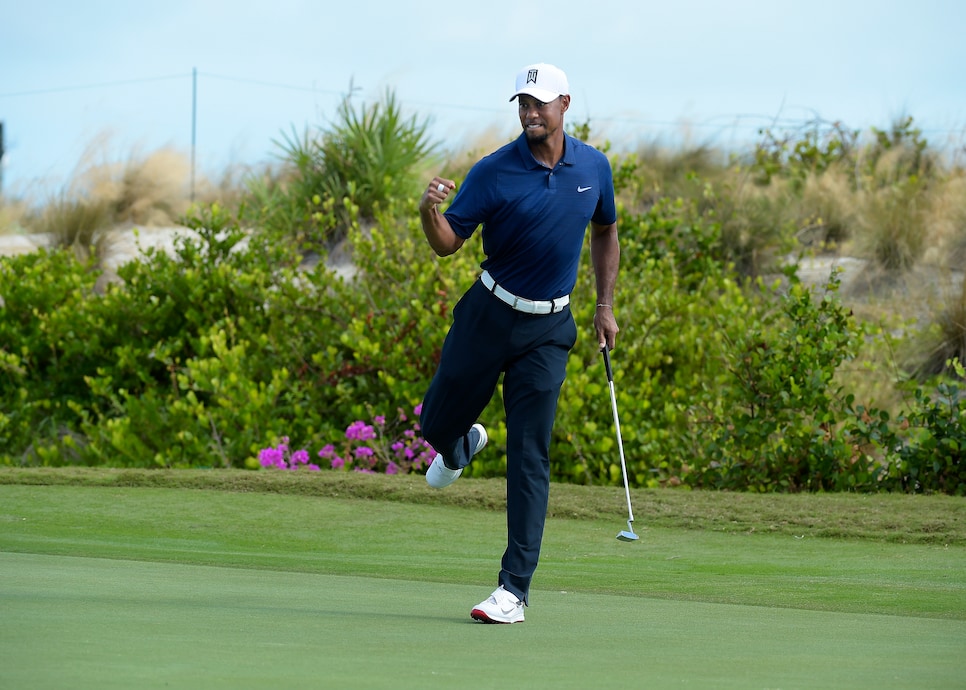 0 -- Sixes on the card. Woods had four on Thursday, which included two doubles.
25 -- Putts for the round. Woods made some noise after the round by stating the Scotty Cameron Newport 2 went in the bag the day after Nike exited the club business. Clearly the man has an affinity for his putter, as he's been remarkably sound on the greens (particularly when factoring in the 15-month break). Let me be the 943rd person to mention Albany's greens are not exactly Oakmont replicas, yet it's evident Woods feels comfortable with the Cameron in hand.
14 -- Greens in regulation. Strong in Thursday's comeback bid, Woods remained steady with the irons on Day 2. The GIR figure is somewhat predicated on his improvement off the tee, yet Tiger consistently left himself reasonable birdie attempts on the dance floor. Mentioned yesterday, a powerful approach game can mask woes in other areas.
2 -- Players with better rounds than Woods' 65. Bubba Watson had the low number of the day with a nine-under 63, followed by a 64 from Brandt Snedeker.
2 -- Rounds left for Tiger. Which is expected; there's not cut at the Hero. But Tiger's theatrics on Friday injected another layer of weekend excitement.