News
Dustin Johnson gunning for return to No. 1 and three other takeaways from third round of Northern Trust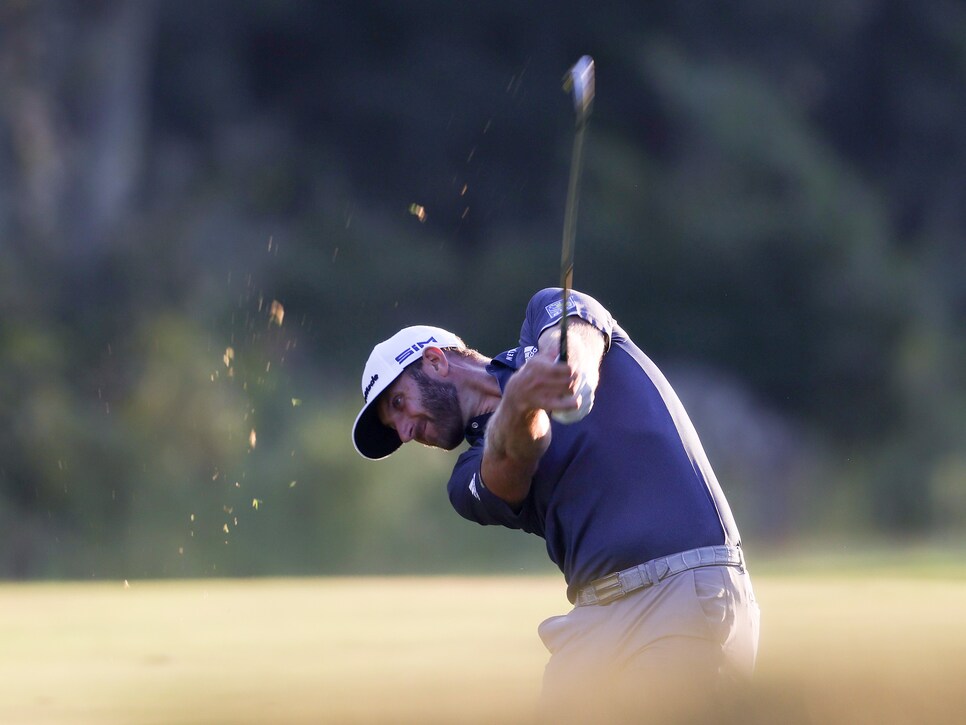 Dustin Johnson plays a second shot to 18th hole, where he made eagle on Saturday in shooting a 64.
Rob Carr
If there's one thing that's been eminently clear since the PGA Tour resumed its season in mid-June it's that scoring has been red hot. The reasons are myriad but perhaps the biggest relates to an old marketing slogan about these guys being good—especially when the conditions are ripe, which they have been again at this week's Northern Trust at TPC Boston.
Cue more red numbers in the third round. Dustin Johnson backed up his 60 a day earlier with a 64 on Saturday to get to 22 under[!] and a five-stroke lead over Harris English and Scottie Scheffler heading into Sunday's final round at TPC Boston.
Should Johnson go on to win, it would be his second victory of the season and 22nd of his career. It would also vault him back to No. 1 in the world.
It seems inconceivable that only a month ago Johnson shot a pair of 80s in missing the cut at the Memorial, but here we are. And here we are wiith our four takeaways from Saturday at the Northern Trust.
DJ backs up his 60 in impressive fashion.
So what does one do for an encore after shooting 60? Finish birdie-eagle [the latter coming from a winding, twisting 40 feet no less] to shoot that aforementioned 64.
Of course it wasn't just the finish. Johnson missed just two fairways and three greens all day and took advantage of soft conditions after a 50-minute rain delay interrupted play in the afternoon.
"I really felt comfortable with my irons," he said. "I feel like I'm controlling my distance very well. I'm hitting the shots how I want to, so especially after the rain came, the course softened up so you can really be aggressive."
For all the grief Johnson has garnered over the years for not closing out various major championships when he's had several opportunities to do so, when the man has a cushion he's hard to catch. Sunday will mark the 12th time that he will enter the final round with at least a three-shot lead. On the 11 previous occasions, he has gone on to win eight times.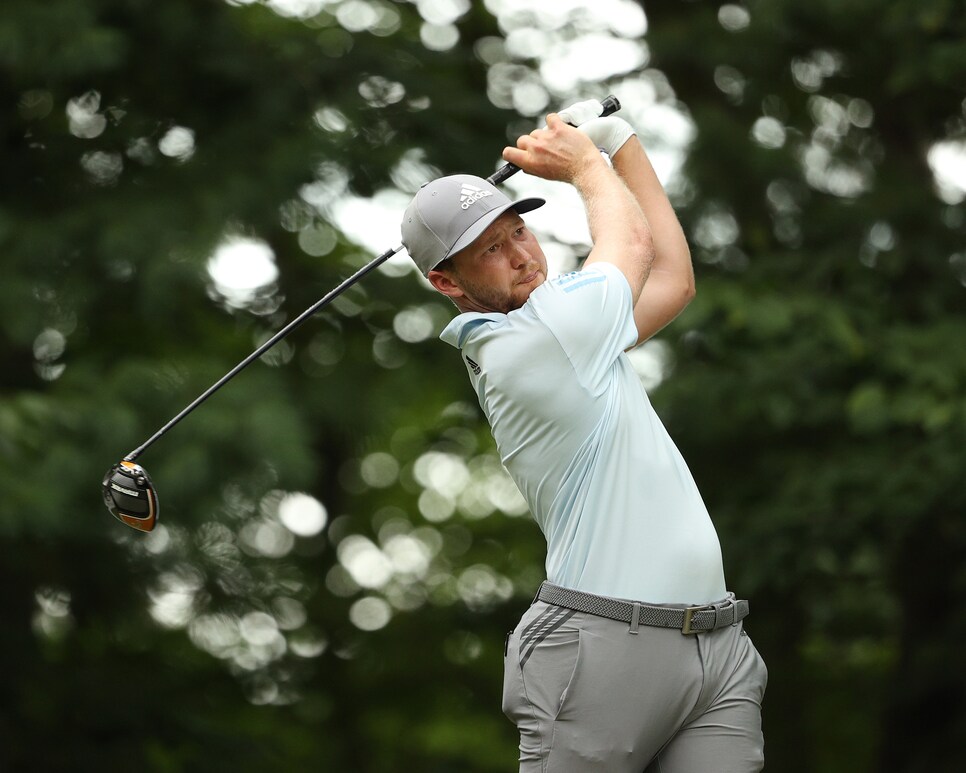 Daniel Berger plays his shot from the ninth tee during the third round of the Northern Trust at TPC Boston.
Maddie Meyer
As good as Johnson has been, has anyone played better than Daniel Berger since the tour started back up? We'll save you the trouble: no.
Consider: He's got a win [Charles Schwab Challenge], a second [WGC-FedEx St. Jude Invitational], a third [RBC Heritage] and is tied for fifth heading into the final round of the Northern Trust after a 67 on Saturday.
In the 21 rounds he's played since the tour started back up, Berger has shot 66 or better seven times and has scoring average of 67.57. Did we mention that he also leads the tour in the strokes gained/total category over that period with a mark that has him gaining more than 2.2 strokes on the field?
"I really figured out my golf game, and I think I haven't let golf really affect my attitude," Berger said. "Sometimes you can get a little bit too into performance and it can affect your off-the-course life. I think I've done a really good job of kind of being able to balance the two, and winning earlier in the year really freed me up, and I feel like I just go out there and enjoy the day, and whatever I shoot, I shoot, and that's kind of been my attitude the last two or three months."
It'll take something spectacular—positive or negative—for the 27-year-old to add a second win this season as he trails Johnson by eight going into the final round, but that doesn't diminish his effort.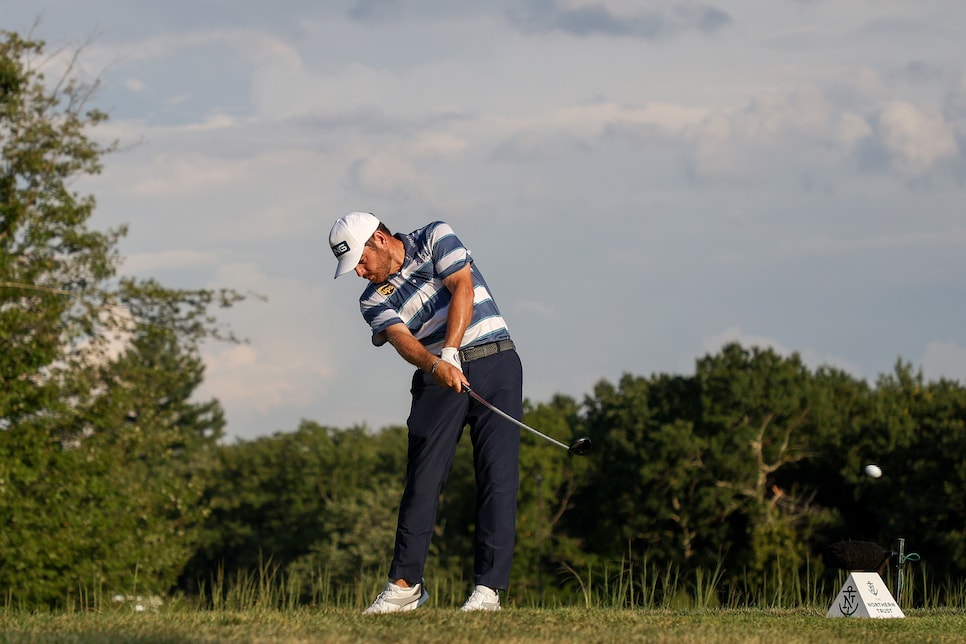 Louis Oosthuizen plays his shot from the 17th tee during the third round of the Northern Trust.
Rob Carr
Yet Berger still isn't in the field at Augusta National this year [but will be next year] because his victory at Colonial came after the cutoff for this year's Masters that was rescheduled to November. His representatives have had discussions with Masters officials but as of now he remains, somehow, on the outside looking in. For now. Perhaps they'll be watching Sunday.
With this being the first year of just three tournaments in the FedEx Cup Playoffs, there will be a little more drama than usual come Sunday, as only the top 70 in the standings will advance to next week's BMW Championship at Olympia Fields, rather than the top 100 like in years past when there were four events.
That meant Saturday was significant for a number of players jockeying to extend their season. After all, you can't win $15 million for taking home the FedEx Cup if you don't play at East Lake in two weeks.
As it stands now, six players are currently projected to move from outside the top 70 at the start of the week to inside the magic number. They are: Louis Oosthuizen, Harry Higgs, Russell Henley, Cameron Davis, Alex Noren and Si Woo Kim.
Oosthuizen made the biggest jump of the group, moving up 63 spots to 36th after a solid 68 on Saturday.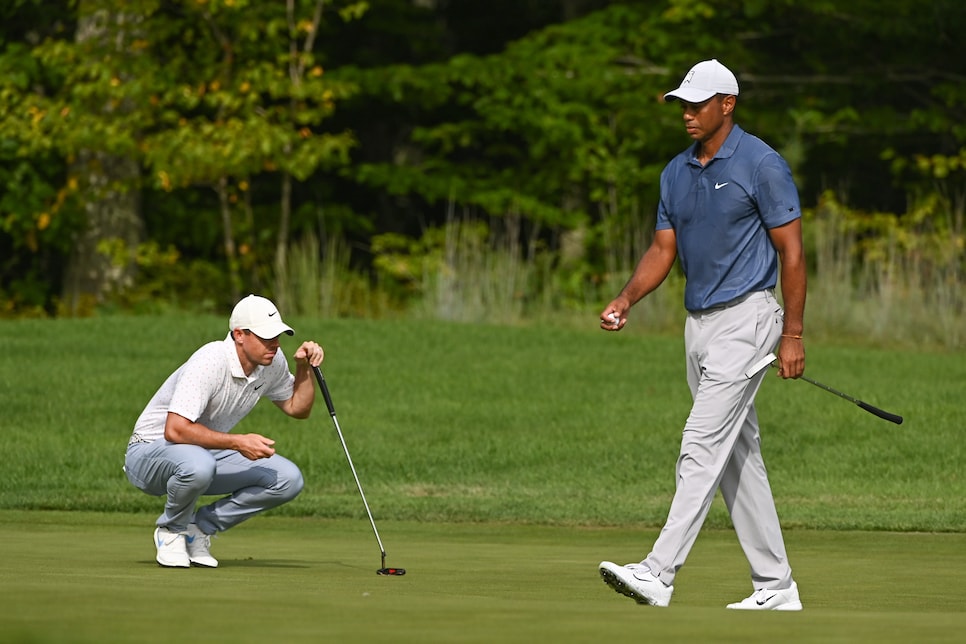 Tiger Woods and Rory McIlroy play the third green during the third round of the Northern Trust.
Ben Jared
Brian Harman, meanwhile, dropped two spots to a projected 71st after a 73 that included what could be a costly water ball and double bogey on the par-3 16th. At least he has a chance to improve his standing. Max Homa, who missed the cut, is currently projected to fall from 57th to 70th, meaning it'll likely be an active day on Twitter and the PGA Tour's leaderboard app for the 29-year-old.
Tiger and Rory! Tiger and Rory, sigh
Tiger Woods and Rory McIlroy playing together would usually make for an electric pairing. But when they're the third group off on Saturday at 8:30 in the morning it loses more than a little luster. Still, there was hope for … something. McIlroy provided early hope by making birdie on the opening hole.
The Northern Irishman tripled the par-5 second when he tried to hit a chip from right of the green with his ball up against a rock only to see it ricochet backwards and into the water. That led to a drop 110 yards away on the other side of the pond, from where he hit safely on the green and proceeded to three-jack from 40 feet, missing a 5-footer before tapping in for a snowman. Four holes later, another triple. McIlroy went out in 40, finished with a 74 and sits just two spots out of last place.
Tiger, meanwhile, hit 12 of 14 fairways but inexplicably managed just 11 greens from the short grass. He also took 29 putts. In the end, it all added up to a 73. It was the 17th time in his Woods' career on tour that he shot 73 or higher while hitting a dozen or more fairways [according to stats guru Justin Ray of 15th Club]. The last time he did so [in a non-major] was in 2013 at the Memorial.
Afterward, Rory and Tiger munched on burgers outside the media tent. The good news for fans of this pairing? They'll play together again on Sunday, teeing off in the second group of the day at 8:55 a.m. ET.