The Loop
Notah Begay on Tiger Woods: 'Things are improving...[but] it's a good decision to wait until he's 100 percent'
Stories of interest you might have missed…
Notah Begay III, a friend and Stanford teammate of Tiger Woods, has been spending time with Woods down at his Florida estate and "can attest to the fact that things are improving and that he is putting in some solid workdays,"he told Golf Channel. Woods announced on Friday that he will not play in the Arnold Palmer Invitational. "Sometimes it is difficult when you want to get out there…At the end of the day, if his game isn't going to hold up from tee to green and around the greens -- especially with the question marks around his short game -- I think it is a good decision to hold off until he is 100 percent," Begay said. Bob Harig of ESPN has the story.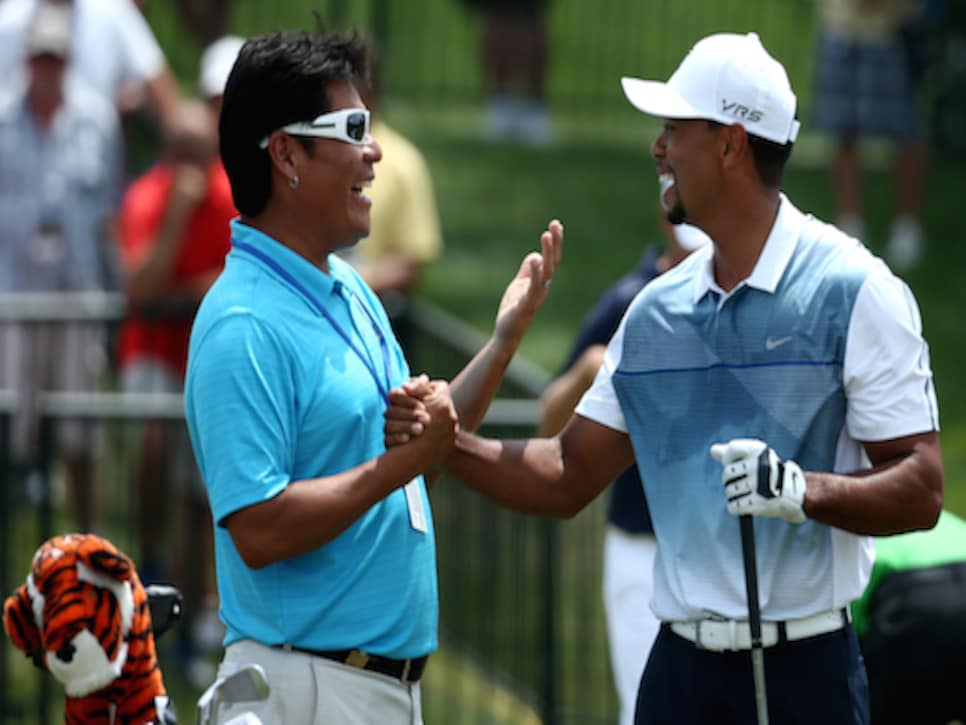 Notah Begay III and Tiger Woods (Getty Images)
The Royal & Ancient has conducted a survey, Golf Around the World 2015, and found that the game is growing, just not in the U.S. "The number of courses in the United States, where building booms gripped the country in two separate spells over the past 50 years, is dropping. From a peak of 16,052, it was down to 15,372 at the end of last year," Martin Dempster of the Scotsman writes. "On the other hand, golf is growing elsewhere, notably in Asia."
It was inconceivable that a man of Martin Kaymer's standing in golf could blow a 10-stroke lead midway through the final round, as he did in the Abu Dhabi Championship in January. "I know what the reasons were and I'm very happy about that because I will never let it happen again," he said in this story by Reuters Tony Jimenez.
The winner of a recent Sunbelt Seniors Tour event was Blaine McCallister, a five-time PGA Tour winner. "Why were players of this caliber mixing it up in a mini-tour event with a total purse of $5,900? Because for players of a certain age—45 is the Sunbelt Tour's minimum age—there aren't many other places to compete, and competition is what they live for. It's also one of the few opportunities pros have to keep their games sharp for periodic assaults on the Champions Tour," John Paul Newport of the Wall Street Journal writes in this look at a senior mini-tour.