PGA Tour
Tony Finau, Kevin Na making Ryder Cup statements that Captain Stricker can't ignore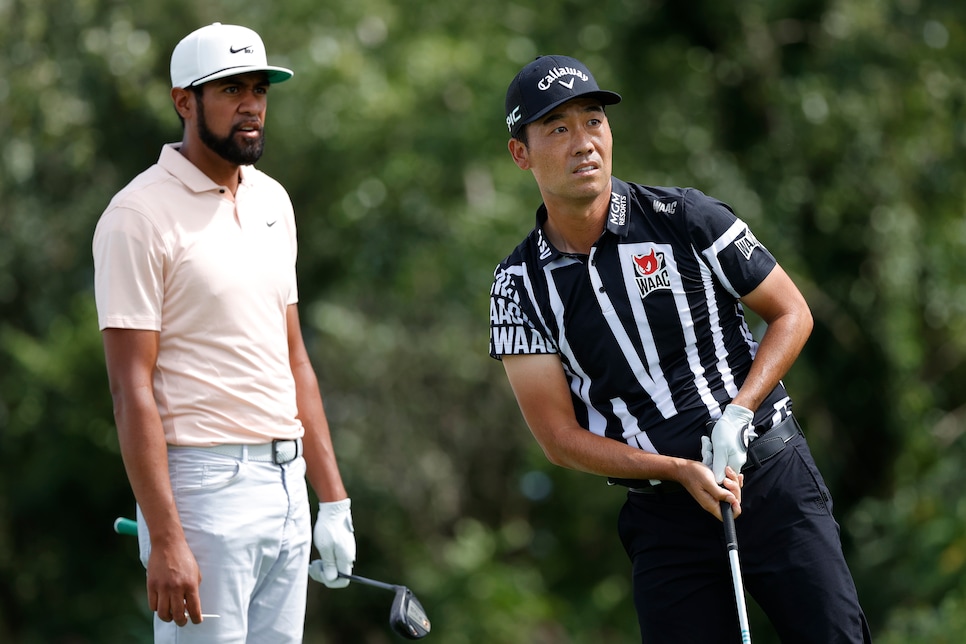 Kevin Na watches his tee shot on the 16th hole as Tony Finau looks on during the first round of the Northern Trust.
Sarah Stier
JERSEY CITY, N.J. — Finding a bright spot amid Team USA's performance at the 2018 Ryder Cup is a bit like trying to identify the most fun part of a root canal. (The receptionist was nice, I guess?) There were hardly any positives for Jim Furyk's side at Le Golf National outside a strong opening session, and by Sunday afternoon the only question was what the Europeans' margin of victory would be. Seven points, it turned out.
Just four Americans finished the week with a winning record. Two of them, Justin Thomas and Jordan Spieth, are locks to make this year's team at Whistling Straits. The other two, Webb Simpson and Tony Finau, have some convincing to do.
Finau's an especially intriguing case. Three years ago, he received a captain's pick only after posting three top-10 finishes in the FedEx Cup Playoffs, which were four events back then. He was an obvious pick if the criteria were current form, but Le Golf National and its bowling-alley fairways seems tailor-made to hamstring his length and make him uncomfortable. Only he shined in his Ryder Cup debut, splitting two fourball matches alongside Brooks Koepka and waxing a previously 4-0 Tommy Fleetwood 6 and 4 in singles.
That performance bodes well for his chances, but his form coming into this week's Northern Trust did not. The 31-year-old does not have a top-10 finish since the PGA Championship in May and sits 12th in the Ryder Cup points standings with just two weeks left until the six automatic qualifiers are decided.
"The biggest reason I made the team [in 2018] is I showed the captain in the playoffs that I was in great form," Finau told Golf Digest on Wednesday. "I think I'm in a similar situation this year where I'm going to have to play well in the playoffs, and I welcome the challenge."
The challenge seems to be welcoming him, too. There are few who make this impossibly complex game look as simple as Finau when he's swinging it as well as he was on Friday at Liberty National; the swing is compact and efficient, powerful and controlled, repeatable and beautiful. The birdies flow inevitably, as though very little effort is exerted. This was FInau at his best, making eight birdies and a lone bogey at 18 for a seven-under 64 that had him at 11 under total, one back of leader Jon Rahm—who will absolutely, positively be at Whistling Straits—for the 36-hole lead when he signed his card.
"I would say [the Ryder Cup] is in the back of my mind, but pretty far in the back of my mind," Finau said, reminding us that compartmentalization is a pre-requisite to playing on the PGA Tour. "I think the FedExCup, and just every day I know is a big day. I approach it as that. And for the most part, you try to have your game do the talking. At this point, I think that's what it's all about. Everybody wants to make the team. I'm included in that. I would love to be a part of that team. But at this point in the season, our games have to do the talking and I'm happy with the start of the playoffs, and I've got to keep playing well I think to make the team."
He wasn't the only Ryder Cup hopeful in his group to take it deep. Much has been written about the candidacy of Kevin Kisner, given his match-play chops, don't-mess-with-me attitude and a victory at last week's Wyndham Championship. There's another Kevin with similar moxie who's also catching a heater at the right time: Mr. Na.
Kevin Na has two runner-up finishes in his last three starts, including a playoff loss to Kisner at the Wyndham. His good, however, looks markedly different from Finau's, and not just in that Tony's a full head taller. Finau ranks 34th on tour in driving distance—and that's with a three-quarter backswing that's probably closer to a two-thirds backswing—while Na ranks 175th. The 37-year-old overcomes the length disadvantage with a fully healthy Scoring Gene—he leads the tour in strokes gained around the green and picked up over 3.8 shots to the field with his short-game alone on Friday, including a remarkable up-and-down after a full-swing flop shot on the finishing hole to polish off a 66.
"It's so much fun to watch him play," Finau said. "The places he got up and down from the last couple days were unbelievable. I've played with him enough to know when he's playing well, those are automatic things. My caddie and I joke around watching him around the greens, doesn't matter where he hits it, he's going to get up and down, and sometimes he's going to chip in. On 18, you're dead over there, he has to hit this high flop shot, stop it on a dime, hits it to two feet. He was doing that the last couple days.
"He's such a great player, gritty player, and we had that kind of mojo together."
Mojo. It's a precious commodity, one that has been missing from recent U.S. team rooms. Patrick Reed looked destined to develop into an American Ian Poulter of sorts, but struggles in both France and the 2019 Presidents Cup have taken some of the shine off. Na would certainly bring a jolt of energy, and the fans would drink up his propensity for walking in putts while the ball is still comically far from the hole. And, perhaps more importantly, those are the types of antics that get under an opponents skin. Perhaps Stricker has taken notice.
"I'm sure he's watching. Yeah, I'd like a chance," Na said. "I know that was in the back of my head. Probably shouldn't have been in the back of my head in the playoff. A couple weeks before, finished second at John Deere. Things are trending in the right direction. I'm going to need probably a win this week or next week to have a chance for a captain's pick."
How, though, would his game translate to Whistling Straits, which is expected to be a bomber's paradise?
"The way I'm putting right now, doesn't matter where I play," Na said.
Did you catch that, Steve?