Gambling
Northern Trust 2020 expert picks: Why our tour caddie says Rory McIlroy is a lock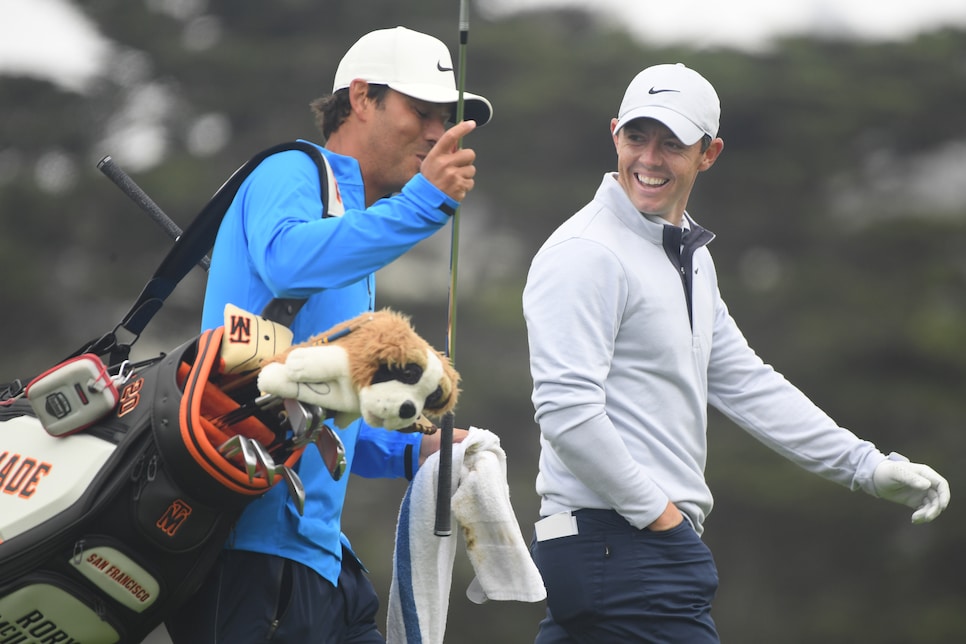 Rory McIlroy has been quiet since the PGA Tour restart, but he's enjoyed success at TPC Boston, winning twice in the past. Will he be all smiles by week's end?
Harry How
After a fast and furious "restart" to the PGA Tour season that featured a major and a WGC, we're already onto the FedEx Cup Playoffs. Time flies when you're picking winners.
If history has shown us anything, there will be no longshot, Jim Herman-type winner at TPC Boston this week. The playoffs, and this course in particular, produce only the elite of the elite winners, like Bryson DeChambeau (2018), Justin Thomas (2017), Rory McIlroy (2016 and 2012), Rickie Fowler (2015), Vijay Singh (2008 and 2004), Phil Mickelson (2007) and Tiger Woods (2006). As fun as it is to bet and potentially hit on a longshot, this is not the time to be scrolling deep down the odds board (quick shout out to Heath Slocum winning the Barclays in 2009).
At this week's Northern Trust (the old Dell Technologies and Deutsche Bank), all the big boys are out, including Woods and Mickelson, who are 45-1 and 140-1 at DraftKings Sportsbook, respectively. Do you go with one of the old legends, or stick to the top of the board with a DeChambeau, a McIlroy, a Thomas or a Jon Rahm? Tough decisions. It may be playoff time for the players, but it's playoff time for the bettors, too.
Our panel is the best equipped to find you a winner. We've correctly predicted six of the past 12 tournaments, including 13 winning outright tickets this season. Collectively, we're up more than 239 units on our top-10, matchup and outright winners (that's the equivalent of being up $2,390 on $10 bets, no big deal). The experts consist of a tour caddie reporting live from the PGA Tour event that week; Pat Mayo of DraftKings; Brandon Gdula of numberFire/FanDuel; Rick Gehman, a data scientist who has his own analytics site, RickRunGood.com; Lee Alldrick of FanShareSports and us two jabronis. Read on to see who we like this week at the Northern Trust.

The Northern Trust 2020 Picks To Win (Odds from FanDuel Sportsbook)
Anonymous Caddie Picker of the week: Rory McIlroy (14-1) — He's got a great track record at TPC Boston (winning twice), which makes this the course where he's won the most since the layout. This could be where he gets back to his Rory ways. It's the time of the year when the true players rise to the top, and we're due for a Rory showing. If he can get some putts rolling, he'll be there come Sunday.
Pat Mayo, DraftKings/Fantasy National analyst: Collin Morikawa (22-1) — Take advantage of the discount we somehow are still getting with Morikawa. He's coming off a major victory with two wins and a playoff loss since the restart, and now he has an opportunity to ascend to the No. 1 world ranking. Yet he's still priced below the more name-brand elite players. At a course that rewards immaculate ball-striking, I'm willing to go with probably the best ball-striker in the world right now.
Brandon Gdula, FanDuel/numberFire managing editor: Patrick Cantlay (30-1) — This week gives us a lot of forgotten golfers with great odds. Cantlay ranks positively in all four strokes-gained stats in 2020 when adjusted for field strength, according to datagolf, and a lot of that comes from his elite approach performance. My model pegs Cantlay around 20-1, so this is strong value (you can get him up to 30-1 on FanDuel Sportsbook). Hideki Matsuyama (+4000) similarly also has value per my model.
Rick Gehman, data scientist and RickRunGood.com founder: Justin Thomas (14-1) — Thomas is absolutely sublime from tee-to-green and will only struggle when his putter runs cold. He accomplished the rare feat of winning the WGC-FedEx St. Jude Invitational while losing strokes putting in the process. That's the perfect illustration of how sharp his long game really is, and now he heads back to TPC Boston where he won in 2017. Winning is hard, and Thomas does it at a prolific rate, with multiple wins in each of his last four seasons.
Stephen Hennessey, Golf Digest dep. managing editor: Jason Day (23-1) — My co-hosts Chris Powers and Alex Myers have been betting Jason Day since the restart. I only jumped on board at the PGA Championship, and J-Day came close. The Aussie is really close. Four top-sevens in his last four starts, plus some sneaky good course history at TPC Boston: Three top-10s and seven top-20s in the last 10 times at TPC Boston. This could be the week.
Christopher Powers, Golf Digest assistant editor: Patrick Reed (28-1) — TPC Boston is where the elite of the elite win, and not only is Patrick Reed elite, but he often wins this time of year. Even though there's no Ryder Cup or Presidents Cup to build toward for him, he still is heating up at the right time, having finished inside the top 13 in three of his last four starts. And that's without having played on bentgrass greens, his favorite surface, which they are in Boston. Last time he played on bentgrass greens was at Colonial, where he gained 7.1 strokes on the greens and finished seventh, his best finish of the restart. It's Reed SZN, and you better not miss out on it.
Lee Alldrick, FanShare Sports: Jason Day (23-1) — Day comes into this event ranked in the top five for both strokes gained/tee-to-green in the past two months and strokes gained/putting on bentgrass greens. He's currently 49th in strokes gained/putting on the season, so he's been putting together good finishes without the putter getting hot. Maybe a return to bentgrass is what he needs. Also, his success on correlary courses means he's in the top 10 in our course-suitability ranking. He therefore hits the killer combo of current form and course fit.
Results from this season: For a third week in a row, we had a near-miss as Doc Redman would've cashed in two outright tickets for our experts (Rick Gehman and Chris Powers). We've correctly predicted six winners in the past 12 tournaments, and overall, we have nailed 13 of the first 31 tour champs this season. Golf Digest's betting panel continues to be the hottest golf betting panel in the industry: Counting outright winners, top-10 bets and matchups won and lost, we are up 239.08 units (the equivalent of being up $2,390.80 if you wagered $10 on all of our bets).
Sleepers/Dark Horses That Could Win the 2020 Northern Trust
Caddie: Tom Lewis (170-1) — This is an ultimate longshot, but I've seen him play enough rounds to know this guy is extremely talented. He's got a ton of power off the tee, and he's top 20 in greens in regulation. Plus he's popped over the past couple weeks, so his form is strong. That's an all-around game that should allow him to compete in Boston.
Mayo: Tyrrell Hatton (46-1) — The flat stick has been sinking the Brit lately. Fortunately, his baseline numbers on the greens would indicate a massive swing back to the positives soon. Hatton actually showcased his best ball-striking in ages at the PGA Championship too. He just happened to miss the cut. Keep up the quality driving and irons, flip the putting, and he'll be in the mix at deep odds.
Gdula: Tyrrell Hatton (46-1) — It's not a week to go super long with a sleeper based on the past winners and the strength of the field. Hatton is getting brushed aside after finishing 69th at the WGC-St. Jude and missing the cut at the PGA Championship despite ranking 18th in approach at the major. Hatton gained more strokes from approach play (3.7) in two rounds than Collin Morikawa (3.6) did over four and a win at Harding Park. Take this value.
Gehman: Sungjae Im (50-1) — The fact that we can even consider Sungjae Im a longshot is incredible. There's an argument to be made that he is the most mis-priced golfer in the field this week and now is the time to take advantage. It was a struggle for Im after the restart, but he flashed pure brilliance last week at the Wyndham Championship en route to a top-10 finish. His statistical profile at the Wyndham was much more reminiscent of how he was playing before the tour shutdown, which included a win at the Honda Classic and a third-place finish at the Arnold Palmer Invitational. If Sungjae is "back," which the stats say he might be, then this number is way off!
Hennessey, Golf Digest: Abraham Ancer (65-1) — Ancer has eight top-15 finishes on tour this season. That's elite territory. Two runners-up, too, for Abe. And he's back at a course in 2018 where he led after 54 holes (I know because I bet him that day at 66-1 to be the third-round leader. That was the week after sports betting was legalized in New Jersey … I haven't gone a day not looking at my sportsbook apps since.) That's a long-winded way of saying this is an extremely high number on someone with great long-term form and course history.
Powers, Golf Digest: Rickie Fowler (55-1) — The Fowler disrespect has reached an insane level, and that's coming from someone who has clowned on him quite a bit in the last year or so. It used to be that 30-1 and 40-1 was an eye-popping number for him. I'll take the bait when the odds get this high (he's as high as 70-1 at DraftKings). He's won here, he likes bentgrass and he's mixed in finishes of 12th, 22nd and 15th with a few missed cuts during the restart. And that's without having a single good putting week, which is the strongest area of his game.
Alldrick, FanShare Sports: Jordan Spieth (75-1) — Wait for it: Jordan Spieth ranks first on FanShare's course-suitability ranking this week. Let that sink in. You know about the struggles. And the video of him taking forever to pull the trigger on the driving range. Try to ignore the narrative and look at the stats. Spieth ranks ninth in strokes gained/putting on bentgrass in this field. He also has five finishes in the top 30 in his past six appearances here, including two top-fives. The fairways at TPC Boston are easier to hit than at most courses, so it's not crazy to say Spieth could contend for a victory here.
Players to Fade This Week (who will disappoint)
Caddie: Brooks Koepka (33-1) — I'm fading Brooks (again). He just looks so worn out. He's playing his seventh event in a row, which is ridiculous. He's been grinding for a few weeks now and nothing indicates that's he's turning the corner anytime soon.
Mayo: Xander Schauffele (20-1) — I definitely carry no hate toward Xander, but on what planet should he have lower odds than Morikawa?
Gdula: Bryson DeChambeau (12-1) — This week is loaded with studs, which always makes me wary to bet a heavy favorite. Yes, Bryson's driving is off the charts, but his iron play is still very much average since the return to golf. He's overvalued as the outright favorite.
Gehman: Brooks Koepka (33-1) — Koepka will be playing his seventh consecutive. That is incredibly rare for top players, and we usually only see it happen out of desperation or necessity. I believe Koepka falls into the latter category as he tries to forge a path to East Lake for the TOUR Championship. Koepka has acknowledged fatigue and that his game isn't sharp at the moment. His new putting stroke is being exposed on shorter putts. Per the RickRunGood.com database, Koepka is losing nearly a full stroke per round (-0.91) to the field on the greens in his last four starts.
Hennessey, Golf Digest: Bryson DeChambeau (12-1) — You can make the case for any of these guys near the top, which is why I'm in favor of passing on the heavy favorite in Bryson. One of these elite players is likely to win, but I'd rather take my chances on guys with double his odds with win equity that's closer to Bryson's than what the odds say.
Powers, Golf Digest: Collin Morikawa (22-1) — He can't keep this up … can he?
Alldrick, FanShare Sports: Patrick Cantlay (30-1) — Despite being priced up in the top 10 this week, Cantlay only ranks 25th in our course-suitability ranking. He is also not playing elite enough golf at the minute to warrant being one of the favorites this week. He ranks just 33rd for strokes gained/tee-to-green over the past two months and 62nd for Opportunities Gained, per FantasyNational.com.
Northern Trust 2020 picks: Matchups
Caddie: Justin Thomas (-132) over Jon Rahm (FanDuel) — There's a reason why you have to lay some juice with this number: Sportsbooks are scared of Justin Thomas right now. Even after a middling performance at the PGA Championship, he's a co-favorite, and in this matchup, against the World No. 1, he's a decent favorite. Oddsmakers want you to bet on Rahm here. Don't be fooled and cash a ticket.
Mayo: Justin Rose (-110) over Kevin Kisner (DraftKings) — Rose appeared to put the pieces together Friday at Wyndham, he just happened to be too far out if it from Thursday to make a run at the cut line. Plus, Kiz hasn't finished inside the Top 20 at this course in his past three tries while Rose has back-to-back Top 10s, including a runner-up in 2018
Gdula: Xander Schauffele (+100) over Dustin Johnson (FanDuel) — I keep going against Dustin since picking him to win the Travelers, but I think it's warranted. Schauffele's adjusted tee-to-green comparables in 2020 are Collin Morikawa and Rory McIlroy, via datagolf. Johnson's are Wesley Bryan and Ryan Palmer. There's clear value on X.
Gehman: Daniel Berger (-112) over Patrick Reed (DraftKings) — Reed is a two-time winner of this event, but neither of those came at TPC Boston. Berger has been the best player on the tour since the restart ... seriously! He's gained 2.27 strokes per round on the field, which is the most of anyone. Only Berger and Bryson DeChambeau have gained at least two strokes on the field. When wagering on matchups, I want to find the safer option, which appears to be Berger who has seven top-15 finishes in his past eight starts.
Hennessey: Dustin Johnson (-125) over Brooks Koepka (PointsBet) — The battle between the two former friends. Koepka's playing a seventh straight week, and DJ has had time to cool down after Koepka called him out at the PGA Championship. Is it possible DJ's stellar play got lost in all the headlines about Koepka bringing down DJ? This is smash kind of a bet for me—I'd continue to fade Koepka when given the chance.
Powers: Jason Day (-106) over Collin Morikawa (William Hill) — Golf law says that the game cannot be this easy for Collin Morikawa, who has won twice in his last four starts. As for Day, he seems so close to winning that I think we all might be very sorry we passed on him this week. Four straight top sevens for the Aussie, who appears to be returning to his former self.
Alldrick, FanShare Sports: Jason Day (-118) over Webb Simpson (FanDuel) — You've already read about why I love Jason Day this week. These are the best odds you can get for a matchup with J-Day over someone with similar odds.
Matchup Results from the Wyndham Championship: Gdula: 1 for 1 (Patrick Reed (-110) over Brooks Koepka); Tour caddie: 1 for 1 (Patrick Reed (-110) over Tommy Fleetwood); Alldrick: 1 for 1 (Webb Simpson (-140) over Brooks Koepka); Mayo: 0 for 1; Gehman: 0 for 1; Hennessey: 0 for 1; Powers: 0 for 1
Matchup Results this season: Powers: 12-6-1 (+6.57 units); Tour caddie: 16-9-1 (+6.11 units); Hennessey: 12-7 (+5.87 units); Alldrick: 17-10-2 (+3 units); Gdula: 12-14-2 (-1.53 units); Gehman: 4-6 (-2.38 units); Mayo: 12-17 (-4.81 units)
Top 10 (odds from DraftKings Sportsbook)
Caddie: Alex Noren (+800) — Tough not to like this guy due to his work ethic. He essentially lost his full status last season, falling outside of the top 125, and he's now clawed his way back this season and into the thick of things in the playoffs. He finally took a week of last week (rare), so I think he comes in refreshed and ready to make a push.
Mayo: Patrick Reed (+300) — P-Reed very quietly churned out a top 10 last week at Wyndham after he climbed inside the top 15 on Sunday at the PGA Championship, and he's done it on the back of his driving and irons. Like Hatton, the putter has been cold for his standards. Reed had three consecutive top 10s from 2015 through '17, so he obviously likes it here.
Gdula: Joaquin Niemann (+1400) — These are really nice odds for Niemann, who barely lost strokes from his approach play last week at the Wyndham. The last time he did that was the 2019 Open Championship. Niemann's best putting surface is bentgrass, which is what he gets this week.
Gehman: Doc Redman (+1100) — Doc Redman is putting together some elite statistical performances. He led the field in strokes gained/off-the-tee last week and finished 13th in strokes gained/approach. That alone is a combination that is going to keep you on the first page of the leaderboard quite often. His T-3 at the Wyndham last week moved him into the top 100 in the world rankings for the first time in his career. It also marked his fifth top-30 finish in his past seven events. This kid continues to trend up.
Hennessey, Golf Digest: Harris English (+700) — He was my pick last week, and he popped a bit until the weekend. I'll downgrade to the top-10 bet. I like him for a couple reasons. A) The ball-striking stats are still elite. B) He's second in this field in strokes gained/putting on fast bentgass greens over the past 50 rounds, per FantasyNational.com. And C) English is great on long par 3s: He's in the top 20 in every par-3 range from 175-200, 200-225 and 225 and above. All four par 3s at TPC Boston are longer than 185 yards, so that could be a big stat to look at.
Powers, Golf Digest: Justin Rose (+500) — Don't be afraid to sprinkle a top 5 on Rose at +1400 either (or on him to win at 70-1). The Englishman finished runner-up here in 2018 to Bryson and like Reed and Fowler, loves bentgrass greens.
Alldrick, FanShare Sports: Russell Henley (+750) — Henley ranks second in strokes gained/tee-to-green over the past two months and first in Opportunities Gained, per FantasyNational.com. Although he hasn't shown it recently, he is a very good putter on bentgrass greens, and his ninth-place finish last week could've been even better if his putter heated up just a bit.
Top 10 results from the Rocket Mortgage Classic: Tour Caddie: 1 for 1 (Webb Simpson, +160). Everybody else: 0 for 1.
Top 10 results from this season: Mayo: 5 for 27 (+19.5 units); Gehman: 2 for 10 (+4 units); Gdula: 5 for 29 (+3.2 units); Hennessey: 4 for 18 (+1.75 units); Alldrick: 5 for 28 (-1.5 units); Powers: 2 for 18 (-5.3 units); Tour caddie: 3 for 36 (-15.4 units).
Courtesy of Rick Gehman of RickRunGood.com:
1.94 — The average strokes gained per round for Emiliano Grillo at TPC Boston. That's the second-most (Justin Thomas leads) of any golfer over the past four years.
6 — The number of tour winners, since 2015, to win while losing strokes to the field putting. Justin Thomas lost 1.88 strokes putting during his win at the WGC FedEx St Jude Invitational, the most strokes lost by any of those winners.
4 — The number of golfers to average at least 1.25 strokes gained per round in the FedEx Cup Playoffs dating back to 2015. They are Justin Thomas (+1.38), Jon Rahm (+1.28), Jason Day (+1.25) and Paul Casey (+1.25).
64.33 — The average DraftKings points scored by Tiger Woods in his 12 starts since the 2019 Masters. That's the lowest among any golfer with an average salary as high as Woods.
FanShare Sports' Lee Alldrick has two picks to consider for your DFS lineups:
Under The Radar DFS Pick: Russell Henley (FanDuel: $8,900; DraftKings: $7,300) — I was on Henley last week, which played out nicely for DFS (not as much for the outright ticket, which came close, too). But his form plus long-term stats look really solid, plus he's 28th in this field in strokes gained/bentgrass over all measured stats, which is why he's a great DFS pick this week.
Value DFS Pick: Jason Day (FanDuel: $11,300; DraftKings: $9,300) — I'm not sure PGA golfers pay too much attention to their DFS pricing but if they did, I think Day would feel a little hard done by that he is priced $2,000 cheaper than the highest price play in the field. Day ranks first in my model this week, so I like him in all formats.
Pat Mayo is an award-winning video host and producer of long and short-form content, and the host of The Pat Mayo Experience daily talk show. (Subscribe for video or audio. Mayo (@ThePME) won the 2020 Fantasy Sports Writing Association Daily Fantasy Writer of the Year and Golf Writer of the Year awards, along with the Fantasy Sports Trade Association Best Sports Betting Analyst award, and was finalist for four FSWA Awards in 2020 (Best Podcast, Best Video, Daily Fantasy Writer of the Year, Golf Writer of the Year). His 21 FSWA nominations lead all writers this decade and are third-most all-time. Mayo is on the board of governors at www.fantasynational.com.
Brandon Gdula, managing editor and analyst for NumberFire, a FanDuel daily-fantasy analysis company, recently won the 2018 fantasy sports-writers association Golf Writer of the Year *(congrats, Brandon!)*. Gdula also co-hosts the DFS Heat Check podcast.
Rick Gehman is the founder of RickRunGood.com and the RickRunGood YouTube Channel, is one of the industry's leading experts on golf DFS and gambling. Gehman is co-host of the First Cut Podcast and appears regularly on the Pat Mayo Experience golf podcasts. Follow him on Twitter: @RickRunGood.
Lee Alldrick of FanShare Sports started out writing an article highlighting the best bargain plays for fantasy golf under his twitter handle @DKGolfBargains. His success at this prompted FanShare Sports to enlist him as a guest writer, which evolved into him writing the weekly Under The Radar article. As a U.K.-based expert, Alldrick's insight into European Tour regulars and low priced, low owned plays has provided an invaluable edge for readers when it comes to DFS GPPs.