News
Northeast Amateur win makes Collin Morikawa a U.S. Walker Cup team favorite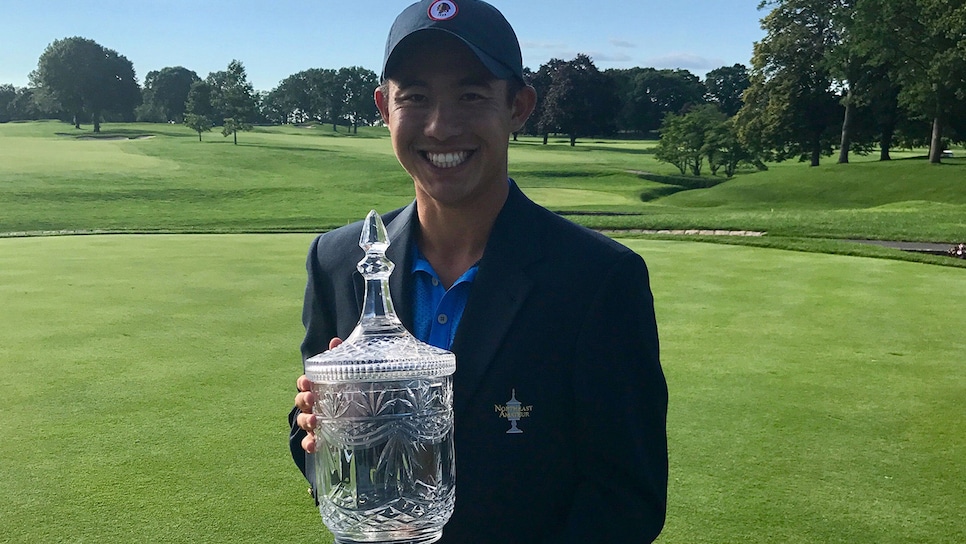 Courtesy of the Northeast Amateur
If he hadn't done so already, Collin Morikawa should make sure his calendar for the second weekend in September is clear. After falling in a playoff to NCAA champion Braden Thornberry a week earlier at the Sunnahanna Amateur, the 20-year-old rising junior at Cal-Berkeley got some revenge with a two-stroke victory at the Northeast Amateur on Saturday.
Shooting a one-over 70 at Wannamoisett Country Club in Rumford, R.I., during the final round, Morikawa, the third-round leader, held off the hard-charging Shintao Ban (final-round 62) and Theo Humphrey (68) to finish with an 11-under 265 and capture his seventh significant college or amateur victory. In turn, the win put him one step closer to locking up a spot on the U.S. Walker Cup team that competes at Los Angeles Country Club in three months.
What should impress the Walker Cup selectors is the way Morikawa grinded things out on Saturday when his game was slow to get started as the field battled rain that halted play for a stretch. After making a birdie on the first hole, Morikawa missed the next five greens, but managed to get up-and-down to save pars four times.
"I just didn't have my entire game out there," said Morikawa, who 11 under tied for the third best 72-hole score in the prestigious tournament's 56-year history. "When I was making up-and-downs to save par all day, those are the ones that really count. I'm glad I found a way to win today."
Fittingly, Morikawa missed the green on the 456-yard, par-4 18th for a fourth straight day, only to get up-and-down for par for a fourth consecutive time.
No. 1 entering the week in the Scratch Players World Amateur Ranking and No. 3 in the World Amateur Golf Ranking, Morikawa adds the Northeast Amateur to a list of wins that includes the 2016 Sunnehanna and the 2015 Trans-Miss. In 25 college starts since arriving in Berkeley in the fall of 2015, he has 15 top-10 finishes and 22 top-20 showings. He also lost in a playoff at the 2016 Web.com Tour Air Capital Classic and played on the victorious American squad at the Arnold Palmer Cup earlier this month.
Despite his impressive resume, Morikawa isn't going to rest easy regarding an invite to the Walker Cup side. "I've still got three big tournaments to play this summer," he insisted, including the Trans-Miss.
It's hard, however, not to think that his name has been more than penciled in for captain Spider Miller's squad.