The Loop
Norman's jab at Woods the latest evidence of a strained relationship
They were reasonably close once, Tiger Woods and Greg Norman, but the chasm that now separates them is too wide to bridge -- and had been long before Norman's most recent knockdown shot at Woods.
"What I'm seeing is that Tiger's really intimidated by Rory," Norman told Robert Lusetich of FoxSports.com.
The notion itself seems folly even beyond Woods' 14 major championships and 74 PGA Tour victories; McIlroy isn't the only player who's outplayed Tiger of late, just the best among them.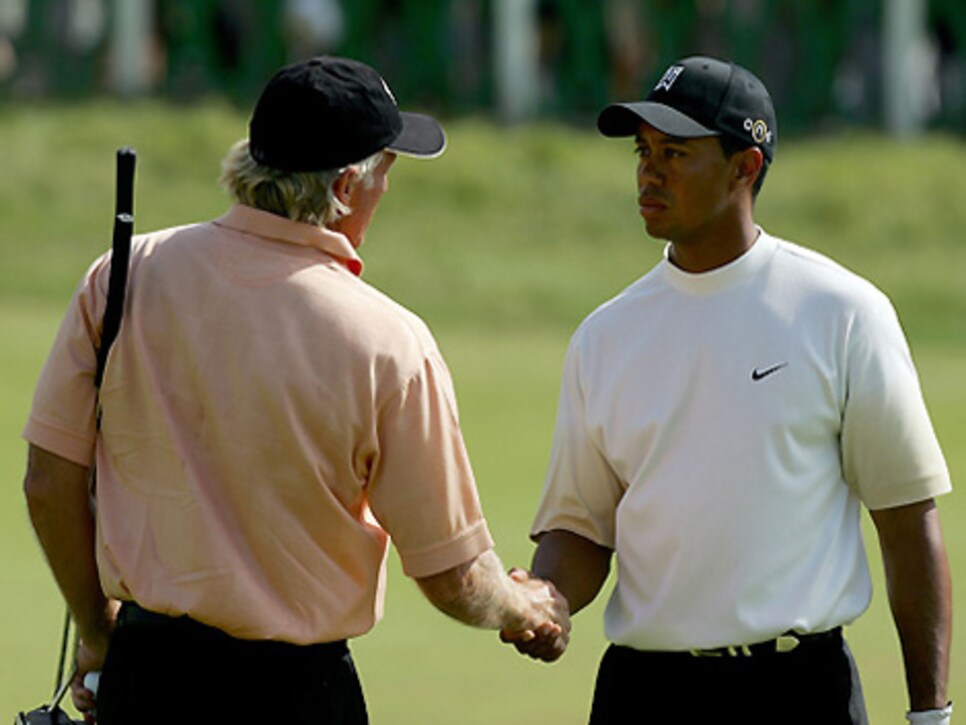 Whatever Norman's reasons for his latest analysis of Woods, it is an extension of a clash of egos that dates to 1996 and effectively ended a relationship that had begun five years earlier, when Woods was 15. Tiger was in Florida for a junior tournament, when an arrangement was made for the two to play golf together at Bay Hill Club in Orlando.
Two years later, Tiger's father Earl, citing how impressed he was with the work Butch Harmon had done with Norman, asked Harmon to begin working with his son.
In 1995, when Woods was playing in the Masters for the first time, he and Norman played practice rounds together on Tuesday and Wednesday. At Augusta National the following year, they played practice rounds together on Monday and Tuesday.
When Woods turned pro at the Greater Milwaukee Open in late summer of 1996, he outlined his schedule for the rest of the year and included Norman's Shark Shootout on it. Shark Shootout representatives, however, said that Woods had not yet been invited, Earl Woods said then. Eventually, Woods was formally invited, but declined the invitation, citing a full schedule that incidentally had him taking off the week of the Shark Shootout (though he and Norman both played the Australian Open the following week).
There were murmurs from the Woods camp, meanwhile, that Tiger's disillusionment with Norman had began to form a few months earlier when Norman squandered a six-stroke lead through 54 holes of the '96 Masters and lost to Nick Faldo by five. Woods often sought the counsel of the game's elder statesmen, but Norman's collapse somehow rendered him poison. Woods also has an aversion to those hitching a ride on his bandwagon and he left some with the impression that he perceived Norman to be overtly passing himself off as a mentor.
The resentment, whatever the foundation, apparently is mutual. Norman's "Tiger intimidated" pronouncement was only the latest in what has become a series of headline-creating criticisms. One was that Tiger would not win another major championship. Another questioned Fred Couples' choice of Woods over Keegan Bradley for the U.S. Presidents Cup team last year.
Norman, meanwhile, said he reached out to the Woods camp, offering to counsel Tiger in his bid to reclaim the form that made him the game's most dominant player.
"I've had no response," he said on Golf Channel's "Morning Drive" show a year ago. "We live a half mile from each other. I think it's great he's in the neighborhood. But Tiger's his own individual. He's going to do things his way."
There was never a chance at reconciliation anyway, given Tiger's stranglehold on grudges. Norman's most recent jab, deftly timed on the eve of the Tour Championship, simply amplified the fact.