The Loop
TURNBERRY, Scotland -- It is unlikely that Greg Norman can channel magic two years in a row in the British Open. A year after he competed deep into the final round at Royal Birkdale as a 53-year-old newlywed, Norman now no longer has the luxury of flying in under the radar, particularly on a course where he once shot 63 en route to his first major championship.
And yet if Norman can claim a distinction at Turnberry, it might be for conducting the widest-ranging press conference of the week, and perhaps of the year.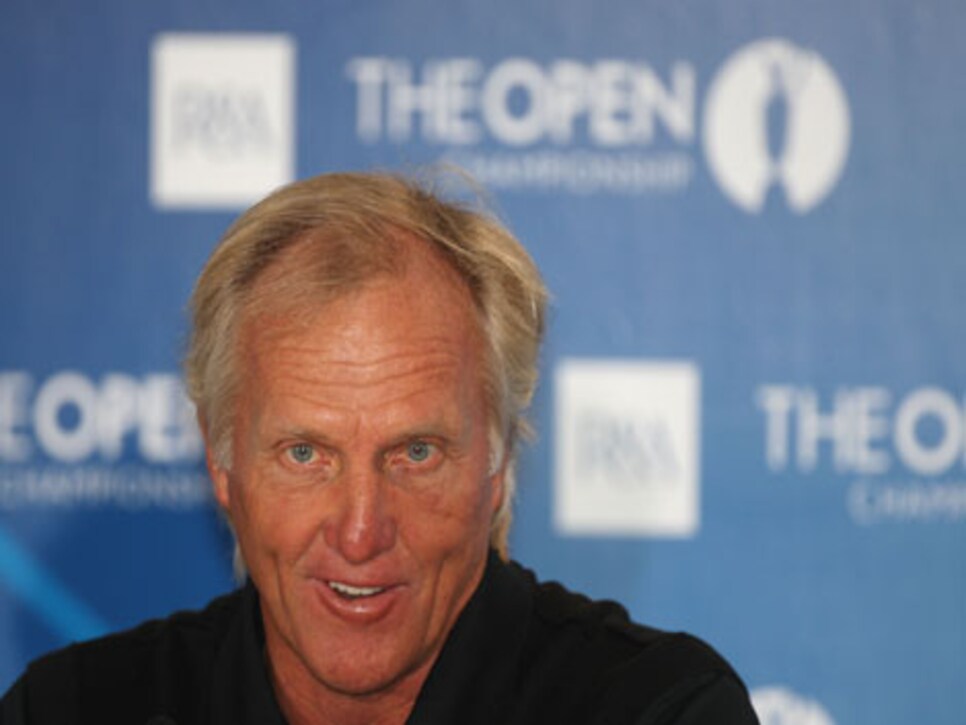 After all, consider  the staggering breadth of material Norman covered in his 35 minutes before the assembled media.
On whether anyone can match his 63 this week:"I don't see it."
On Arnold Palmer's contributions to the game: "He really opened up the era of commercialization in golf. We all -- every one of our bank accounts thanks Arnold."
On the impact the new groove rule will have on competition next year: "The younger generation that has never experienced it doesn't have a clue of what is going to happen to their game. When you go to a British Open style where you cant spin the ball as much, the whole game of golf is different."
On the global recession's impact on his design business: "I've had to lay off people, which is not a good feeling. It's the first time in my life that I've had to do that. America is absolutely dead, and it doesn't look like it's going to come back for quite a while."
On golf's growth in China: "They estimate by 2020 there will be 26 million golfers in China; that's more than the United States or anywhere else."
On whether his marriage to Chris Evert is still strong:"We still have the spring in our step. We look back on it and go, 'Wow, 12 months ago this is where we are. And that's why you have to enjoy it while you can, because time travels so fast nowadays."
There was plenty else -- his thoughts on the Obama administration's new regulations, how he still can't beat his wife in tennis, how Vietnam has recovered from years of warfare -- but eventually Norman had to go. The room was booked for an interview, and he still had a practice round to play -- assuming he hadn't tired himself out.