News
Nobody deserves a golf trip to Ireland more than these injured military veterans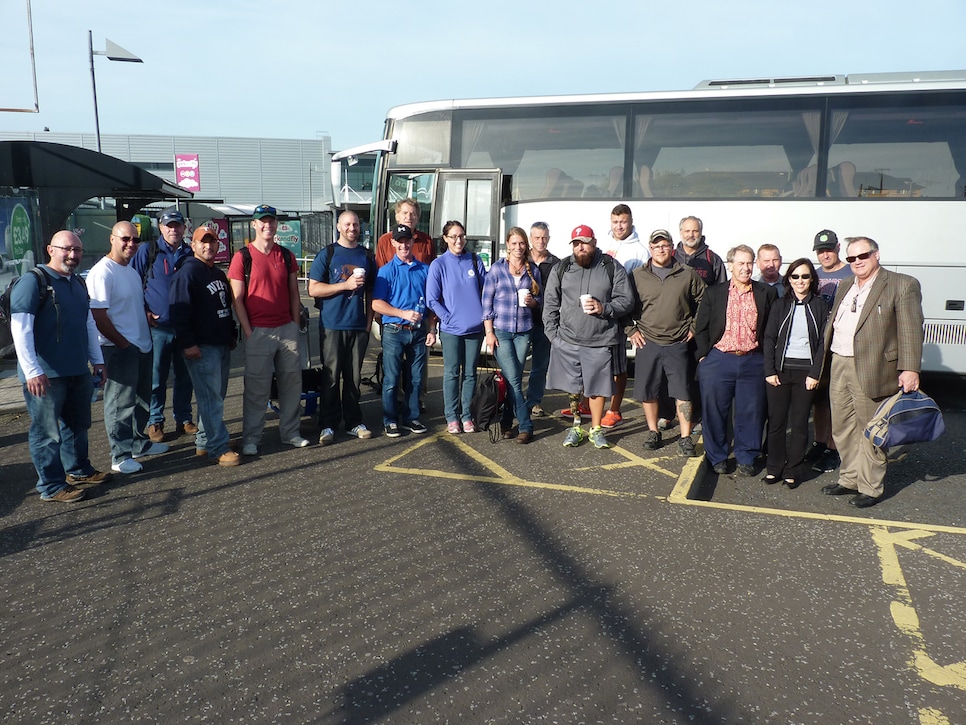 U.S. Army Sergeant John Girouard will remember the date for the rest of his life: June 15, 2011. He was returning from patrol in Kandahar, Afghanistan when suddenly and without warning an I.E.D. blast rocked his vehicle. His best friend died in the explosion. Girouard fractured his spine and pelvis, ruptured an ear drum and suffered a traumatic brain injury (TBI) that resulted in a frontal lobe brain hemorrhage. Even though he was severely injured, he fought hard to save others around him and was awarded a Purple Heart for his heroics.
Though he survived, Girouard's life was turned upside down. He spent 14 months at Walter Reed Medical Center, learning how to do all the basic things over again. "I was like a 3-year-old," he says today after three years of intensive rehabilitation, both physical and mental, re-learning to read and write and even hold a fork.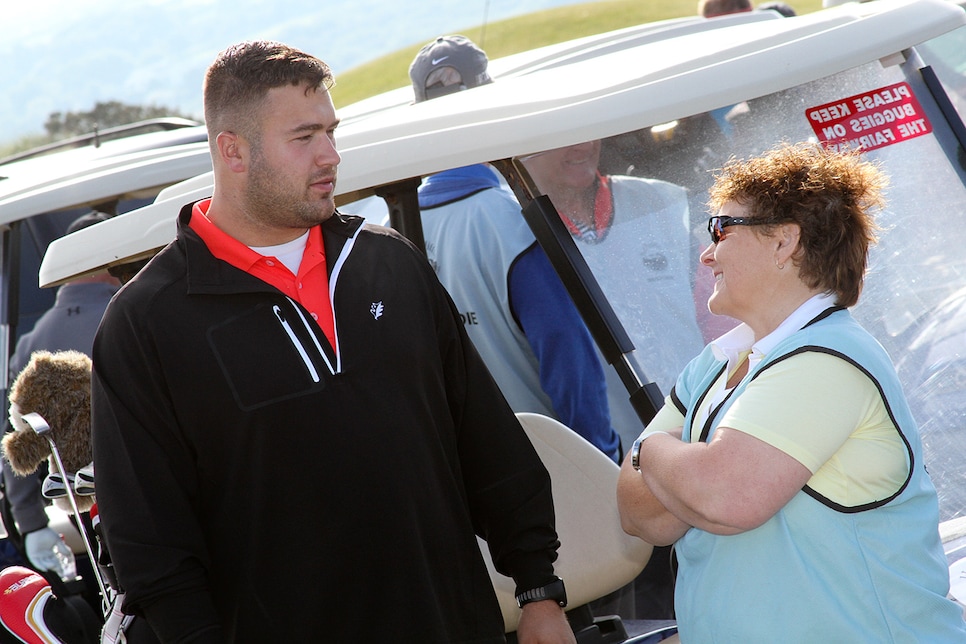 Now he's talking normally from the Rosapenna Sandy Hills course on the northwest coast of Ireland, as he hits his 4-iron 220 yards—and usually pretty straight. Girouard (above left) serves as a firefighter in the Boston area. He says he's simply happy to be alive and that golf gives him some semblance of peace. But he will never forget his best friend, Private First Class Ryan J. Larson, and to this day Girouard wears a black bracelet in commemoration of his buddy. He never takes it off.
Girouard is one of 13 injured veterans recently brought to Ireland to play some of the world's greatest golf courses and receive other kinds of therapy as part of a group called Fairways for Freedom (see www.fairwaysforfreedom.info). Eight "ambassadors" also participated on the six-day trip and helped sponsor the veterans. Corporate sponsors included Titleist, which donated 36 dozen Pro V1 golf balls logoed with an American flag and an Irish shamrock; Tailorbyrd apparel, which donated logoed shirts for the participants; Smathers & Branson, which donated customized leather belts embroidered with American flags; and Protags, which donated various memorabilia including personalized bag tags.
The golf courses generously provided complimentary green fees for the veterans, and the hotels offered discounted rates. Travel arrangements were provided by North and West Coast Links, based in Galway.
The veterans were identified through various veterans groups, including the Boston chapter of the Salute Military Golf Association. "Spending eight days with these remarkable, brave veterans was a life experience for me," says Randy Abood, one of the ambassadors on the trip. "How can we begin to express our gratitude for the selfless sacrifices they have made to our great country. And what fun to spend time and get to know each of these individuals."
In addition to Girouard, the other were:
Christopher Bain, U.S. Army
Robert Campagnone, Jr., U.S. Air Force
Matthew Crowley, U.S. Navy
Michael Forte, U.S. Air Force
Michael McCombs, National Guard
Christopher Nowak, U.S. Marine Corps
Javier Quintero, U.S. Army
Ryan Scott-Fleming, U.S. Army
The cadre of 13 flew into Belfast where they met up with the ambassadors and three staff (including this writer) before taking a luxury coach bus to Ireland's Northwest Coast. First stop was the Rosapenna Golf Resort, where they played both the Old Tom Morris Links and the Sandy Hills Links. The resort staff, including brothers John and Frank Casey Jr. (sons of owners Frank and Hilary Casey) was first-rate, providing breakfasts and dinners, box lunches and accommodations. The golf courses are breathtakingly beautiful, with gorgeous views of the Sheephaven Bay in the foreground and Mulroy Bay in the background.
That evening, as was the case most nights of the trip, Dr. Patricia Donnelly, a sport psychotherapist who works in Jupiter, Fla., and Cape Cod, Mass., conducted seminars and led the veterans in mindful yoga therapy sessions designed by the Veterans Yoga Project specifically for those with Post Traumatic Stress Disorder (PTSD). They were also accompanied by Dr. David Joseph, a clinical psychologist who heads the Oakland (Calif.) Veterans Center. Joseph, who served in the Israeli Army, conducted seminars and was on hand for discussions throughout the week. In addition to these therapeutic sessions, some of the ambassadors led other discussion sessions.
The following morning, the group ventured up the coast as far north as geographically possible while remaining in the Republic of Ireland to the Innishowen Peninsula and the remote town of Ballyliffin. Here, at the Ballyliffin Golf Club, they found 36 holes of pure bliss, accentuated by near-perfect weather. The courses' beauty so moved a couple of the veterans that they stared out over the ocean for 10 minutes from the 17th tee, literally brought to tears.
Gaida, who served as an Army Combat Medic and suffers from a TBI, later put it all into perspective: "Without my husband's, children's and [the Eklund Family's] support and love, I don't know where I'd be today. I just want to thank all of those who made this trip possible. I am truly humbled and forever changed for the better."
In the clubhouse, expertly run by general manager John Farren, the veterans discovered an amusing score card and photograph hanging on the wall. It's of a 14-year-old Rory McIlroy with Nick Faldo after the two played an exhibition on Ballyliffin's Old Links. McIlroy shot a then-course-record 67, but in the strict Irish tradition, it was transformed into a net 71 due to McIlroy's +4 handicap at the time.
It was on the Old Course at Ballyliffin that some of the ambassadors learned Scott-Fleming's story. The Purple Heart recipient was injured on May 9, 2011, in Afghanistan's Qarghayi District, an explosion that left him with a TBI, compressed disks, bone fractures, hearing and vision loss, nerve damage and PTSD. Today he plays to a 13 handicap and says golf "is a time for me to be in the moment where nothing interrupts me."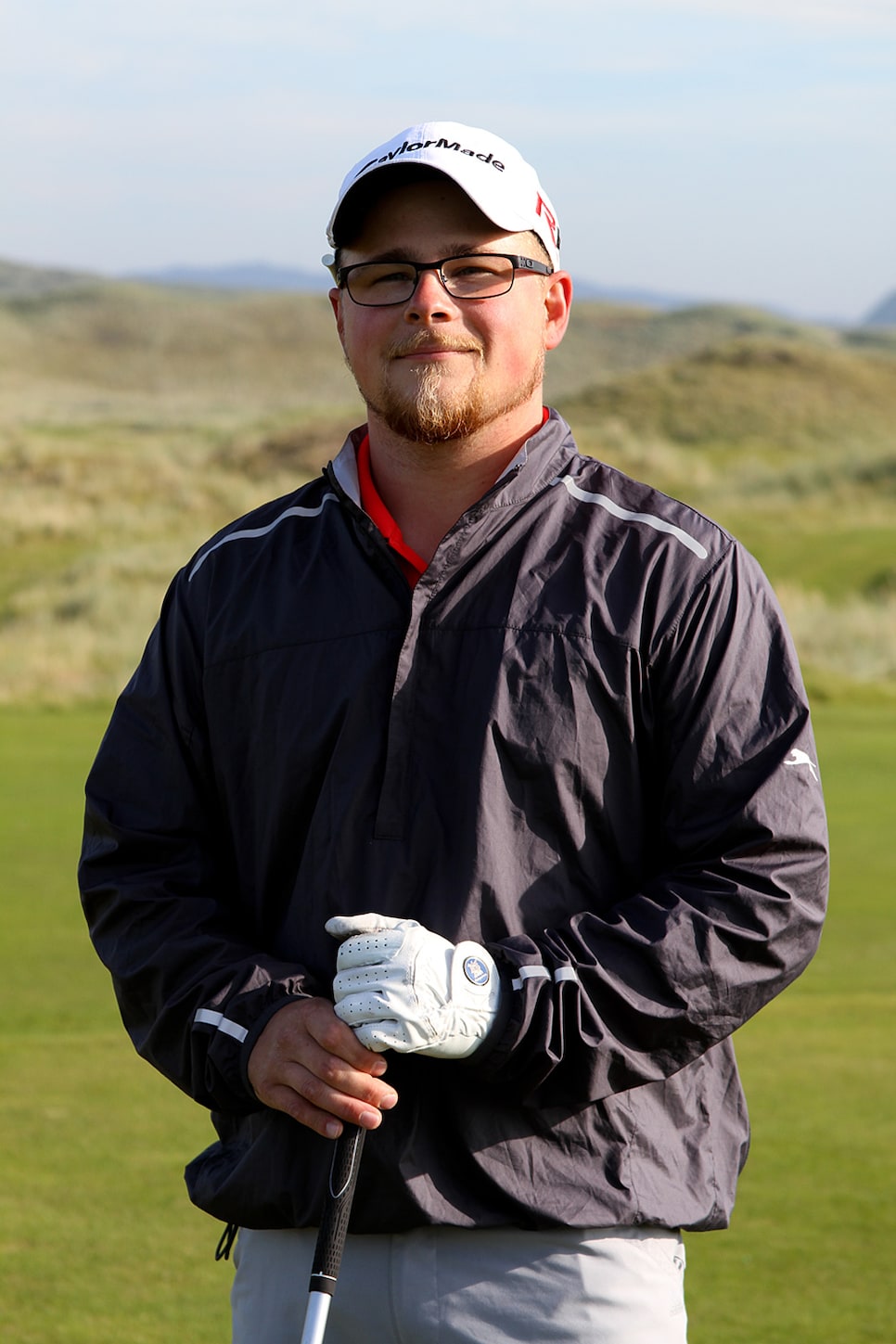 Scott-Fleming is working as a contractor, but also is involved with After Action Films, helping other injured veterans get their stories publicized. He focuses on suicide awareness, noting the startling statistic that 22 U.S. veterans take their lives every day. Google him and check out his own video profile on Vimeo. You'll be glad you did.
Ballyliffin's Glashedy Links is the club's newer course, named after the massive rock dome that emerges out of the Atlantic and is perpetually in view. Designed by Pat Ruddy and his partner, Tom Craddock, the course is a robust, unabating links with mighty par 4s, large greens and deep pot bunkers, all set in towering dunes. Though the dunes are formidable, the veterans found the course to be imminently playable. For example, Nowak, a U.S. Marine Corps veteran who heads the PGA of America's Hope Program, had no problem from tee to green. Nowak is a below-the-knee amputee. An excellent athlete, he's also a Paralympic hockey player and currently heads the VA's Paralympic Program Office (he founded the Paralympic Program several years ago).
The group stayed at the Ballyliffin Lodge and Spa for a second night, where they were treated to a five-course dinner and some live Irish entertainment—a "session" of traditional music by four expert musicians (fiddle, guitar, accordion and bodhran drum, a staple of Irish music).
After Ballyliffin, the veterans and ambassadors took a coach bus across the border into Northern Ireland to the town of Portrush. The group had the treat of visiting Royal Portrush and playing the Dunluce Course, the only course in Ireland to have hosted the British Open, in 1951, won by Max Faulkner. The R&A recently announced it would play the Open there again in 2019.
Following the golf, the group made its way to Dunluce Castle and then the Giants Causeway, an incredible natural geological phenomenon on the country's northern coast. Countless photographs of the perfectly sculpted rock formations later, the group finally rolled into their living quarters for the final two evenings, the Old Bushmill's Inn.
That night at dinner, after prize-giving for the daily better-ball competition, one of the ambassadors, recently retired Air National Guard Lt. Col. Chris Willander, gave specially made challenge coins to each of the participants. Moving speeches by several were made, among many jokes and one-liners discussing the day's expert play—or lack of it.
The final day broke and the weather was still awesome. Portstewart proved to be a rewarding experience for all the golfers, who marveled at the severe, yet playable, undulations and fairways winding through massive dunes. One of Portstewart's claims to fame is that its opening hole is possibly the finest in the game. That might be a bit of hyperbole, but it's not far from the truth. The tee shot is hit deep down into an amphitheater amid the sandy dunes that set the mood for a magnificent golfing experience to come. Immediately after the first hole, you climb into elevated panoramic views of the golden sweep of Portstewart strand, the busy holiday town across the Atlantic inlet, and of the River Bann that flanks much of the back nine.
At the final dinner, as the bonds of camaraderie among the veterans and ambassadors, Girouard's words spoke volumes.
"Golf means the world to me," he said. "I used to have hockey and that would keep me with my friends and active, but after being injured I felt like I lost that because I could only watch from outside the playing area and I couldn't connect with the guys. Golf has given that back to me. It has given me my friends back and the enjoyment of sports. It helps so much because for the most part it is a danger-free and relaxed environment with all the aspects of staying healthy, active and keeping close and supporting others. It's a great game for recovering and injured veterans!"
Without a doubt, the other veterans—and ambassadors—would agree.