The Loop
No one is going to the Big Ten Tournament that's being played nowhere near the Big Ten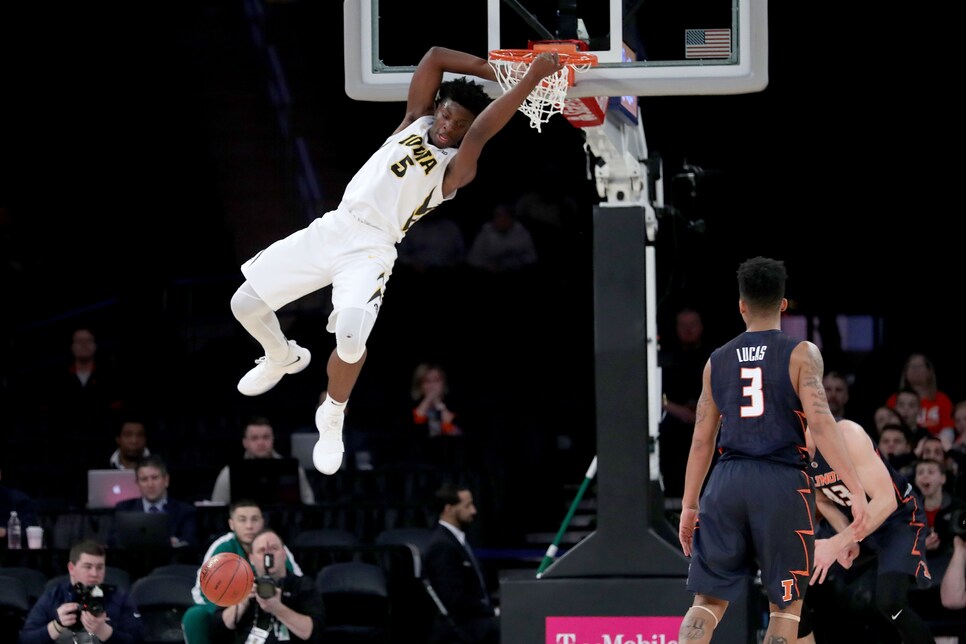 Most humans have a very hard time feeling sorry for scalpers. I don't want to say they represent the sticky, oozing bottom rung of our crumbling socioeconomic network, because there are still morning FM-radio DJs, according to that day my car's USB cord stopped working. (Not to worry — I fetched some CDs from the attic and loaded up the Odyssey. #neveragain). I am also told there are people who elect to work for Mel Gibson. But scalpers are well down there in the basement, and if you have some question about this dial up Ticketmaster's "Verified Reseller" listings about 40 minutes after a Timberlake on-sale and watch the filthy underbelly of humanity slither all over your pixels. ("Are you looking for $90 tickets? Our Russian-built network of evil AI and swarthy goons will be happy to get you those for $595.")
Yet after reading about attendance at this week's Big Ten Tournament, being held in the picturesque Midwestern enclave of Manhattan, you have to feel bad for scalpers, just a little tick, right? Here are people who make their living betting that people want to watch the things happening inside buildings, and the NCAA fills one with teams that hail from hundreds of miles away, where fans would have to pay $800 for hotel rooms and park in Maryland. Also, they schedule it midweek at the end of February, which they have to do because Madison Square Garden is generally full of events that draw crowds, such as the Big East tournament and Billy Joel, HOW IS THAT STILL HAPPENING. Anyway — and fully acknowledging the breathtaking competition — holding the Big Ten tournament out East is one of the NCAA's most forehead-slappingly moronic decisions in recent memory, and these are people who essentially apologized to Penn State for temporarily getting annoyed about decades of sex abuse.
The Washington Post has a story on such plucky little scalping entrepreneurs, some of whom were out peddling first-round Big Ten tickets for the outrageous price of $6. SIX DOLLARS. I have been to elementary-school karate belt promotions that cost six times that, and I'm sure I'm getting wildly fleeced by the dojo — and it actually costs more when you factor in the post-ceremony trip for ice cream— but at least karate belt promotions are adorable. Rutgers vs. Minnesota is a lot of things, but zero of them are adorable. (According to the story, lots of people wandered by not even knowing what was happening inside Madison Square Garden. If I'm a scalper, I just mumble something about UFC, take my money and go home.)
The Post reported "swaths of empty seats at the venue for the first round Wednesday night," with the upper decks going entirely unvisited. The NCAA, for some reason, didn't announce attendance figures, but it apparently looked a good bit like the 2017 Big Ten tournament, which was held in Washington, a place which is also not Indiana or Michigan or Iowa, or a place that anyone from most of the Big Ten would remotely consider driving to. The previous year, the Big Ten tournament was held in Indianapolis, a town that research reveals is actually in Indiana, a state that contains people who like basketball so much they play Gene Hackman speeches from 1986 at professional events. (There is also decent parking.) There is also Chicago, where parking blows but at least it's close.
Back in October, Big Ten commissioner Jim Delany told a "sparse group at the Garden" that the East Coast was "the most important corridor in the country if you look at media, if you look at politics, if you look at banking, if you look at finance," i.e. there's a bunch of money there and we would like to feast on all of it please now thanks. Last week, he acknowledged that the empty seats and shoving in the Big Ten tournament a week early to accompany such headline-grabbing monsters as the Atlantic Sun and Ohio Valley tournaments was probably a bad call. (Happily Big Ten teams will get a two-week break before the NCAA tournament begins.) Kudos for acknowledging dropping the ball, but this was a dumb idea that was never going to work. Delany definitely does not get ice cream.