The Loop
No offense to Martin Kaymer, but pretty much the entire world was rooting for Erik Compton on Sunday
__PINEHURST, N.C. -- This wasn't a typical standing ovation moment. Not when you're losing by eight, and you've just flailed your drive right into the junk.
But this was Erik Compton, double heart-transplant recipient, walking off the 18th tee at Pinehurst No. 2. This was the guy who was fortunate to be alive, let alone playing in the second-to-last pairing on Sunday of the U.S. Open. And so as Compton walked toward his ball on the 72nd hole at Pinehurst No. 2, the crowd in the grandstand rose. Along the rope line, more men and women stood and yelled.
"Finish strong, Erik," they kept telling Compton. "Finish strong."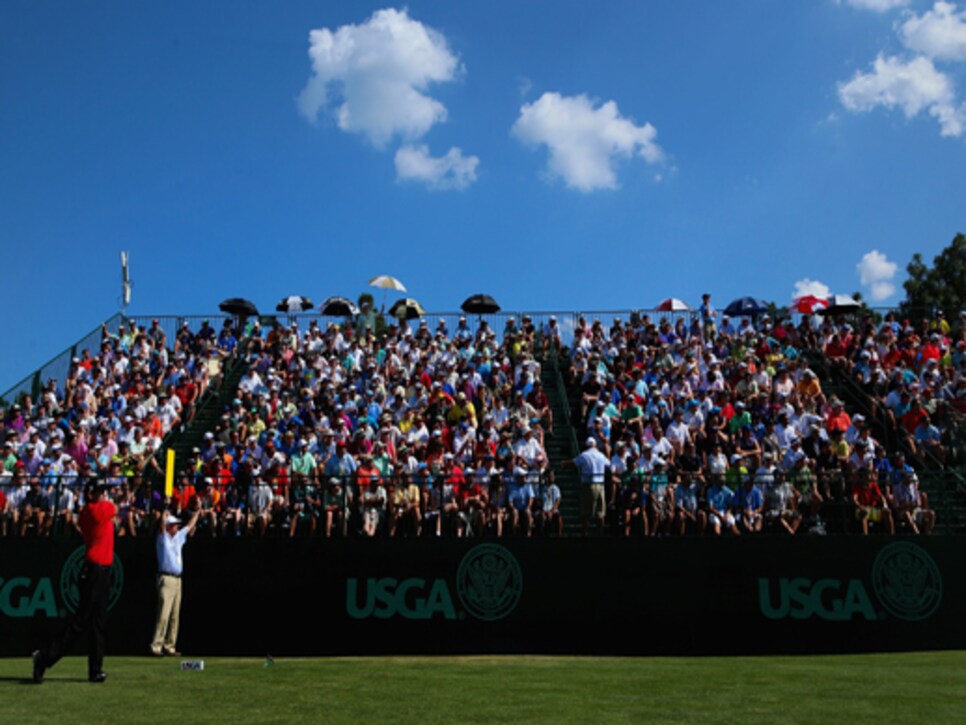 The winner of the U.S. Open? Technically, it was Martin Kaymer, who finished at nine under par, eight strokes better than anyone else. But the player who gained the most had to be Compton, the 34-year-old golfer who somehow tied for second playing in his second major, and on his third heart.
"On every hole, from the tee box to the putting green, people were cheering for me and I definitely felt the love and the support from the crowd," Compton said. "Seemed like people really got around my story. And for me to be here, and to do this at such a high level, is just as good of a feeling as winning a golf tournament. So it's just a great feeling. I can't wait to get back into another major."
That part Compton took care of Sunday when he got up and down out of the sand on 18 to shoot 72 and tie Rickie Fowler behind Kaymer. The showing was his best finish on the PGA Tour, earns him a berth in next spring's Masters and all but assures he'll qualify for this August's PGA Championship. That he did it after making it through a five-person playoff in sectional qualifying is noteworthy. That it came six years after his second heart transplant is worthy of Hollywood.
"You could really do a movie about Erik Compton's courage," said Compton's longtime coach Jim McLean, who taught the golfer from a young age at Doral in Miami. "I think for him to have done what he's done, he's won on the Web.com Tour, he's represented America in Walker Cups, he's come back now from a second heart transplant, it's a phenomenal achievement. It's just incredible. . . . He was a hero to me before this. And now doing this."
As McLean and Compton both said, a share of second at Pinehurst was almost as big as a win given the exposure he received. And even before Compton teed off alongside Henrik Stenson on Sunday, it was apparent his story had resonated.
Consider the outpouring of support on social media.
Black hat, red shirt, black pants for the man so many people are pulling for this Sunday afternoon: Erik Compton.
Eric Compton winning today would probably be the best story in the history of sports.
Best of luck, @erikcompton3! You are truly an inspiration. Thank you for showing us how to live.
Erik Compton is a true inspiration to mankind #usopen
On a day when Kaymer ran away with the Open, it was Compton who captured the most new fans. At 34, he aspires to make his mark in more majors, but he also knows it will be difficult for him to impress more than he did this week.
"I don't have anything to really prove to anybody anymore. If I never played golf again for the rest of my life, I think that I have made my mark in this game," he said.