Asia-Pacific Amateur
No longer burdened with decision to turn pro, Lukas Michel focused on Asia-Pacific Amateur in beloved homeland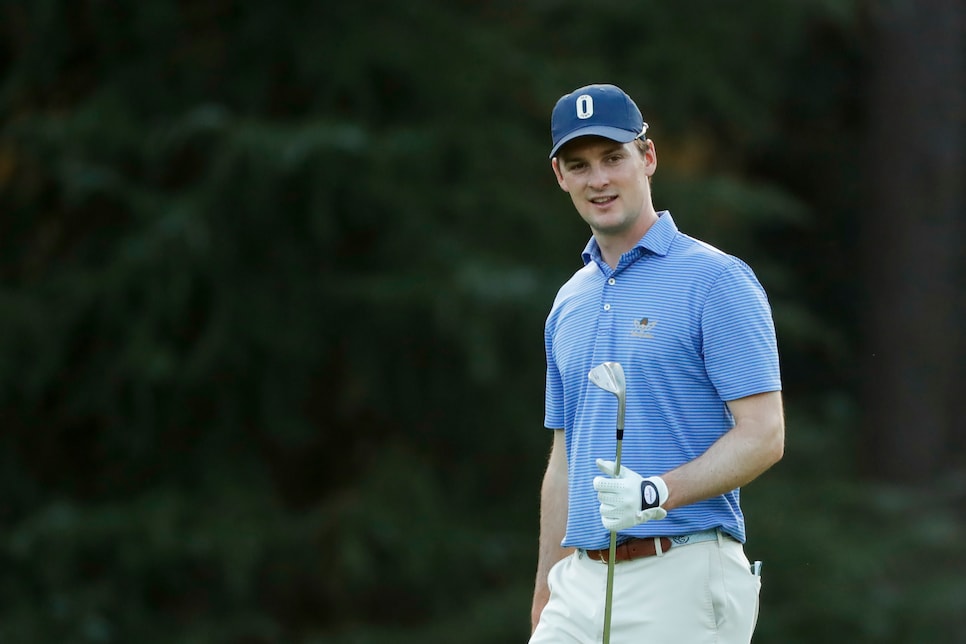 Lukas Michel on the 14tg hole during a practice round at Augusta National ahead of the 2020 Masters.
Augusta National
MELBOURNE, Australia — Lukas Michel, the 2019 U.S. Mid-Amateur champion, had wrestled with the decision for years. Turn professional and begin life as a touring golfer, or use his engineering degree and love of design to pursue a career in golf course architecture? Chase birdies or bulldozers?
Earlier this year, bulldozers won. Australia's amateur golf calendar spilled over into January and represented the last handful of tournaments Michel would use to test if he was good enough to join the paid ranks. He was in contention at the Australian Amateur at the Alister MacKenzie-designed New South Wales Golf Club in Sydney earlier this year. During the final round, at the par-4 15th, Michel needed to hit driver to have any chance at posting a number. But the stress of the tee shot, and a strong headwind, forced him to lay up with an iron, which he pushed right into trees.
"That was when I thought, I don't think this is for me. I didn't like the stress of it," Michel said Tuesday at Royal Melbourne ahead of the Asia-Pacific Amateur Championship. The tournament, created in 2009, affords the winner an invitation to the following year's Masters and Open Championship. It is jointly run by Augusta National and the R&A.
Michel, 29, a mechanical engineering graduate from the University of Melbourne, had already started a career in golf course design consulting for several years for the firm of Mike Clayton, Mike DeVries and Frank Pont (CDP). In the 12 months leading up to the 2023 Australian Amateur, Michel spent considerable time behind the wheel of a bulldozer helping construct a course called 7 Mile Beach, a passion project of former PGA Tour pro Mathew Goggin in the sand dunes of Hobart, Tasmania. Having learned the construction and shaping side of the industry at 7 Mile Beach, Michel has recently taken the reigns on an innovative design project CDP has been commissioned to build in rustic Australian farmland two hours from Melbourne. Michel will design a golf course with six greens that allows its holes to be played backward.
But the desire to compete is still there. Michel plays the U.S. Mid-Amateur each year, courtesy of a 10-year exemption for winning in 2019. This week, though, presents a unique opportunity. He'll face 117 of the best amateurs from 41 countries around the Asia-Pacific region at a layout he knows well—the Composite course at Royal Melbourne. The Composite—which uses 12 holes from MacKenzie's West course and six from the East—has hosted three Presidents Cups (1998, 2011 and 2019). Michel, a member at nearby Metropolitan Golf Club, grew up in Melbourne playing the city's famed Sandbelt courses.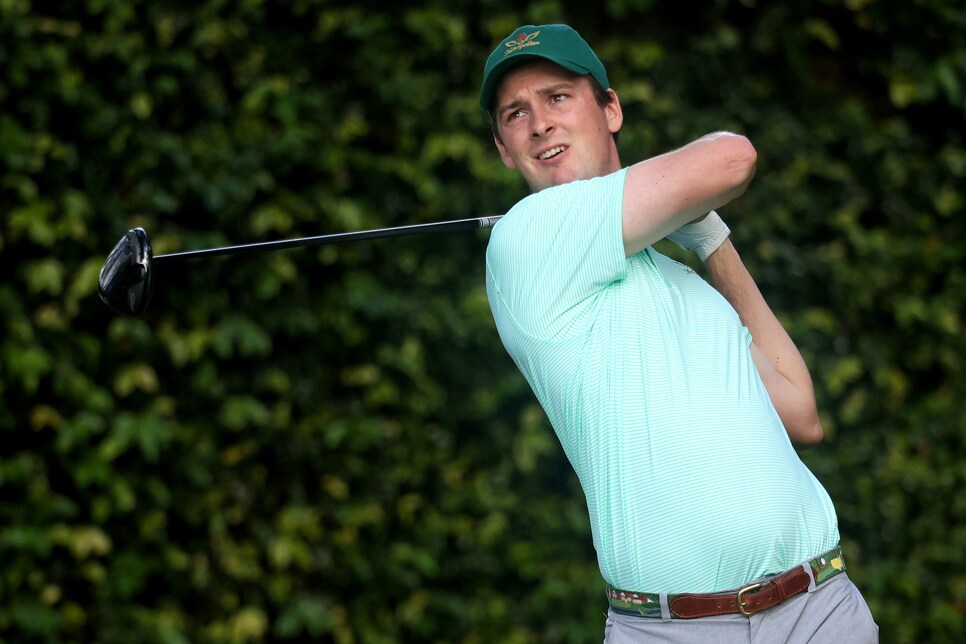 "Admiring Royal Melbourne while competing just makes this week more enjoyable," Michel said. "Even though I'm so familiar with this golf course, every time I play it, I see something different."
Michel might be 369th in the World Amateur Golf Rankings, but he's not teeing up at the Asia-Pacific to make up the numbers—he's here to try and win. He's also the only competitor at Royal Melbourne to have already played in the Masters. But he wants to earn a return to Augusta National given his experience in 2020 was drastically affected by the Covid-19 pandemic. Michel's Mid-Amateur triumph was cemented six months before the pandemic postponed the 2020 Masters and the U.S. Open at Winged Foot to the fall of that year. Both were held without spectators.
"It was disappointing, not necessarily for the experience of the 2020 Masters, but not having my family there and sharing it with friends, family and my girlfriend," he said. "In a way it was really unique having that 2020 Masters experience because no one's ever going to have it like that ever again, and I really appreciate the opportunity I had. But at the same time, I want to go back and actually have the authentic Masters experience with the big crowds and the roars. I'm not going to put pressure on myself, but going back to Augusta is a motivator, for sure."
He'll face tough competition at Royal Melbourne. The field is led by Japan's Yuta Sugiura (No. 15 in the WAGR), China's Wenyi Ding (No. 17), New Zealand's Kazuma Kobori (No. 30), Thailand's Ratchanon "TK" Chantananuwat (No. 41) and Australia's Jeffrey Guan (No. 55).
Michel will at least feel freer than he used to, with the weight of the decision to turn pro off his shoulders.
HOW TO WATCH THE ASIA-PACIFIC AMATEUR
Thursday (Oct. 26), 1-4AM ET, ESPN2
Friday (Oct. 27), 1-4AM ET, ESPN2
Friday (Oct. 27), 10PM-1AM ET, ESPN+
Saturday (Oct. 28), 11PM-2AM ET, ESPN+
All coverage will be simulcast live on the championship website.