No kidding, unfortunately
RANCHO MIRAGE, CALIF.- Some of the Swedes in attendance at the Kraft Nabisco Championship thought they'd woken up to a clever April-fool's joke when they logged on to their computers to catch the news from back home this morning. The headlines on the Swedish newspaper sites announced the disqualifications of Helen Alfredsson and Maria Hjorth from the tournament for missing their pro-am tee times by minutes Wednesday, and apparently the circumstances seemed too far-fetched for some to be anything but a joke.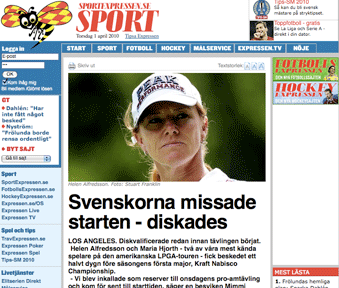 Sadly, it wasn't a fib. Alfredsson and Hjorth, both alternates in the second pro-am of the week who weren't able to get to the tee on time when they got the late call, are on their way home, as is Shanshan Feng, who waited on the wrong tee to meet her pro-am group and ran to catch up with them on the correct hole but didn't get there until they had already teed off. A harsh policy, you say? Absolutely. But apparently a rule is a rule.