The Loop
No. 64 suits Leopold just fine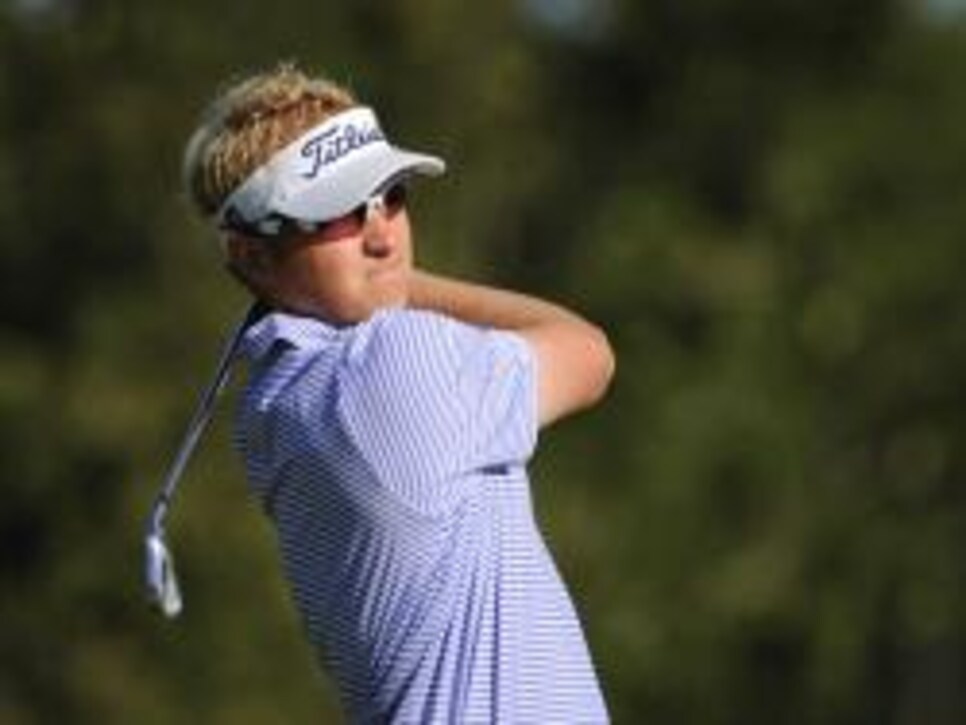 __ERIN, Wis.—To say that__Bobby Leopold won one for the old guys Thursday morning at Erin HIlls GC might be a bit of a stretch. He is, after all, just 26, a long way away from receiving an AARP card.
Still when a golfer who isn't straight out of college/high school—and actually works for a living—reaches the round of 32 at the U.S. Amateur these days, it officially qualifies as newsworthy.
Despite losing the first two holes in his match with __Gregor Main__, Leopold, who was born in the U.S., grew up in England and now lives in Cranston, R.I., selling insurance, kept his cool. He squared the match by the fifth hole and held a 2-up lead through nine when it was suspended Wednesday evening for darkness. Returning this morning, he kept walking off with pars, forcing Main to make a move that never came to be, closing him out on the 17th hole for a 2-and-1 triumph.
Leopold's path to the second round, where he'll play U.S. Walker Cup team member__Harris English__, was a challenge even before having to face Main. He made it into the championship as an alternate, receiving a call from the USGA just seven days before the first round of stroke-play qualifying, forcing him to juggle his schedule to get in some 11th hour practice before heading to Wisconsin.
After 36 holes of stroke play at Erin Hills and Blue Mound G&CC, Leopold sat at even-par 142, leaving him into a 20-player playoff for the final four spots of match play. It was the same situation Leopold found himself in a year ago at Chambers Bay, where he was in a 16-player-for-six-spot situation.
Somehow for the second straight year Leopold managed to navigate his way through the playoff into the final 64 (as the 64th seed). "It was fun but grueling," Leopold said. "It was probably more exciting [this time] because everyone was watching." (The Erin Hills playoff was played mid-afternoon, and televised on the Golf Channel, while the one at Chambers Bay began early in the morning with a spartan crowd following the action.)
The experience from Chambers Bay left Leopold more prepared to handle the transition from the emotional high of making match play to actually facing an opponent (he lost to Justin Thomas in the first round last year).
Leopold could safely be called a late bloomer. By his own admission, he didn't play at a highly competitive level when he lived in England. He came to the U.S. and played college golf at Rollins, graduating in 2007, but decided against turn professional after school. Instead, he got his MBA at Bentley University in Massachusetts. He went to work for his father-in-law, Scott Cooke, who also serves as his swing coach and, this week at Erin Hills, as his caddie.
"I always said if I was going to turn pro, it was for the reason that I was good enough [to play out there]," Leopold said. "But I looked at it and realized standing over a four or five footer for $50,000 or to put food on the table, it wasn't for me. It's a different lifestyle. That puts a toll on your family.
"I like where I am," Leopold noted. "It's nice to play against these guys when they are going to be pros and say, 'Oh, I played against so-and-so at the 2011 U.S. Amateur.' "