Nina Muehl: Style Inspiration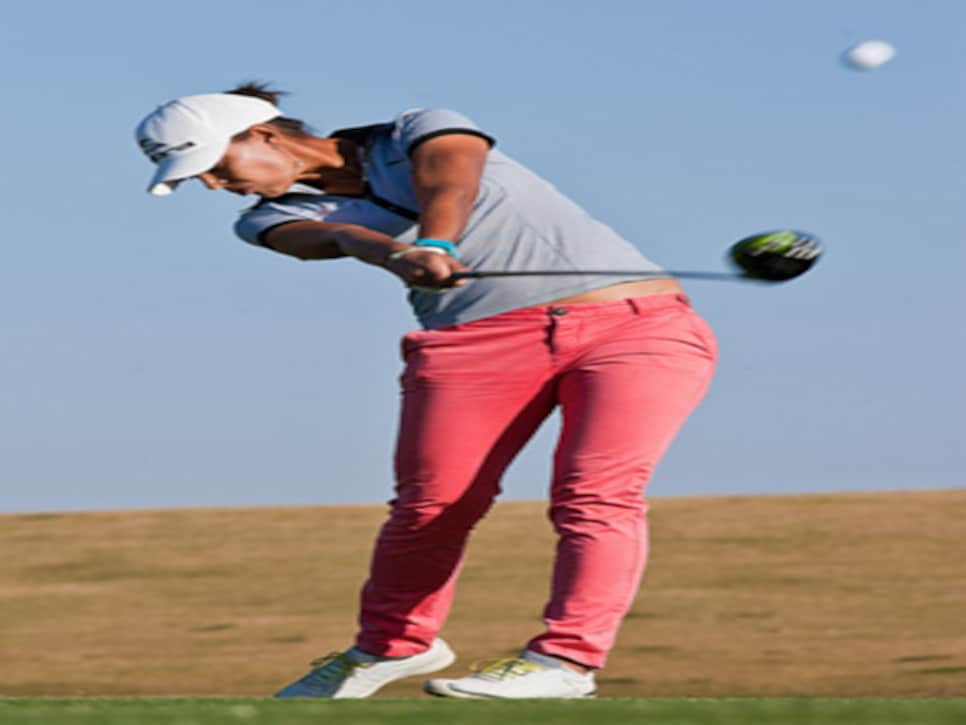 Nina exemplifies a powerful and feminine look with well-fitting clothes that don't feel like too much of a departure from your normal weekend wardrobe. I don't know when golf adopted the skort but, we need to sell that nonsense back to the USTA and give the trousers a try. Nina's short rise, slim fit cotton chinos do as much to show off her stems as a short tennis skirt would and they'd look just as good if she was wearing them to brunch. Secondly, don't be afraid of the super short sleeve polo. Less fabric around the arms will only free up your takeaway and will create a slimmer silhouette across your torso. I don't mind the post-impact belly shot, either. The proportions of the shirt to the trouser are good and if the shirt were longer it'd bunch at the hips and start to look sloppy. It's not like she's going full Olympic beach volleyball out there! Nina's attention to fit and function gives her a modern look that's as attractive as it is athletic, but her casual attention to detail and styling is what really sets her stuff apart from most of the other top-tier amateurs and LPGA pros out there.
Nina's look is built from pieces in softer tones, which gives her style a lived-in, natural feel, and makes her accessories really pop. Unlike a lot of the high-contrast, high-res looks on the tours, Nina's pants look like they've been worn to the beach a few times and left out on the porch to dry. Her soft, washed red trousers look great with her light blue polo but they'd look great with half the shirts in her closet because soft colors are much easier to work with than solid saturated ones. It's one of the reasons why your old jeans look good with everything you wear. Also, notice how sharp her white hat, blue bracelet and neon laces look against the muted tones in the rest of her setup. The soft pallet turns bright colors up to 11 and pops the details in your entire get-up. Nina's athletic style is fittingly feminine and approachably stylish on and off the course. Follow her cues on fits and fabrics and start owning your own look in every arena.