The Loop
Nike makes it official, signs Rory McIlroy to head-to-toe deal
Now that Nike Golf has officially introduced Rory McIlroy as its newest "athlete," signing him to a multi-year deal to play its clubs and ball as well as don its apparel and shoes, the logical question is, "What happens now?"
Golf history shows the landscape has been littered with top-name players that have switched equipment companies only to fail miserably after doing so.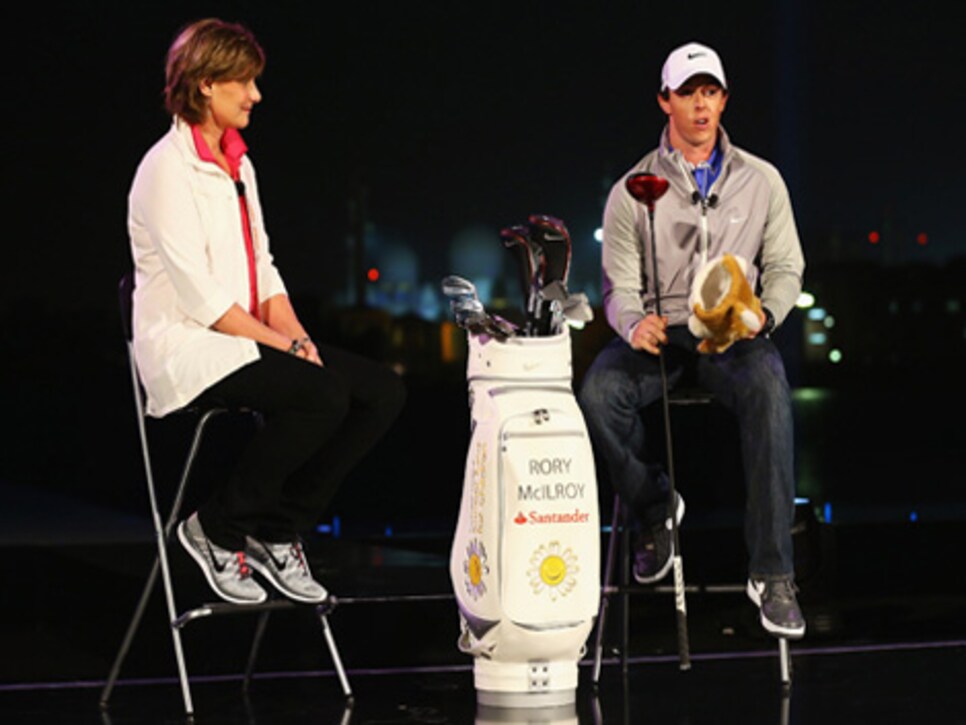 After a big year in 1993, Payne Stewart left Wilson to sign with Spalding in 1994. The deal required him to change from forged blades to cast, offset irons, as well as the two-piece Top-Flite ball. The results were shockingly bad. Stewart won a mere $145,687 in 1994 and finished the year 123rd on the money list. Players such as Corey Pavin and Lee Janzen had similar struggles after cashing in. So did Nick Price. After leading the PGA Tour in earnings for two consecutive years, Price went from Ram to Atrigon. The following year he was 30th in earnings. Price went on to several other equipment companies, but never rose higher than 17th in earnings again. Still, players have changed companies and succeeded. Ernie Els has won four major titles with three different companies. Phil Mickelson won three majors after leaving Titleist for Callaway.
McIlroy's odds for a successful transition are significantly better than those of Stewart and Price. For starters, companies rarely force a player into a specific product anymore and they certainly would not make a player make such a drastic departure from what they are used to or comfortable with. Still, the fact is professional golfers like their comfort zone and McIlroy now has a bunch of variables to deal with, including new apparel and footwear, as well as new clubs. The slightest variation in feel or flight or distance can affect a player of McIlroy's ability level, so some sort of transition/familiarity period should be expected.
[Related: Five costly equipment switches
](http://www.golfdigest.com/golf-tours-news/2011-01/photos-my-five-equipment-switches#slide=1)
Still, the tools at his (and Nike Golf's) disposal are many. Fitting technologies now make it easier to dial a player in to his clubs. Manufacturing levels also are better, allowing for companies to make specialized products if needed that can address a player's needs while not looking significantly different from the product being sold in stores. In the early stages of the Nike Tour Accuracy ball, Nike tweaked the formulation of the ball to address some of Tiger Woods' needs. Woods also played smaller-headed versions of the company's drivers at times. If needed, the same could be done for McIlroy.
Players also spend more time conducting due diligence. Unlike 20 years ago where the big check was most important, the prize money and other endorsement dollars that come with being successful are too great to risk by signing with a company that may be a poor match. Players test equipment more frequently, and they speak with other players about the company they might sign with.
However, despite all the legwork and enhanced technologies, the fact remains that there is some risk involved -- both for McIlroy and Nike Golf. Should the world No. 1 somehow struggle in 2013 many will be quick to point to the equipment as the reason. And Nike Golf, which is just starting to get its legs under it as a legitimate player in the equipment business simply can't afford that kind of negative impression of its new product line -- specifically its VR_S Covert driver.
There's also the question of how McIlroy's signing will impact the marketplace. It has long been thought that golfers are good at raising brand awareness but don't necessarily help sell specific products. The old saw was that if players sold clubs then the Arnold Palmer and Jack Nicklaus brands would have been the two best-selling golf equipment companies of all-time.
Nike is banking that McIlroy's presence alongside Tiger Woods in the company's athlete stable (the pair has already filmed an ad together that is somewhat reminiscent of the old Larry Bird/Michael Jordan ads) will produce a positive impact. What that impact is, however, might be up for discussion.
"If you go back the last 30 years in golf, the most successful companies have been ones that were able to run leadership campaigns," said Leigh Bader, co-owner for Joe & Leigh's Golf Shop at Pine Oaks GC in South Easton, Mass. "To be able to say you're No. 1 in something has proven very powerful. The star-athlete strategy in golf has historically been less effective."
Bader's statement stands up. TaylorMade and Titleist have done remarkably well with their No. 1 driver and No. 1 ball in golf, respectively, campaigns. The latter, in fact, has thrived despite repeated defections by big-name players from its tour staff, including Woods, David Duval, Phil Mickelson and McIlroy, maintaining no player is bigger than the brand. Adams Golf has been able to translate its No. 1 hybrid on tour claim into sales as well. On the flip side, a company such as Callaway has struggled to parlay the impact of Phil Mickelson into sales. On the surface, Lefty is an endorsement dream -- he's been successful (three majors with Callaway), uses the product and openly discusses its benefits while being one of the most popular players on tour with fans). Yet Callaway has struggled during his tenure with them.
For now, though, Nike Golf enjoys both a star-athlete strategy as well as a leadership position. No other company can lay claim to having the No. 1 and No. 2 players in the world.