Out of this world style
To celebrate the anniversary of golf's landing on the moon, Nike to release space-inspired Air Max 90 golf shoes
*All products featured on Golf Digest are independently selected by our editors. However, when you buy something through our retail links, we may earn an affiliate commission.*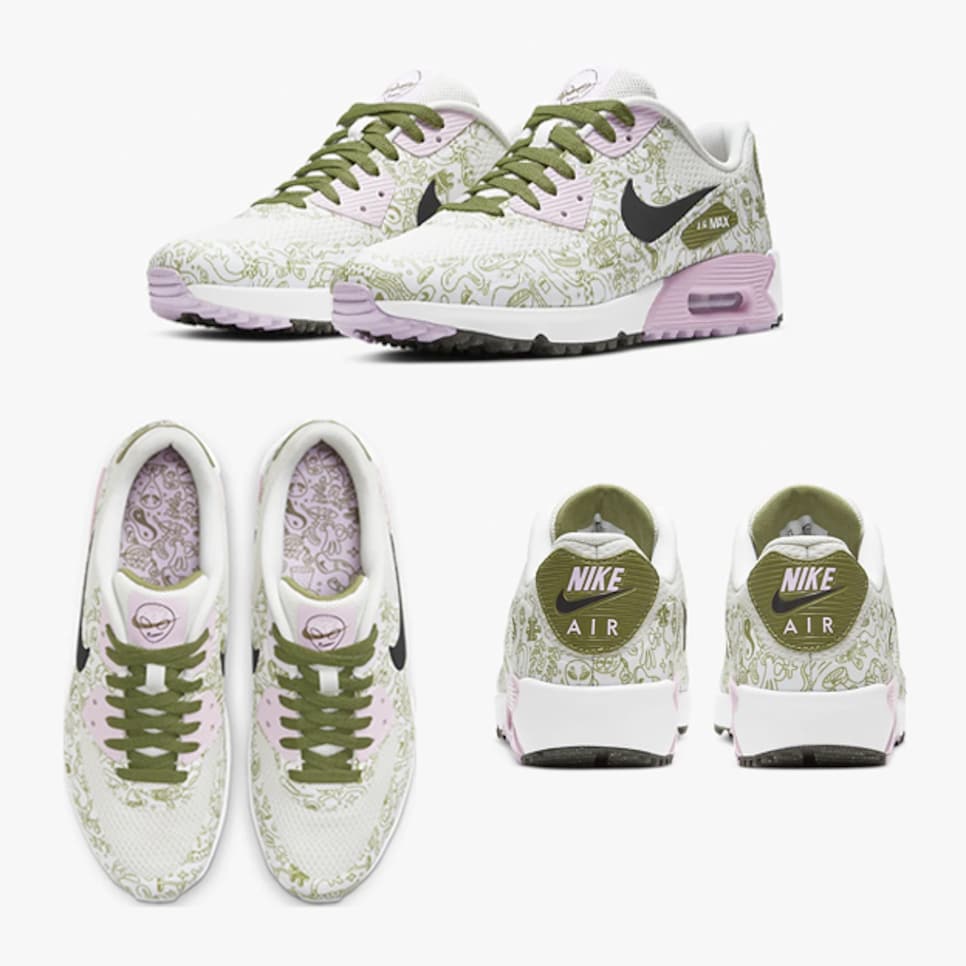 To celebrate the 50th anniversary of golf being played on the moon, Nike is releasing a limited edition version of the Air Max 90 golf shoe with an outer space golf pattern. The pink, white and green golf shoe features imagery of a golf-club-toting alien, planets wearing Nikes and a range of other space-themed motifs across the body and insole of the shoe. Starting Feb. 4, the shoe will be available for purchase first for Nike Members before being released to the public.
The psychedelic pattern is inspired by Admiral Alan B. Shepard Jr.'s "shot heard around the galaxy" during the Apollo 14 mission to the moon in 1971. The experiment was meant to show the effects of the moon's gravitational pull through the flight time of a golf ball. The ball stayed in the air for over 30 seconds and is estimated to have traveled at least two miles.
The shoe also features a unique Nike Golf alien logo on a pink square at the tongue that stylishly contrasts with the green laces. The foam midsole and iconic Max Air unit in the heel add cushioning for a comfortable wear and noticeable amount of energy return in each step. A hybrid traction pattern on the bottom of the shoe provides enough grip for a round of golf, but is also subtle enough to be worn off the course as well.
The Air Max 90 shoe launched in the early 1990s after designer Tinker Hatfield's initial Air Max 1 release was met with huge success. It was later remixed into a golf shoe in 2016 with Rory McIlroy debuting the shoe at the Players Championship. The Air Max 90 Golf shoe has become a highly sought after shoe ever since with limited edition designs selling out almost instantly after each release. This space-inspired version is expected to follow suit.