Remembrance
Nick Seitz, former Golf Digest top editor, dies at 83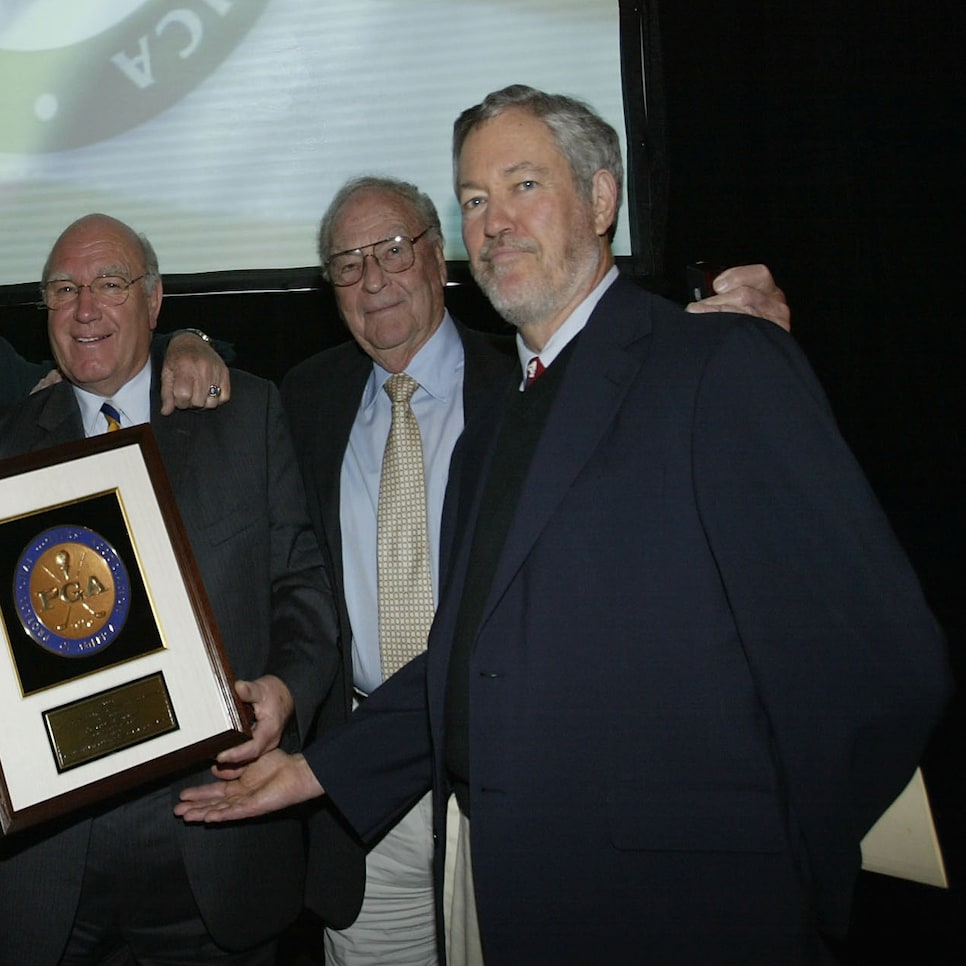 Nick Seitz (right) alongside Furman Bisher and Renton Laidlaw at a Golf Writers Association of America dinner.
David Cannon
Nick Seitz, 83, died this week and took a piece of me with him. He was my boss, the Editor of Golf Digest, when I got hired as an intern 45 years ago. He interviewed me in the Pan Am terminal at JFK when he was flying off to some exotic locale like Dayton, Ohio, for the Bogie Busters celebrity tournament. I asked how I'd recognize him, and his long-time assistant Pat Richards said, "You'll know him. He has a funny little mustache." I found him right away.
We hit it off, and my education began immediately. I was introduced to a band of brothers and sisters who became my golf family. He had assembled an eccentric editorial staff that brought to mind the old TV show, McHale's Navy, with Nick as Ernest Borgnine. I swear there was even an illegal still percolating moonshine in the mail room. Nick's managing editor and right-hand man was an old sports editor from a rival newspaper back home in Kansas, Jay Simon. When Nick was traveling the world, Jay kept the magazine on deadline. Then Nick would return to an empty office the following weekend and completely change the lineup, rewrite the headlines, and make every story in the next issue miles better for Jay to figure out on Monday morning while Nick was off to Napa, Calif., to write a profile about Johnny Miller inventing plaid pants and the white belt.
Nick joined Golf Digest in 1967, served as its chief editor from 1973 till 1982, and then as editorial director of Golf Digest and Golf World—what he always called, "The Weekly"—until retiring in 1999. He was one of the most gifted sportswriters in the country and naturally attracted a stable of extraordinary writers to the magazine, like Dan Jenkins, Peter Dobereiner, Henry Longhurst, Herbert Warren Wind, Gary Cartwright, Brennan Quinn and Peter Andrews. More of a hockey lover, Nick threw himself into golf despite never being much of a golfer. He belonged to a haphazard course in Connecticut called Silvermine, but he had a unique style of playing it cross-country. I must have accompanied him on two dozen rounds there, but we never teed off on the first hole. We started somewhere in the middle and moved circularly around the property shooting at unoccupied greens in the distance. After a couple of hours the round was over. I remember him making a hole-in-one once, but it was unclear what the hole number was or even if it was a par 3.
He had a particular brilliance for writing what writers call "ledes." That is, the first paragraph or two of a story that sets the hook in a reader's mouth and kept you going. I remember one in particular for an article about Jack Nicklaus in which the opening paragraph explained that as Nick put the paper in the typewriter to begin composing, there was a commotion outside caused by fire truck sirens at a neighbor's house on his street. Nick pointed out that if Nicklaus were writing the story, he wouldn't have noticed, such was the immense concentration of the man.
It's always hard to say what the best work of an artist is, but in Nick's case, his best subject was Ben Hogan. He did at least two long interviews for Golf Digest with the game's most famous recluse, but even more memorable was the profile he wrote in September 1970. For the magazine's 70th anniversary, I re-introduced it noting: "The chemistry between Hogan and Seitz led to the access that revealed this extraordinary portrait of an American hero at the end of his playing career. Seitz shared with the elder Hogan a deep interest in art, often visiting the museums and galleries of New York, and his writing about the artwork and decoration in Hogan's home is told with compelling detail. Seitz, who later became Tom Watson's instructional collaborator, has always had a fascination with technique, which he delves into here with the game's ultimate mechanic. And Seitz doesn't spare the reader Hogan's political conservatism, which is revealing if not surprising." I won't further spoil the delight of reading Nick Seitz first-hand, so here's the link if your interest is sufficiently piqued.
But before you go, a few more words about Nick. Perhaps a romantic at heart, he was a ruthless editor of copy— manuscripts when he finished with them resembled Christmas trees, they had so many red markings. He never hesitated to tear apart an issue at closing if it made a better magazine. He read about 25 newspapers a day, back when they were in newsprint piled up in every corner of his office and home. He favored mysteries by Robert B. Parker and John le Carre. He loved listening to jazz in the remote haunts of New York City. He savored going to expensive restaurants, especially when the company paid for it. He enjoyed doing television commentary, but was more known for his Golf Spot on CBS Radio, delivered with a distinctive bass voice in the G-7 range—such that he could whisper to you beside the first tee at Augusta National and be heard down by Amen Corner. He was a good husband to Velma and father to his two sons, Brad and Greg, both hockey players turned golfers. He was a good friend to me and all the editors who later stood on his shoulders. And he taught us everything we know.