roll tide
'Grab your bag and run': How a police escort and two jets got Nick Saban to his tee time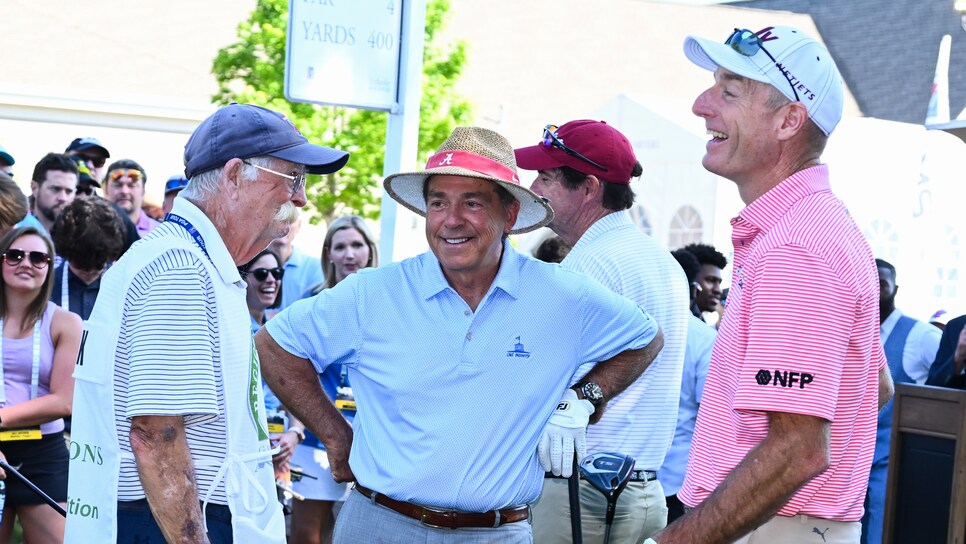 Nick Saban is two things: a winning football coach and a golf fiend. There have been plenty of stories about the 'Bama coach getting 18 holes in despite difficult circumstances, but nothing comes close to this anecdote from a former Crimson Tide director.
Tyler Siskey, now the South Alabama recruiting coordinator, tells quite the Welcome to Alabama tale on the McCready & Siskey Podcast in which Nick Saban's golf obsession really jumps out. The lesson here is don't make him late for his round. Also, damn, Saban has some sway in the state of Alabama.
"We're going to Kiva Dunes to play in a golf tournament and we have a staff meeting at 7:30 in Tuscaloosa," Siskey said. "I figured, hey, we need to get out of this meeting at 10:15 at the latest or he's going to be pissed because he's going to be late for the golf tournament, the press conference, the whole deal. Kirby [Smart] comes to me and goes 'Hey, look, you have your bag packed and you have it by your door. When he says it's time to go, grab your bag and run to the parking lot.' I'm going, 'Are you serious?' He's like, 'Yeah. You'll understand. Trust me.'"
For those that are wondering, Kiva Dunes is a little less than a five-hour drive from Tuscaloosa. Or a 22-hour bike ride if you're into that sort of thing.
Siskey continued: "At 10:57, one hour and three minutes before tee time in Gulf Shores, Alabama—for those that are listening that don't understand the geography, that's a long way away. [Saban] has his reading glasses on and takes the reading glasses off real nice and calmly and goes, 'Alright boys. I told 'em we wouldn't be late. Let's go.' And when he said that, the room scattered like cockroaches with the light on. I mean, grown-ass men running down the hall and he never broke stride. He is as calm as day, just got up, went to the office and just starts walking down the hall. We get out there to the parking lot. There are two vans and a guy goes 'Offense over here, defense over here.'
"They had a police escort that got us through town that took us straight on the runway. There were two jets cranked up. Not on the taxiway, on the actual runway. We got on, 23 minutes later we landed in Gulf Shore … I hit my first golf ball at 11:57, sixty minutes exactly from sitting in the staff room to hitting my first golf ball."
That's a dedication that only the most degenerate golf sickos have, but most of us don't have multiple jets on call and a police force ready to get us to our tee times. Nick Saban really is living his best life. You'll see rumors every so often about Saban getting offers to coach in the NFL again, but why would he leave this ideal situation he's set up so beautifully?
The man gets to win around 85% of his football games, make over $10 million a year and have the entire state at his beck and call when he wants to get to the course. It truly doesn't get better than that.