The Loop
Nick Faldo wishes he had the Ryder Cup captain's picks flexibility that Davis Love III has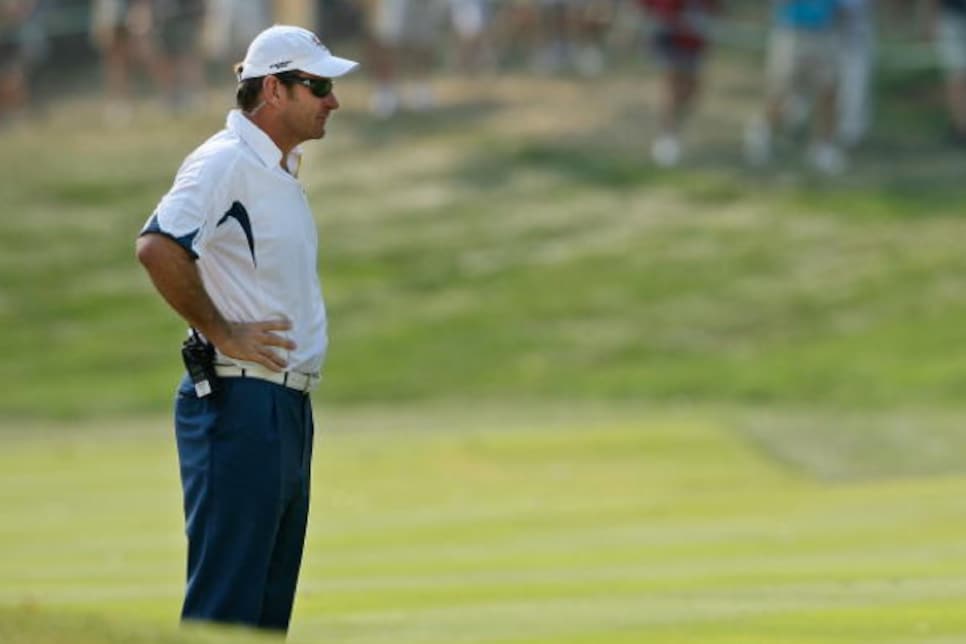 For the first time in Ryder Cup history, one U.S. player won't be determined until five days before the biennial event starts. The timing of adding someone to a team at the last minute seems to be at odds with squad chemistry, but there's also something to be said for being able select a hot hand. And one former captain, Nick Faldo, thinks Davis Love III has an edge by being able to employ this strategy.
"I like Davis's one because it shows what happened. The [Billy] Horschel pick, it's now come forward," Faldo said on an NBC Sports teleconference on Tuesday. "Yeah, you would love to have that last opportunity, because hey, you don't have to use it. You can say, I'm quite happy with the 12th man. He's had a great season, but oh, my goodness, this guy has just come in the last month, he's just won, whatever, won or second place, he's the hottest guy on the blooming planet. Like Paul Casey could have a good claim of being one of the hottest guys on the planet, and you miss out."
Faldo was just using Casey, who was actually ineligible to be selected by European captain Darren Clarke two weeks ago because he's not a current member of the European Tour, as an example. But what Horschel did two years ago certainly played a role in the Ryder Cup task force changing how the American captain's picks are made. In 2014, Horschel won the final two events of the FedEx Cup Playoffs, but didn't make Team USA because it was already set. And now Love, who picked Rickie Fowler, Matt Kuchar and J.B. Holmes on Monday, won't make his fourth and final selection until after next week's Tour Championship.
In 2008, Faldo was the captain of Europe's 16.5 to 11.5 loss to the U.S. at Valhalla. He also didn't have the luxury of making a late pick or even matching the four picks at American captain Paul Azinger's disposal that year. Instead, Faldo could only choose two players and he went with Casey and Ian Poulter. The two combined to go 4-2-2 (Poulter went 4-1. Obviously.), but the six-time major champ probably would have liked to pick veterans Colin Montgomerie and this year's captain, Clarke, as well. And Faldo, the all-time points leader in Ryder Cup history, made it pretty clear he believes having flexibility in picks outweighs locking into a team early.
"You have some ideas of your pairings," Faldo said of leading up to the event. "You're looking to have some of those. But once you get there and start practicing Monday, Tuesday, Wednesday and Thursday, that's when you start to juggle pairings."
Of course, Faldo's captaincy didn't turn out as he hoped, but Peter Kostis, for one, saw Faldo's personnel choices as being important to the development of Team Europe. And the fellow TV analyst wrote this before Europe lost the Ryder Cup for the only time in the last seven matches.
"Whether he knows it or not, Faldo has done the next European captain a great service. By leaving Clarke and Montgomerie off the team, he has pushed Sergio Garcia, Lee Westwood and Padraig Harrington into leadership positions. No matter who makes the team for Celtic Manor in 2010, the European side would seem to be assured of having leadership, experience and talent. In the long run, Faldo has ensured that the Euros will remain strong by making this the year of transition."
Those seem to be pretty prescient words, Peter. So chin up, Sir Nick.