News
Nick Faldo: Tiger Woods whispered 'I'm done' to fellow Masters champion in 2017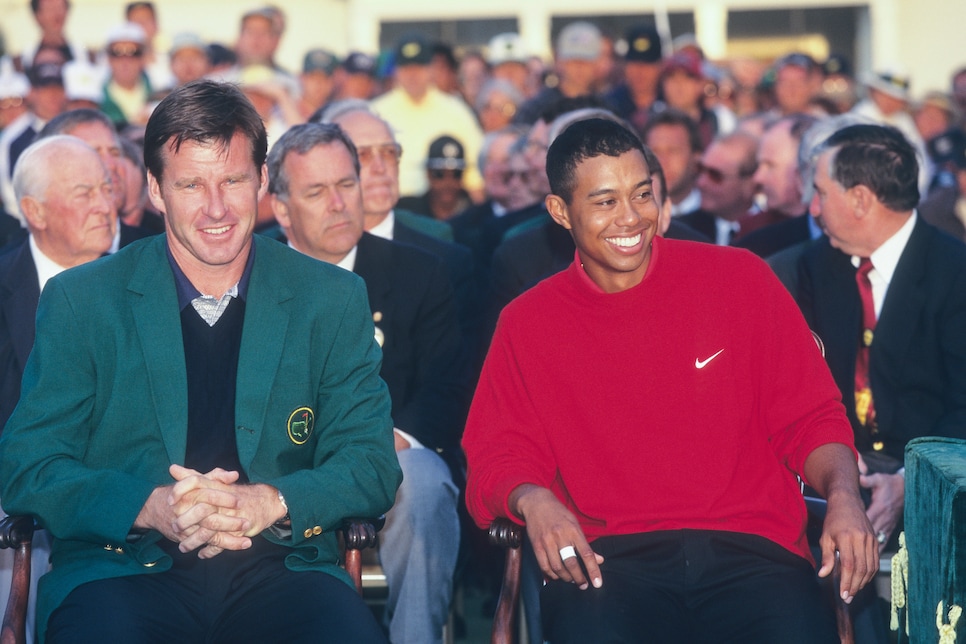 This time a year ago, it was impossible to even fathom Woods contending in another tournament again, let alone a major. The last time he had played competitively prior to this season, he walked off the course with back pain at the Dubai Desert Classic, the latest setback in a series of setbacks that seemed to signal the end was near.
According to Nick Faldo, Woods admitted he was not only nearing that precipice, but he had crossed it at the Masters Champions dinner. Faldo shared this anecdote on Monday on the Dan Patrick Show when discussing Woods' impressive Sunday performance at Bellerive:
"What he's been able to do is, it's unbelievable, remarkable," Faldo told Patrick. "To go from a frozen back—I know he whispered to another Masters champion two Masters dinners ago 'I'm done. I won't play golf again,' and here we are, 18 months later..."
Like all of us, Patrick was curious as to who Woods whispered to, and asked Faldo if it was him.
"No, I won't mention the name, but he's a Masters champion. He said 'I'm done, my back is done.' He was in agony, he was in pain, the pain down his legs, there was nothing enjoyable. He couldn't move."
It's not the first time a past champion has alluded to an ominous Champions Dinner regarding Woods. Jack Nicklaus told GOLF.com that he and Woods spoke about how much pain he was in at Augusta, and that it wouldn't be going away anytime soon.
After that dinner, Woods underwent is fourth back surgery on April 20, 2017, and it was hardly smooth sailing after that. A month later, Woods was arrested for driving under the influence, a scary incident that made returning to golf the least of his priorities. Somehow, just over a year later, Woods finished inside the top six in the final two majors of 2018.
"To turn this around, to get this spine fusion, it's absolutely amazing. So, great on him and obviously great for golf."