FALDO'S FUTURE
Nick Faldo not interested in LIV Golf, knows he and Greg Norman have no interest in each other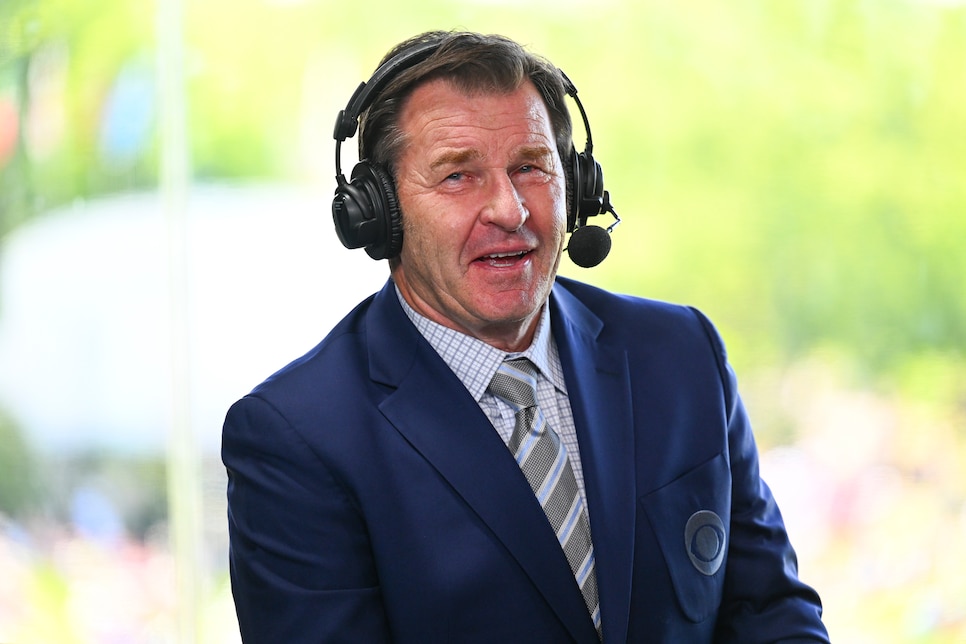 Nick Faldo sent a two-minute Twitter video message on Monday reiterating his retirement plans, talking more about his hectic schedule over the next month and, yes, he discussed reports that have wondered whether he'll join LIV Golf.
Faldo's message, though, opened by introducing his dog, London, saying, "she's our sweetie." Faldo said he and his wife Lindsay De Marco have big plans for London when they head to Montana after construction of their Faldo Farm is complete.
Then he thanked those wishing him well following last week's announcement that he's retiring after 16 years as lead analyst for CBS at the end of this season.
"I wanted to really say thanks to everybody," Faldo said. "The support and well wishes has been really, really nice. So, thanks so much for that."
After a few comments about his schedule leading up to the Open Championship at St. Andrews—where he says he'll be playing in a four-hole Champions Challenge exhibition on Monday with former Open champions—Faldo got to the point of his message.
No, he's not going to join LIV Golf, or the "54 tour" as he called it.
"One little thing that's been talked about a lot of course is the 54 tour," Faldo said. "And I thought I would just say, No. 1, I am retiring because of travel, I don't want to travel. No. 2, if I do call anything, I would like to call some championship golf. And No. 3, do you think Greg [Norman] wants to see my boat race, my face, around for about 10 weeks a year or more. I don't think so."
Faldo and Norman, LIV Golf's CEO, are rivals from the days when both were at the top of their respective games and have never been the best of friends. Norman, 67, is three years older than Faldo, 64, and was the No. 1 ranked player in the world for a long time—331 weeks total to Faldo's 97 weeks.
But Faldo won four more major championships during his career, winning six to Norman's two. One of Faldo's major wins, of course, came at the 1996 Masters when Norman failed to convert a six-shot lead in the final round and shot 78. Faldo shot 67 to win his third green jacket.
After a couple more comments, and some more love for London, that was it. Faldo signed off.
"Bottom line, thanks for your support," he said. "Cheers. Take care."