The Loop
Niall Horan of One Direction (and Rory's friend) plays golf, bedlam ensues
Amid the negative news dominating golf today (Muirfield and Mickelson) there was some good news. Niall Horan played golf in public.
Horan of the boy band One Direction is an Irishman, an avid golfer and a friend of Rory McIlroy's. "He's a top man," Horan said in an interview with the European Tour. "He gives me a few tips every now and then. Whether they work on not, I don't know. He's a great lad."
McIlroy is serving as the host of the Dubai Duty Free Irish Open and invited Horan to play in its pro-am on Wednesday. He was also in the gallery on Thursday.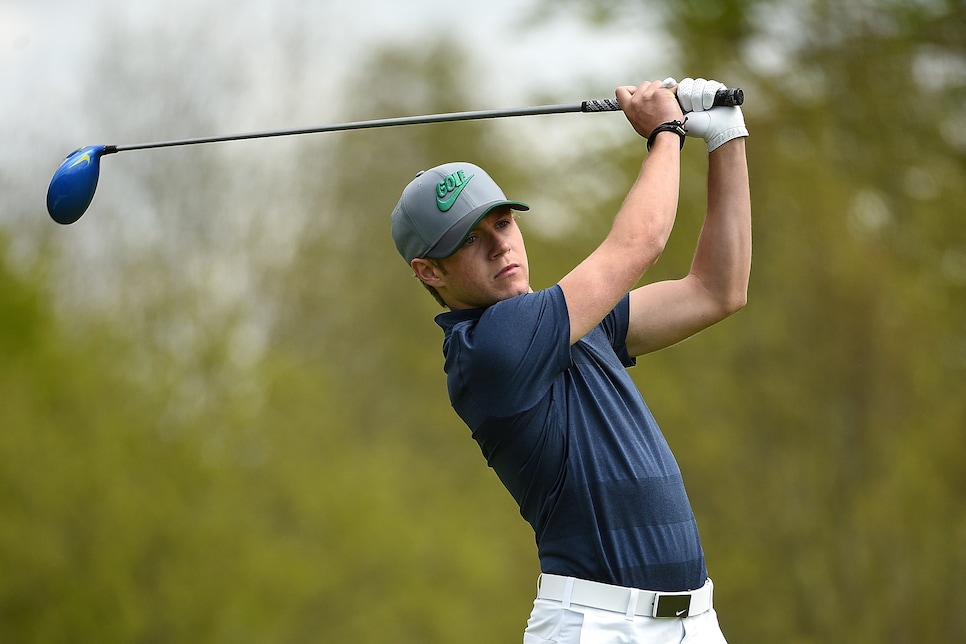 It was almost too much for Twitter to handle. One photo of him crouching to read a putt elicited an untold number of comments, many of them of the ribald variety.
Indeed, if every teenaged girl with a crush on Horan took up golf, grow-the-game efforts could go on hiatus for a generation.
"Most of the crowd is kids, which is good," Horan said. "Hopefully they'll start playing."
Next week, Horan will be playing in the pro-am at the BMW PGA Championship.
"Many of the world's best golfers will battle it out from Thursday to Sunday, in front of a live audience likely to exceed 100,000, with millions more watching on television," Rob McGarr of Today's Golfer wrote. "But, strange as it may sound, the most significant name in the field may actually be teeing it up on Wednesday, in the Celebrity Pro-Am. Niall Horan, the 22-year-old of One Direction fame, will play alongside Justin Rose and Chelsea captain John Terry."
When Horan said in a Tweet on Tuesday, "good to be back in the homeland. Going to be a great week hosted by @RoryMcIlroy," it was retweeted more than 31,000 times and received more than 69,000 likes.
Then again, he has 25.1 million followers on Twitter. Tiger Woods has 5.79 million, by way of comparison. A good percentage of Horan's Tweets pertain to golf, which — whether you're a One Direction fan or had never heard of him — is a good thing for the game.