Virtual golf
NEXT Golf Tour provides 'legitimate' competition for real money via virtual setting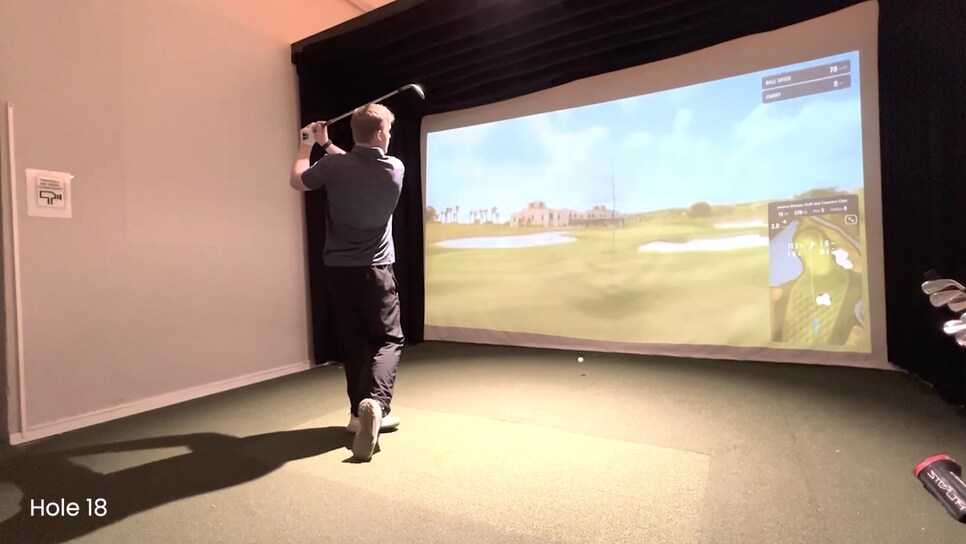 While the PGA Tour departs the West Coast to commence with its Florida Swing at this week's Honda Classic in Palm Beach Gardens, another professional tournament already is underway at The Concession Golf Club, a former World Golf Championship site located on Florida's opposite coast, in Bradenton.
The purse is modest ($147,000), funded by the tournament organizer and entry fees of the participants. The field, comprised of men and women, largely is made up of aspiring golfers who have climbed only as high in the pro ranks as the game's lowest tiers. But they are good players. Currently, Finland's Nikke Tyry shares the lead at seven-under 65 with Denmark's Frederik Tottenborg, a recent winner on the Nordic Golf League, one of the third-tier tours the DP World Tour recognizes.
That's some stout scoring on a difficult Jack Nicklaus-designed layout that measures 7,474 yards. Only a second-round 64 by eventual winner Collin Morikawa was better during the WGC-Workday Championship in March 2021.
"I saw those seven-under scores, and I said to myself, 'I better get in a few more practice rounds,'" said Michael Sim, a former PGA Tour member and Korn Ferry Tour winner who is among the more accomplished players in the field. "Pretty impressive golf."
Sim, 38, was speaking by phone from his home in Queensland, Australia. If you're wondering why he was still Down Under and was not at Florida's Gulf Coast, well, you have arrived at the twist in this story. Sim isn't at The Concession. In fact, none of the competitors will step foot on the grounds. The tournament is virtual, though the golf and the competition are real. And so is the money.
These players compete on what is the inaugural season of the NEXT Golf Tour, a virtual tour created and run by Denmark-based Trackman, the company with the eponymous golf simulator and launch-monitor system. Think of it as the developmental level cousin of TGL, the new tech golf league that Tiger Woods and Rory McIlroy are starting in 2024 in cooperation with the PGA Tour.
"What Tiger and Rory are doing with their TGL series, it's an entertainment vehicle and revenue stream for guys at the top of the game. We wanted to do something that was more, say, grassroots and from the bottom up," said Bernd Linde, vice president of marketing for Trackman. "If we wanted to put $100,000 out there in prize fund, we doubt Rory or Justin Thomas or any of the elite players would get super excited. But it means a lot, it means the world, to the players we have. This is about giving men and women a way to earn a little money and chase their dreams."
It's a low-cost way at that. Players have no financial outlays for flights, rental cars, hotel rooms or caddies. The entry fee for each tournament is $130. To compete, players simply download the Trackman app and then play the virtual tournament course at any indoor golf venue or even at home if they are fortunate enough to own such a setup. Tournaments are currently just 18 holes and run over 10 days, giving players flexibility in their schedules. Most rounds take 35-45 minutes, and all players must record their rounds and download the recording with their scores for authentication purposes.
Taking a cue from the Formula One Esports Series and Zwift's Esports World Championship, a feeding platform into professional cycling, Trackman created a pilot virtual tournament in early 2021 with the DP World Tour during the pandemic lockdowns called the BMW Trackman Invitational. It was considered a success—though with stipulations.
"We were quite nervous about putting our platform out there and putting so much money on it, because you say it has to be accurate. It has to be realistic. It can't have any glitches," Linde said. "We learned [from the pilot test run] that our product was not fully ready to go. So we worked hard the last two years to make our platform even stronger and better, which has gotten us to this point."
This week's event at The Concession, the fourth of six tournaments in the series, runs through Friday. Previous tournaments were played virtually at the Nicklaus Course at PGA West in Palm Springs, Calif., Marco Simone Golf & Country Club in Rome (site of this year's Ryder Cup in September) and the No. 3 Course at Medinah Country Club, near Chicago, host to numerous major championships and the 2012 Ryder Cup.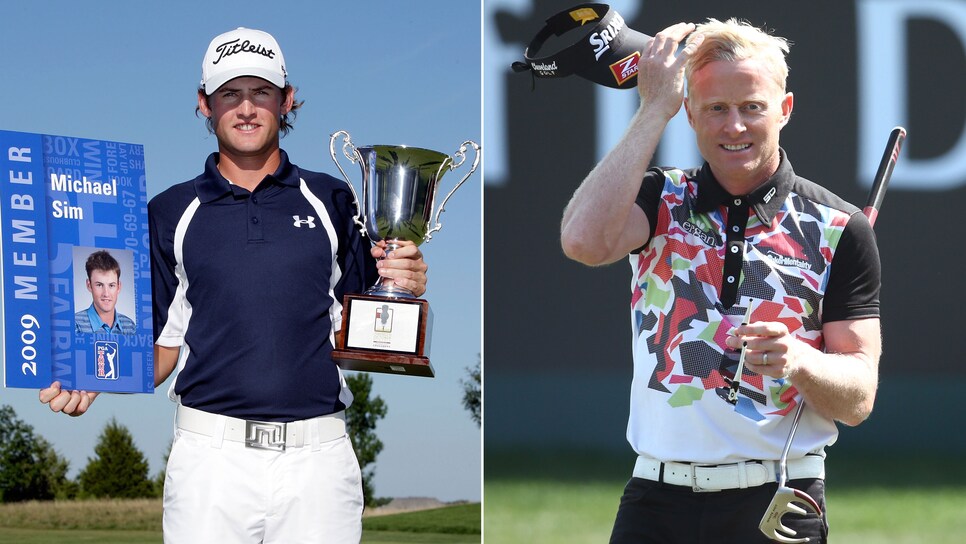 Michael Sim and Simon Dyson, former PGA Tour and DP World Tour pros, are among those competing in NEXT Tour events. (Getty Images)
The winner of the Medinah event, which concluded Feb. 12, was Sofie Kibsgaard Nielsen of Denmark, who last year helped Oregon finish runner-up in the NCAA Division I Women's Championship. Nielsen shot five-under 67 to tie for first but beat out two men, American Tripp Kinney and Sweden's Rasmus Rosin, with the low back-nine score of 31. She earned $19,351 and trails only Rosin on the NEXT Tour Order of Merit. Rosin, another Nordic Golf League player ranked 2,954th in the world, has earned $30,687 with top-five finishes in each of the previous three events.
"It's fun to play against the men, to see the leaderboard and [know] you can play among them," Nielsen said in a wire service report. "And then especially to win it, that's very, very big for me. I haven't really realized it yet, but I think I will in a few weeks when the money comes."
In addition to tournament finishes, prize money is paid out for side competitions such as long drive, greens in regulation and longest birdie streak.
If it all sounds a bit gimmicky, Linde cites as proof to the contrary the story of Denmark's Mathias Gladbjerg, who was about to take a job in a warehouse when he heard of NEXT Golf. Gladbjerg played 48 practice rounds (there is no limit on practice rounds) on the simulated PGA West Course in preparation of the first event and won it to earn $18,000. He didn't take the warehouse job.
Then there's Jeppe Kristian Andersen, a European Challenge Tour player ranked 526th in the world. Andersen, 27, won the second event on the Marco Simone virtual course, collected $19,000 and decided to use the money to go to South Africa to compete. "It's an opportunity he wouldn't have otherwise had," Linde said, "and that's the kind of difference that we think we can make for a lot of young players."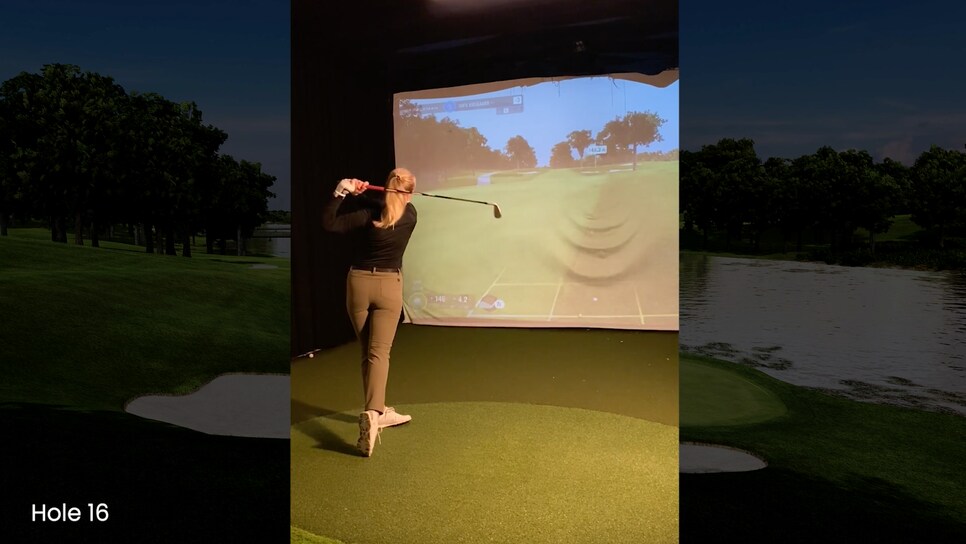 Sofie Kibsgaard Nielsen hits her tee shot on the 16th hole of the Medinah event, which she won by shooting five-under 67.
More seasoned players also see the potential benefits. Some are quite accomplished, like Sim, 38, who sits 16th on the Australasian Tour Order of Merit on the strength of a second-place finish in October at the WA Open at the Western Australia Golf Club. Six-time DP World Tour winner Simon Dyson, who suspended his career in 2019 because of a wrist injury, also has participated.
"It's legitimate golf. It's realistic. You are playing a round of golf … well, except for the walking up to your next shot. I mean, there's something to be said for hitting a shot and then you are right at your ball for the next one," Sim said, a bit of wryness in his voice.
"You need to have skill in shot-making," Sim continued. "Good shots get rewarded. You know when you've hit a good shot. You know when you've made a good swing. You know the feel off the club and what the ball should do, and the ball reacts [virtually] the way you would expect it to react. So, it's golf as we all recognize it. It's as close as it gets to golf outdoors."
The true-to-life shot outcomes are the result of Trackman's two-year upgrade, which essentially entailed saturating the simulator program with its massive collection of proprietary data. Trackman's database contains millions of golf shots tracked outdoors in full flight as well as the statistics, such as ball speed, launch angle, swing path, face angle, etc., that correspond to every one of those shots. Therefore, the Trackman simulator (Trackman Performance Studio 9.1 or newer) can project the distance and direction of any shot with what the company asserts is a high level of confidence.
"We wouldn't be doing this if we couldn't ensure that the numbers and shot outcomes weren't reliable," Linde said.
If there is one drawback to the competition, which Trackman hopes to address next year, it's that there is no mechanism for putting, leaving each tournament to be a ball-striking contest. The number of putts is calculated based on proximity to the hole. For instance, a player is credited with a one-putt green if he or she hits an approach within nine feet of the cup, whereas anything outside of 60 feet will result in three putts added to the scorecard. In between is two-putt territory.
"I know it's a technical thing, but I hope they figure that out," said Sim, who wondered if his four-under 68 at Medinah wouldn't have been markedly better with a chance to putt. "I had a good round at Medinah, but there were three to four shots in the 10- to 12-foot range and those are automatic two putts. I'd like to think I'd have made at least one or two of those."
For comparison, the PGA Tour success rate for putts from 10-15 feet is 30.57 percent. From inside 10 feet it's 87.9 percent.
With three days remaining, The Concession event has attracted 480 players thus far. Since 266 players signed up for the inaugural event in early January, the next three have approached or exceeded 500 entrants. Tyry and Tottenborg have a three-stroke lead over Henrik Langkilde, another Denmark native. But the scoreboard also shows dozens of players who couldn't break 80. One Concession player posted 100, and another at Medinah shot 103. Trackman recommends a maximum handicap of 3.4 to participate, which is commensurate with most minor tours. Linde said there has been a natural weeding out of players of lesser ability since the series began, but further winnowing of casual golfers, hackers and the merely curious is likely to be on the agenda for Season 2, which might be done through an amateur or higher-handicap division.
The fifth challenge in the six-event series is March 8-18 and will be played "at" Adare Manor in Ireland. The top 100 on the NEXT Order of Merit qualify for the finale March 23-April 2 with the host course still to be determined. The players will not be required to pay a fee, and the top-10 on the Order of Merit at the end of the season earn a bonus.
The long-range plan, Linde said, is to expand the number of events for a four-month series from November through February, get more sponsors on board to increase prize money and stage tournaments of 54 or 72 holes. There also is a consideration being made for a senior division. Linde stresses that the NEXT Golf Tour is not an alternative to established tours but a supplement to them, one that can help keep the flame of hope alive for players without the financial means to pursue a career in a more traditional manner.
"If it takes off, perhaps it can be its own Esports league that maybe feeds into one of the developmental tours, sort of like Formula One Esports," Linde said. "But our bottom line is just creating opportunities."
"I think it has a pretty good future," Sim said. "You're playing golf, you're improving your game, you're in a tournament setting. I have actually felt a little pressure in the course of a round. This gives young players experience and earn a little money. Other guys who have played the tours, we still have a chance to compete. What they're doing, it's really a very nice thing."