News
In Newtown, A Brief Taste Of Normal
Michael Breed conducts a golf clinic at Newtown Country Club on May 5.
NEWTOWN, Conn. -- With a gentle smile extending across his face, Bob Virgalla waggled his Adams Tight Lies 5-wood as he set up behind the par-3 first hole at Newtown Country Club.
"This club isn't the latest technology, but I picked it up a couple years ago and it has served me well," he said, eyeing a challenging tee shot of about 180 yards.
For this one moment, Virgalla was just another golfer enjoying a beautiful day on the golf course. The volunteer EMT, along with his wife, Becky, has been dealing with post-traumatic stress after the tragic shooting at Sandy Hook Elementary School in their town. Becky is a teacher in the school, and Bob was on the scene with the Newtown Volunteer Ambulance Corps, one of hundreds of first responders who rushed to one of the most gruesome crime scenes in American history.
But on Sunday, Virgalla and 66 of his fellow first-responders was able to enjoy a brief respite of normalcy. Newtown Country Club hosted the first annual Newtown First Responders Outing, in which members of the Newtown Ambulance Corps, Police Department and Hook and Ladder, Sandy Hook Fire Department, Hawleyville Fire, Dodingtown Fire and Botsford police were treated to a 18-hole scramble event, an hour-long instructional clinic with Michael Breed, a Golf Digest 50 Best Teacher and host of the Golf Channel's "The Golf Fix". Every participant received a worthy gift, including personally-autographed items from Tiger Woods, Greg Norman, Ernie Els, Corey Pavin, past Ryder Cup and Presidents Cup teams, and many more.
And Tim Whelan, a volunteer member of Newtown Hook and Ladder, aced the par-3 sixth hole to win a five-night, four-day trip from JetBlue to Casa de Campo Golf Resort in the Dominican Republic.
It was a heart-warming day of giving thanks to first-responders, started off by Breed, a native of Greenwich, Conn., and PGA of America President Ted Bishop, thanking the heroic group.
"It was just really heartwarming to have everyone come forward to put this together for the first-responders in Newtown," said Bob Virgalla, who was honored in Newtown as the top responder of the year in the town for 2012. "We've been through a lot not just on December 14th, but everything since then. It was a nice way for us all to get together and loosen up a little bit and have some fun, rather than running out to calls or anything like that."
Paul Miller, the head golf professional at Newtown C.C. for 19 years, knew he wanted to hold an event just hours after the Sandy Hook massacre. "I told my wife, 'I have to do something. We have to do something.' But it was the winter, so I had to keep planning." And so plan Miller did.
He reached out to Breed and Bishop, both of whom committed right away. All three secured commitments from sponsors, who were anxious to help. To Miller, the months of planning, and weeks of sleepless nights were all worth it. He particularly thanked TPC River Highlands professional Suzy Whaley for changing her travel plans on last-minutes notice to support the event.
"This is what we wanted, we wanted them to come here and take their mind off of what happened that morning in December. And I think it worked," Miller said, overlooking his club as the first-responders made their way around the nine-hole club. "We're a big part of the community, and some of the kids from that school are in our junior clinic. We were very close to the situation. It was a tough morning text messaging everybody to see if they were OK."
Breed, whose wife, Kerri, gave birth to the couples' second son two weekends ago, started the clinic by expressing his appreciation for the heroic actions of the first responders.
"In my mind, I can't imagine being prepared if you were a first-responder, and getting in your car and driving to that, knowing what you're going to see," Breed said over lunch. "Whether you go in or you don't go in, you have to be prepared to do it and they went. So to me, this is what it's about. It's an opportunity for us to say thank you. There are so many times when people don't get a chance to stay thank you. But thanks to Paul Miller and Newtown Country Club, we're all able to give thanks.
"This club has been a part of the town's fabric since 1915. And they opened the doors to help its community and said, 'What can we do to help?' "
Bishop and his wife, Cindy, have a 6-year-old grandson, and so they both described how they were touched personally when hearing the ages of the victims at Sandy Hook. The PGA president, along with Breed, wore hats donated by Titleist with a green Sandy Hook ribbon on the side and a FootJoy golf shirt featuring "SHES" on the sleeve. They played with each scramble team on the par-3 eighth hole and kept the mood light, cracking smiles on the faces of the first responders. Bishop described his emotions when he was in New York City, hearing about the Sandy Hook tragedy, leaving P.J. Clarke's in New York City a day after announcing Tom Watson as the U.S. Ryder Cup captain.
"Being from a small community in the Midwest, I think that's what the most impactful thing was," Bishop said. "You look at Newtown, and you see that it can happen anywhere. It's one of those life-changing events that happens a couple times in a lifetime."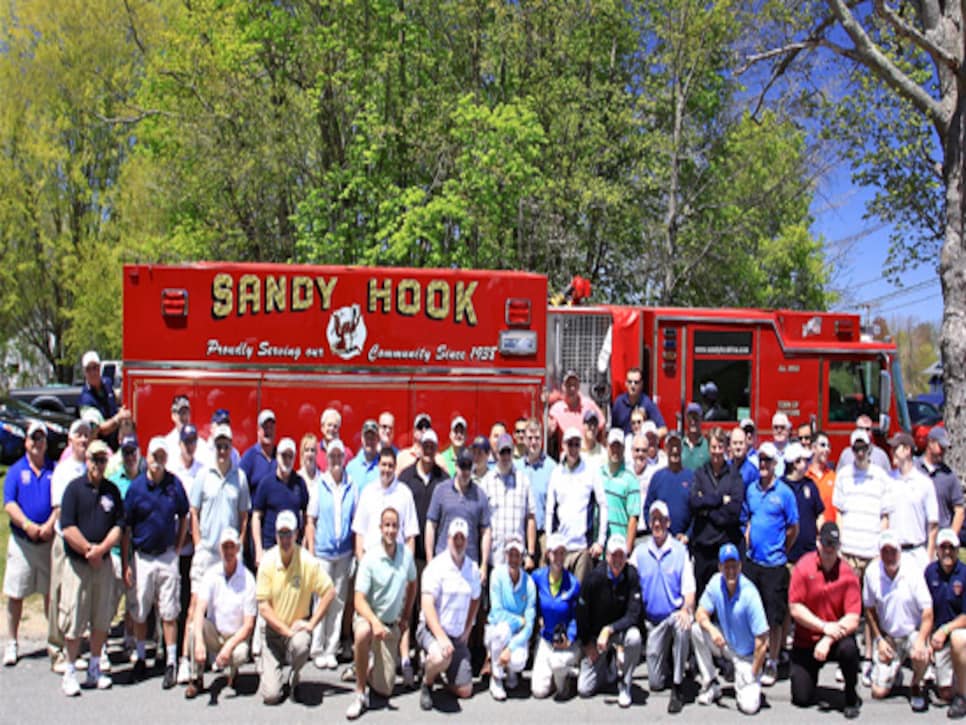 Newtown C.C. members, who happily gave their resources and the course to the first responders -- no small measure on a beautiful weekend -- helped Miller oversee the event throughout the entire day.
"Providing a nice day, for these people, who saw things that were so gruesome, it takes a special person to be in that business," said Gary Lemme, a longtime member who replaced divots on the eighth tee. "This is just a giveback. This little club, a nine-hole club with [less than 200] members, it's a symbolic gesture."
Mike Collins, who along with Bob Virgalla is a Newtown Volunteer Ambulance Corps member, is not a huge golfer. He expected to shoot a score that resembled "what a good bowler would shoot." But he, along with many of his comrades, had a smile on their faces as they moved from shot to shot.
"This is a great sense of camaraderie, being able to get together under non-stressful conditions," said Collins. "You're out here, and you're literally a different person. You're just focused on the next shot.
"This is literally a catharsis, everyone's relaxed and they're themselves. It's great to see."