With a special thanks to Morgan Johnson and the PGA Tour stats team for its help, let's take a look at the seven stats from 2021 that tell us the most about the year we just watched—and a couple that might not tell us much at all, but are still pretty fun.
We promise not to re-litigate the outcome of the PGA Tour player-of-the-year vote, with Patrick Cantlay beating out Jon Rahm to the surprise of some observers. We simply want to make it clear that Rahm was a golden god in 2021, and it was only bad luck that kept him from winning more than he already had. You probably already know he led the tour in scoring average and strokes gained/total, but we want to highlight the more specific stats: eighth in SG/approach, second in SG/off the tee, 42nd in SG/around the green and 42nd in SG/putting. There's simply nothing he's bad at—everywhere he goes on the golf course, he's better than all or most of his peers.
Collin Morikawa's approach game
You probably knew this was coming, but we'll bringing it up anyway: Collin Morikawa is great with his irons. But at the risk of repeating this known quantity, it's worth emphasizing just how extremely good he is. Put it this way: Jon Rahm was the best player in golf this year, but Collin Morikawa showcased the best single skill. Even better than DeChambeau off the tee, relatively. Morikawa gained a full stroke against the field on approach shots in the 2020-21 season—1.17 strokes, actually—and his nearest competition, Paul Casey and Justin Thomas, didn't crack 0.9. It's not just that he's good at this particular part of the game, though; it's how much it matters. In January, we noted that nothing correlates better to tournament success and winning than SG/approach, and if you want some insight into why Morikawa has two majors and a WGC already—and why he was one of the two best players by strokes gained at the Ryder Cup—look no further.
Patrick Cantlay's torrid putting at the BMW Championship
First, let's ask this question: How important was the BMW Championship to Cantlay's career? The answer is, "insanely important." He would be just fine without that win, but he wouldn't be in the stratosphere he currently occupies. Cantlay's previous win came at the Memorial, when Jon Rahm had to drop out with a positive COVID test with a huge 54-hole lead, which means while that win was important, it had a major asterisk. The BMW is a completely different story. At Caves Valley, Cantlay putted the lights out, averaging 3.644 strokes gained on the field per round. The last guy to do better than that in a single tournament? Nick Watney at Pebble Beach in 2015 (he finished second). And Cantlay needed every bit of that putting genius to beat Bryson DeChambeau in the best finish of the PGA Tour season, with the 22-footer on 18 that forced the epic six-hole playoff. If he wasn't pure fire with the putter, DeChambeau would have beat him a dozen different times.
By winning, he jumped to the top spot in the playoff, which meant he started the Tour Championship four shots better than Jon Rahm. Again, he needed it—Rahm played a better 72 holes, but Cantlay's advantage held, and just like that he pocketed $15 million, headed into the Ryder Cup with a head of steam, and won Player of the Year to boot. Plus, he got a sick nickname: Patty Ice. All of it started with the hottest putting we've seen in recent memory, and now Cantlay is a top-five player. That's what we call transformative.
Trying to explain the Phil anomaly
One of the most impossible questions to answer this year is, "How the hell did Phil Mickelson win the PGA Championship at Kiawah?" The guy hadn't sniffed a top-10 on the PGA Tour since the summer of 2020, and he didn't sniff another the rest of the year. The only time he got close was in smaller field events, and even then, he was almost never that much better than average. When it came time for Steve Stricker to think about captain's picks, he wasn't even a consideration—despite, again, winning a damn major!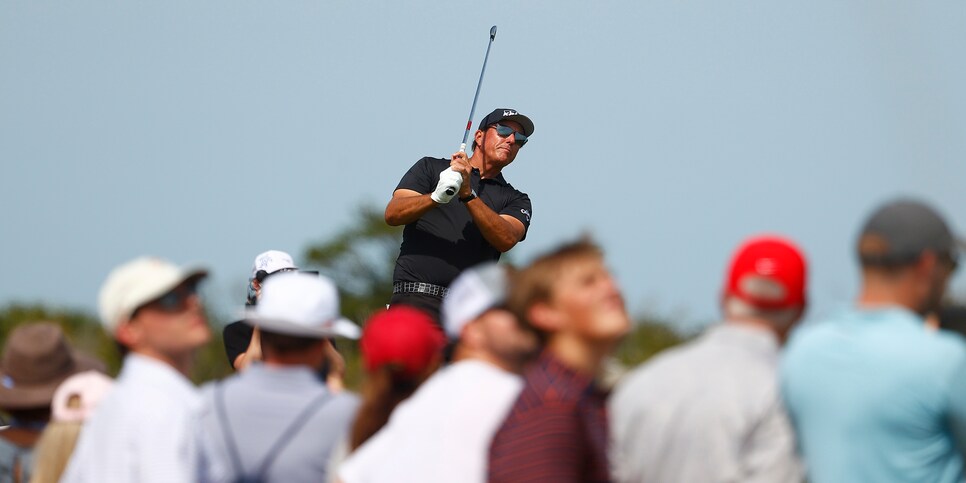 Maddie Meyer/PGA of America
As it turns out, and as you might guess if you've been paying attention, his tee-to-green game was the best in the field that week, and his SG/approach numbers in particular were off the charts, with a full eight strokes gained over the four days, good for fifth in the field. In proximity to the hole, he was T-9 among all competitors. Sunday was a struggle to hang on to the title, but from Thursday through Saturday, he was beyond excellent. This was, to put it mildly, not the norm for him—in 2021, counting that win, he ranked T-131 among all players in SG/approach, losing shots in an average round. It was almost as bad in 2020 (129th) and 2019 (122nd). He really hasn't done that much well since 2018, in any stat, but his approaches in particular have let him down. But for one magical stretch in South Carolina, he put it all aside and played phenomenal golf. The stats explain it, but they still don't quite explain it.
Bryson and the best driving round of the year
There's not much more to be said about Bryson DeChambeau driving the golf ball—this is the guy whose ball speed reached 199.6 mph in 2021—so let's drill down to see what he looks like on a really, really great day. On Sunday at the WGC-Workday Championship, Collin Morikawa was out-dueling Billy Horschel for the title. Meanwhile, DeChambeau was having the best driving performance by anyone in the entire year, gaining 4.11 strokes against the field. We already know how good he is from the tee box, and how, for the second straight year, he led the tour in strokes gained/off the tee, but it's fascinating to watch how it worked in the literal best driving round of the 14,4208 total rounds measured by ShotLink in the calendar year.
What does that look like in practice? Well, interestingly, he "only" shot a 69 that day, and had a couple ugly holes on the back nine. (Turns out, there's more to the game than driving—who knew?) But the drives were spectacular—he hit the fairway on every front nine hole, and the highlights were a 375-yard blast that set up eagle on No. 3, and a 331-yarder on the next par 5, No. 7, that ended with a birdie. On the back nine, he drove the green on the par-4 12th, setting up a nine-foot eagle putt that he made, drilled a 332-yarder on the par-4 15th for another easy birdie, did the same thing on 16 with a 327-yard bomb, and nearly drove into the water on No. 17, a par 5 that required about 370 yards on a straight line to get wet. He stayed on the fairway, barely, and made birdie. In all, he missed exactly one fairway—that strokes-gained number is what happens when the world's longest hitter is also piping them straight down the middle.
Kris Ventura pours in 200 feet of putts in a single round
Here's a superficial one: Ventura was actually joined in the 200-club this year by Jhonattan Vegas and Max Homa, but nobody could match his 204 feet, two inches of putts made in the first round at the AT&T Byron Nelson. Somewhat shockingly, he missed the cut with a Friday 74, but his first-round 66 was, to put it mildly, pretty nuts. It didn't start out that way—he only had four feet after two holes, but then he drained an 11-footer on three, a 39-footer on six, a 21-footer on 13, and finished it off in style with a 26-foot birdie on 17 and the grand-daddy of them all, a 59-foot made eagle on 18.
Jordan Spieth is the one-day Ironman
While we're on single-round accomplishments, it may be the case that Collin Morikawa is the king of the approach, but Jordan Spieth had the single best day with the irons this year. It came at one of the hardest events, the U.S. Open at Torrey Pines, in the third round. Spieth's proximity numbers are just laughable for such a tough track: Five approaches inside six feet on the front nine alone, where he gained 4.86 strokes on the field, and added another 1.69 on the back, complete with a dart to one foot on 17. In all, his 6.55 number for that single round is pure heat … and gives us a small taste of how and why Spieth returned to the top of the game.