Crunching the Numbers
The 10 most eye-popping stats from the 2020-21 PGA Tour season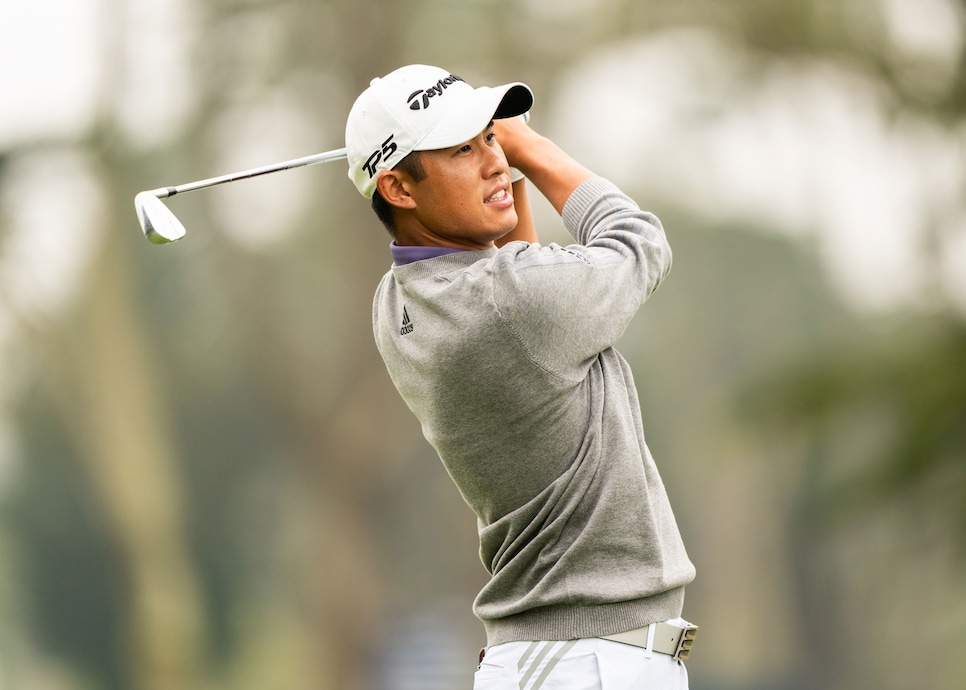 Photo By: Darren Carroll/PGA of America
The Tour Championship is over, Patrick Cantlay is $15 million richer and the 2021-22 PGA Tour season awaits. Before we dive fully into the fall schedule (much less into the Ryder Cup), let's take a moment to look back at the "super" season that was and pay homage to a few spectacular, impressive and even downright weird stats from the last 12 months.
Kevin Na's short-game magic
The important caveat with all "strokes gained" stats is that they were first kept in 2005, so any "record" is still relatively new, historically speaking. That said, when Chris Riley averaged .728 strokes gained/around the green in 2009 over 67 measured rounds, he was the first player to eclipse the .700 mark. Until 2021, he was the only one. But Kevin Na just joined him, holding on for dear life at the Tour Championship to secure a .702 season-long percentage through 78 measured rounds. Na was actually on pace to beat Riley's mark as of two weeks ago, but his final eight rounds knocked him down from .741. Still, it's an insanely good number, and he personifies the adage "could get up and down from a trash can." This is also Na's third time winning the season-long category, putting him ahead of Riley and Corey Pavin, the only players to have done it twice. There's a very, very good argument that Na is the modern SG/around the green GOAT … if that were a thing.
One and done for Jordan Spieth
Starting in 2014, when Jordan Spieth finished first on the PGA Tour in one-putt percentage at 45.86 percent, his yearly rankings have been as follows: 1, 1, 2, T-28, 64, 1, 10, 5. This last fifth-place finish means he's been among the 10 best at this dynamic category for six of the last eight years. It's a jaw-dropping testament to not just his putting, but his approaches … and his scrambling game. Even Patrick Reed and Ian Poulter, this year's Nos. 1 and 2 in the category, haven't shown this kind of consistency across the years.
Mark Hubbard breaks the unbreakable barrier
Since the tour first started tracking this stat in 1992, nobody has ever gone 20 consecutive holes putting just once on each green. Cameron Tringale came achingly close in 2012 with 19 straight holes, but it seemed like it would never be done … until this season. Mark Hubbard, of all players, knocked in 22 straight at the Zozo Championship last October at Sherwood Country Club in southern California. Remarkably, he finished in 41st place, casting doubt once more on that whole "putt for dough" adage.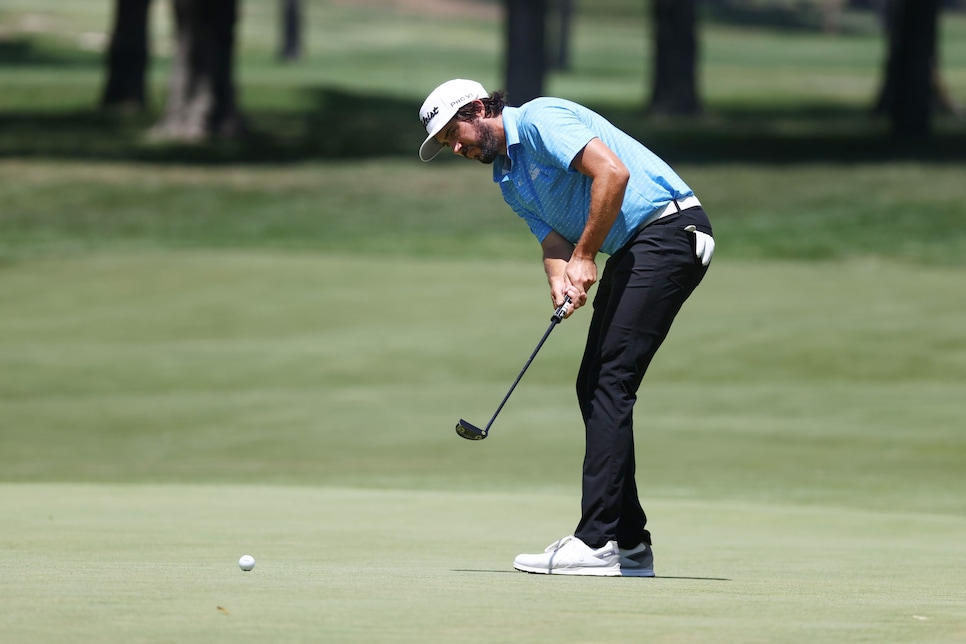 Seamus Power is golf's ultimate 'late bird'
The early bird may get the worm, but when you put Seamus Power out on the early half of a draw, he's T-72 among all tour players in scoring average. But when you put him out late? He's second to only Jon Rahm! I don't know what Power can do with this, short of pretending he has some special disease that prevents him from getting up before noon, but if he could only play in the afternoon, he'd be one of golf's greatest players. Shame they make the guy get out of bed early.
Bryson DeChambeau is the driving machine you think
Bryson DeChambeau shattered his own driving record, putting up a 323.7-yard average for the entire season. It's not just distance, either; the only men since 2005 to average more than 1 stroke gained per round off the tee since 2005 are Rory McIlroy, Bubba Watson, Dustin Johnson and, weirdly, Sergio Garcia (barely in 2005). For the second straight year, DeChambeau has joined their ranks, with a tour best 1.162 SG/off the tee mark. That means everything we believe to be true is true—he's the best driver on tour, everything he did during the pandemic has paid off in this aspect of the game, and he keeps getting better. As the stats show, just showing up with a driver in hand automatically puts him a shot better than the average player. That's quite an edge.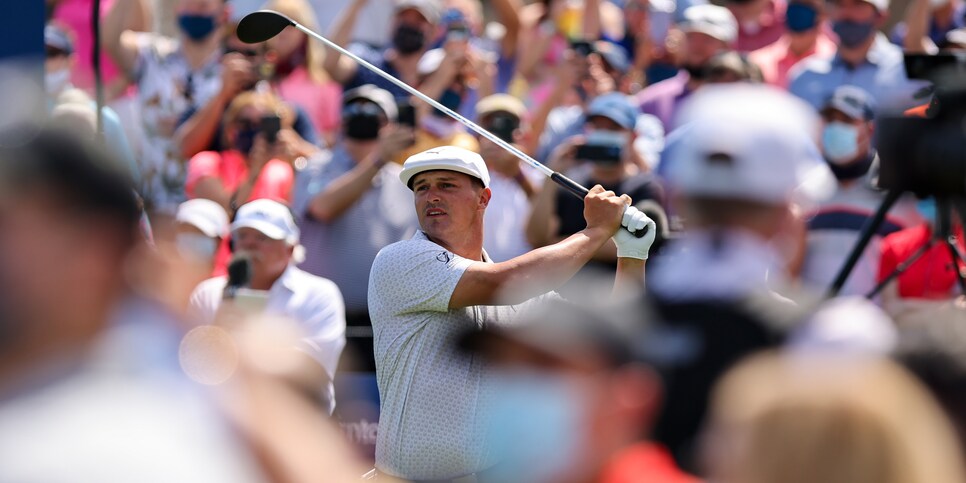 Collin Morikawa is the approach machine you think
The list of players who have averaged more than one stroke gained on approach shots for an entire season is similarly small: Tiger Woods, Luke Donald, Adam Scott, Steve Stricker, Robert Allenby, Jim Furyk, Sergio Garcia, Vijay Singh, Rory McIlroy, Hideki Matsuyama and, now, Collin Morikawa, who overtook Justin Thomas and Paul Casey with a massive 1.170 season number. If you're looking for a window on how a relatively poor putter can win two majors at an incredibly young age, there you go—his irons go into realms of total absurdity.
Steve Stricker is your GIR
captain

king
We've heard a lot this year about Padraig Harrington trying to divide his time between playing and his Ryder Cup captain duties, but we seem to have forgotten that Steve Stricker still golfs, too. In fact, at one point this year the man who will lead the U.S. at Whistling Straits hit 35 straight greens in regulation, the best streak of the year, and topping literally every player on his team.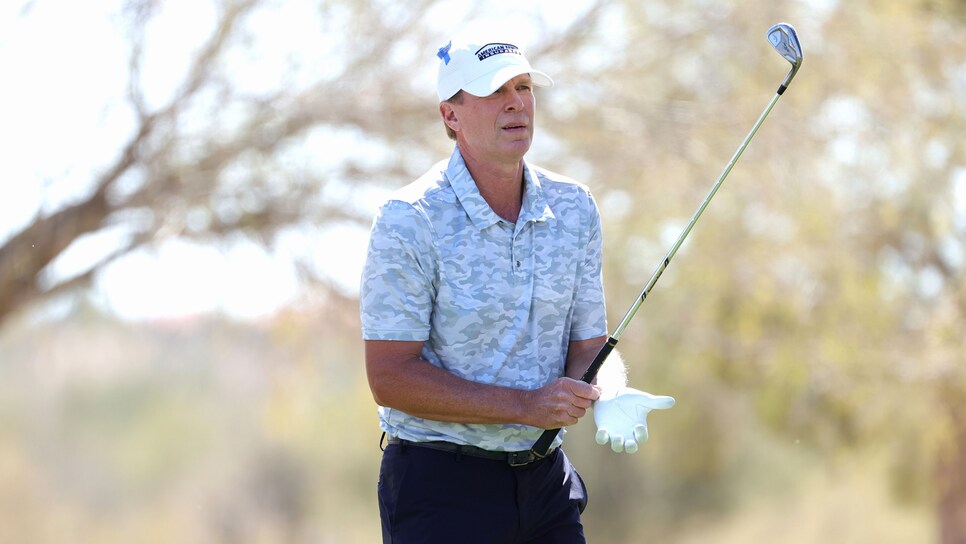 Byeong Hun An is the new desert fox
An's proximity to the hole out of the sand this season was 6'7", best on tour, and it was the second time in the three years that he's led that category. The only other player to do that since 2000 is Mike Weir, who actually accomplished it three times. That skill, however, wasn't enough to offset his struggles with his putter, as An would up finishing 164th in the FedEx Cup points list, and will be playing on the Korn Ferry Tour in the coming year.
Aaron Wise doesn't want you to read this
Is it too cruel to highlight the only man on tour to three-putt three different times from inside five feet? If so, blame the fact that you can even find this stat. In any case, Wise can take solace in that the only man to do it last season was Brooks Koepka, and he's doing just fine.
Fabian Gomez is your Chumbawamba champ
DeChambeau leads all players in going for the green in two on par 5s and actually getting it done, succeeding 84 times in 244 attempts, good for 34.43 percent. At the bottom of that list? Fabian Gomez, who tried it out 52 times, and succeeded ... three times. Three for 52. But the main point with Gomez is he kept going after it, Tin Cup style, and that kind of ambition and optimism is exactly what this sport is all about. Keep blasting away, Fabian.