Equipment
New Looks: Club Adjustability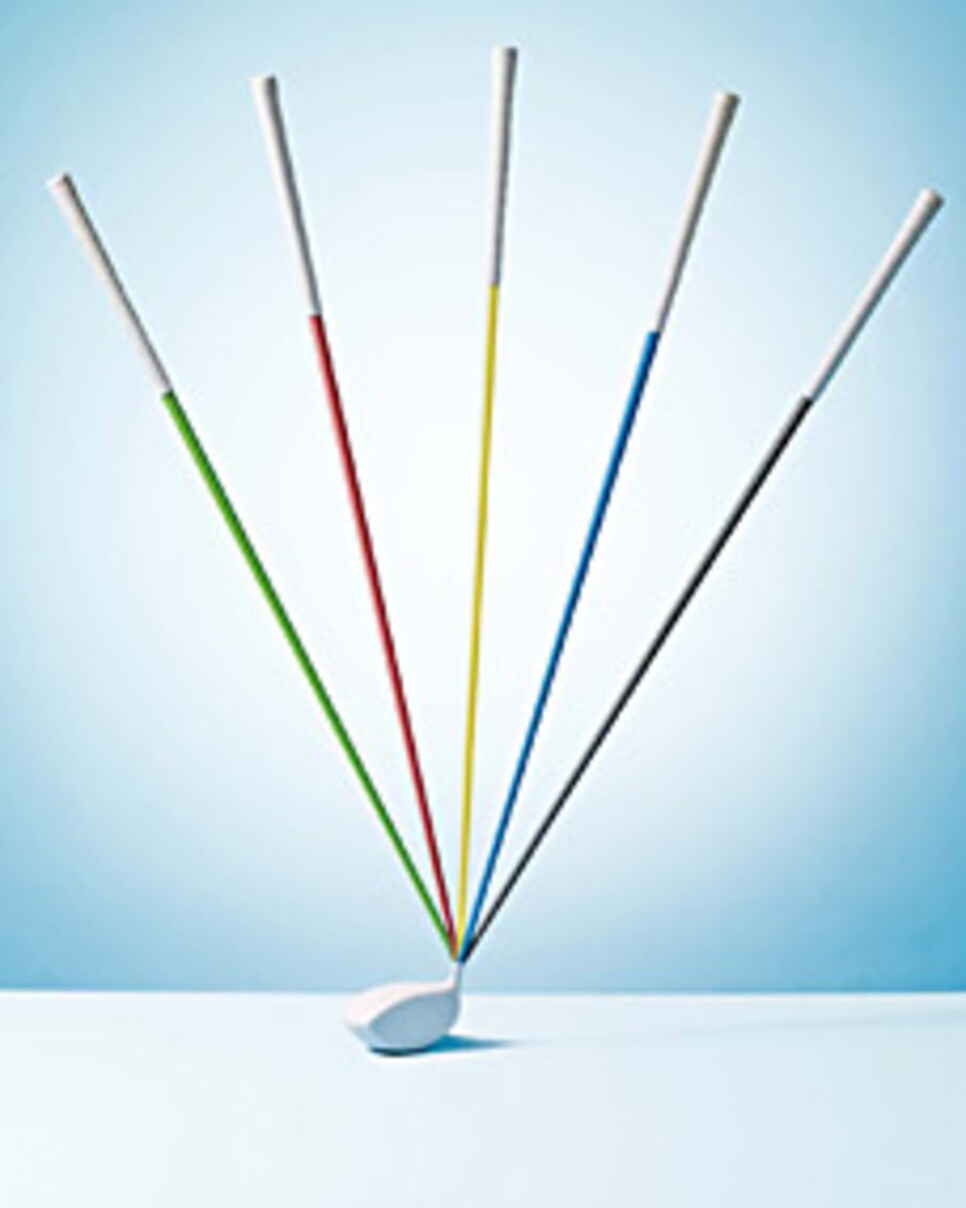 When the U.S. Golf Association announced it was broadening the rules on club adjustability, many had visions of the return of the old SuperStick, the collapsible shaft, 17-in-one clubhead with "high torque-locking teeth."
The rule, which goes into effect Jan. 1 but still will prohibit mid-round adjustments, is designed to provide average golfers with the club flexibility that elite players get with on-site tour vans. Although the USGA's language is relatively open-ended, the rule allows for woods and irons to be developed with interchangeable heads, variable shafts and even customizable lengths, lofts and weights to suit a player's changing swing, course or even mood. The systems are expected to use a wrench-like tool to lock a shaft to the head.
Such tools are already used in adjustable fitting systems like the Callaway OptiFit and TaylorMade SelectFit. In the hands of a clubfitter, these systems make it easier for golfers to try a variety of shafts and clubheads before finding the right fit. Now that interlocking technology will enable amateurs to try the latest shafts without having to switch driver heads.
Sounds intriguing. But is it a boon to average golfers? The industry reaction has been mixed. The new rule is certainly a victory for junior club company Accu-Length Golf, whose adjustable-shaft clubs were ruled nonconforming but presumably will be approved when the new rule goes into effect. Some suggest club adjustability will change the purchase and use of drivers forever (and for the better). Others believe confusion could squelch any interest beyond the earliest of early-adopters.
Callaway and Nickent have already begun work on programs that will offer shafts and clubheads that golfers can purchase individually and customize to fit certain conditions. Callaway is expected to offer more than 70 shaft options this spring on its top two drivers, the FT-i and FT-5. Callaway spent 18 months on research and development to produce a connector that would not alter the club's performance yet withstand regular adjustments.
Says Jeff Colton, Callaway's senior vice president of research and development: "In a way, I think it comes down to explaining to consumers that there are lots of alternative scenarios they might want to take advantage of."
Colton says there are more than a dozen playing alternatives that could be addressed with an equipment tweak, such as playing a longer, lighter shaft on a wide-open course with light rough versus a shorter, more tip-firm shaft on a tight course with heavy rough.
But do all golfers need that kind of complexity?
"What is the net benefit to the consumer? I'm not sure," says Leigh Bader, co-owner of Joe & Leigh's Discount Golf Pro Shop in South Easton, Mass., one of the largest on-course golf-retail shops in America. "In terms of fitting, you can do that now with the OptiFit and SelectFit, and all of the demo programs are much more flexible. But the benefit to this presumably is in the adjustability after the purchase. But if my driver already works, and if I got fit to it, then I already tried all the shafts."
Bader believes adjustability has value for fitting, but from a retail standpoint it presents problems. One is that each company is designing its own system for joining heads to shafts, as opposed to using a universal connector. So you might not be able to put the shaft you're using in your old Cobra head into your new Callaway driver.
The company behind the most successful adjustable club ever most likely will be a participant in this new endeavor, as well. TaylorMade's r7 drivers, with four adjustable weight ports, have been a success on tour and in the marketplace, and TaylorMade officials are considering how best to expand the technology already present in their SelectFit fitting cart into adjustable clubs for purchase. TaylorMade chief technical officer Benoit Vincent has gauged golfers' interest in adjustability since the introduction of the r7 in 2004. He sees a niche audience for the idea.
"How many people might use something like this seems inversely proportional to its complexity," says Vincent, who believes there will be challenges in putting an adjustable connector in a position that might not be ideal for optimizing performance. "From a design perspective, you have to ask, 'Is it the best use of weight?' Certainly, I love the possibilities. On paper, it's meaningful. But practically, well, I'm not sure."
But adjustability is in its infancy, and many believe that shaft-head interchangeability might be only one part of future development. For example, Nakashima Golf is developing a driver with face-angle selectivity. It's also not that far-fetched to suggest shaft-of-the-month programs or adjustable shaft lengths for drivers, wedges with changeable bounce angles, or even hybrid clubheads that might be converted to irons. Clearly, some sorting out will take place during the next few years. One thing is certain, the new emphasis on adjustability improves fitting, and at the same time increases the challenge of understanding which components best go together. As Ken Morton Jr., director of retail at Haggin Oaks Golf Complex in Sacramento, Calif., puts it, "I'm fascinated and scared to hell at the same time."