Cry Me A River
I am extremely sick of the Yankees not winning the World Series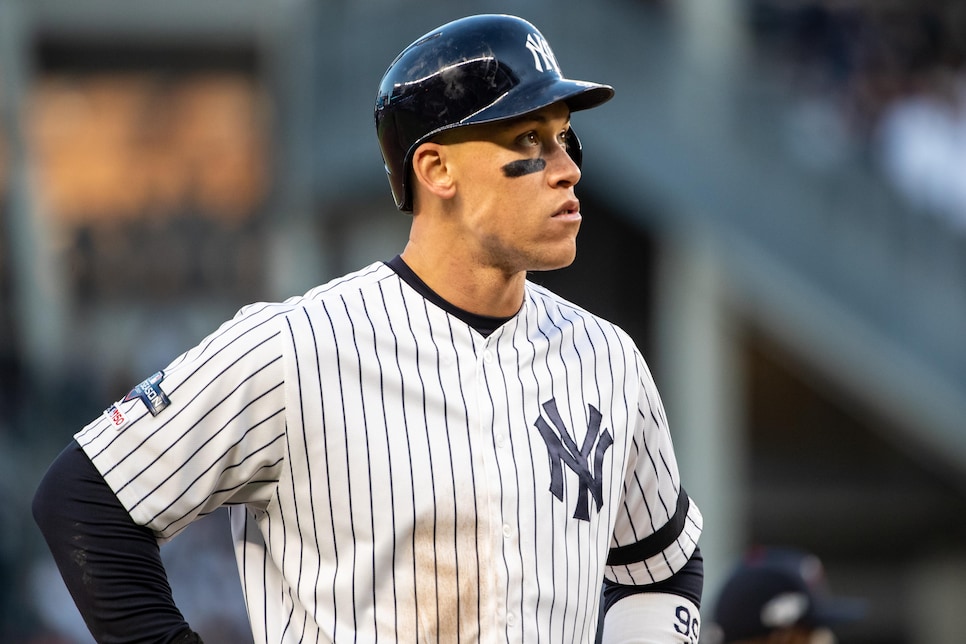 That was the last year the New York Yankees, baseball's most famous and successful franchise, stood atop the sport of baseball as World Series champions. At the time, I lived in Brooklyn, worked in midtown Manhattan, and took the 4-train to the Bronx with regularity to see them play. I was at the ALDS game when A-Rod actually had a clutch postseason hit. Absolutely nothing could go wrong.
A year later, I moved to North Carolina, and nothing has gone right since.
Let me stop you, non-Yankee fans. Let me stop the thoughts in your brain, the words that are about to come out of your mouth. I am entitled. I am ungrateful. Your team hasn't won a World Series since the baseball was made of tumbleweeds held together by horse glue. I am a bad person.
YES! All of that is true! I confess! Who cares? Who cares what you think? These are the New York Yankees, I was more or less born into Yankee fandom, and now I'm a godawful greedy pig of a fan. Those are cold hard facts. It comes with the territory, and when you live like this, you don't expect to go 12 *#%*#$ years without a World Series. That's too many years.
Also, let's be real—when you look at the Yankee payroll, their playoff appearances, and their players, it's insane that it hasn't happened. Let's start with the absurd number of missed opportunities. In the 11 seasons since that 2009 World Series win, the Yankees have made the playoffs eight times, or seven if you don't count losing the one-game Wild Card playoff. Five of those times, they won their first series. They have made the ALCS four times. How many times have they won the ALCS? A big, fat goose egg.
To make the playoffs eight times in 11 years and never even get to the World Series is statistically improbable, like rolling a four-sided die ten million times and never landing on three. (Odds may not be exactly the same, but you get the idea.) It's like taking the entire history of the Cleveland Indians, when they've been good, and condensing it into a decade. It's unconscionable.
For five of those years, the Yanks have had the largest payroll in baseball, and they've been top three for all but one. Money is not a problem. Starting pitching is a problem; not knowing how to construct a playoff roster is a problem; hitters who feast against bad pitching and blindly strike out otherwise is a problem; an unending litany of injuries that suggests a demonic curse is a problem. Money is not a problem. Do you know how sad it is to have all that money, and none of it matters? It's like being a billionaire, and you're hungry for a banana, but you only have a single billion-dollar bill, and the banana store can't make change. A billionaire with no banana—that's the Yankees.
To be fair, I believe they would have won in 2019 if the Astros weren't cheating. That was a very good team. But what happened last year? A 3-2 loss to Tampa Bay in the ALDS. More postseason failure. The repeating pattern, on and on and on, even with a young, seemingly exciting team.
Here is a list of teams who have made a World Series since the last time the Yankees went: The San Francisco Giants, three times. The Texas Rangers, twice. The Kansas City Royals, twice.
The Kansas City Royals, twice. I can't even go on. I can't keep listing teams. The Kansas City Royals, twice.
The Kansas City Royals, twice.
That team? The Royals? That team was an official unofficial Yankees minor league farm club for decades. There's a whole book about it. The Yankees would stare at them for eight seconds, and the Royals would send us their best players. Now, they're better. They won a World Series, and played in another, despite the fact that the average Royals player makes minimum wage. It's insane.
Thursday is Opening Day. The Yankees will take the field against the Blue Jays to kick off the 2021 season. They are spending wild amounts of money on people like Gerrit Cole and Giancarlo Stanton and Aroldis Chapman and D.J. LeMahieu. Soon, they're going to have to spend even more money on players who are not making what they should, like Aaron Judge and Gio Urshela. They're still paying Jacoby Ellsbury $5 million, and he retired in 1982. Roughly $30 million is going to injured players who will probably never produce (seriously). Things are not going to get easier.
It's time. It's time to win a World Series. Call me a loathsome spoiled brat of a fan, and please know that I don't care. It's no longer tolerable to be just kinda good; to waltz in to every season with more money and talent and then fizzle out like we're the Minnesota Twins and can dine out for decades on moral victories. No Yankee fan should be forced to live this way. It's inhumane, and it must end.