HONOLULU — Stewart Cink is forever grateful that he played his first Ryder Cup match partnered with Jim Furyk.
In 2002 at The Belfry in Sutton Coldfield, England, Curtis Strange paired the two men in Friday's afternoon foursomes, and after having played several practice rounds together, they were comfortable with a strategy in which Cink would hit tee shots on the odd-numbered holes and Furyk on the even. But 15 minutes before their match, Cink begged Furyk to take the team's first swing.
"I was panicking because my first shot in the Ryder Cup was going to be on the first tee," Cink recalled. "I went up to Jim and asked if we could switch. He said, 'no problem.' And then he stepped up and hit the perfect tee shot into the first cut. The ball was teed up on this nice, fluffy lie. No way I could fat it, no way I could skull it. I hit an 8-iron on the green. Big relief. Then he missed the putt and left me a four-footer. I made it. We went on and got the point. And I was 1-0 in the Ryder Cup."
Cink and Furyk defeated Padraig Harrington and Paul McGinley, 3 and 2. The experience, Cink said, was instructive. "He never even flinched. He adjusted and stepped up and did what he needed to do. I think," Cink added, "that's the same kind of coolness he will bring to the role of Ryder Cup captain."
A nine-time competitor for Uncle Sam, second only to Phil Mickelson, Furyk was introduced Wednesday as the next man to lead America in the biennial matches when the 42nd Ryder Cup is held in Paris in 2018. In addition to his vast playing experience (he went 10-20-4 in his career), Furyk was an assistant to Davis Love III when the U.S. reclaimed the Ryder Cup last fall at Hazeltine National. He also served as a vice captain for Jay Haas in America's 2015 Presidents Cup victory in South Korea. Furyk qualified for that team, but was sidelined by a wrist injury.
Past U.S. Ryder Cup and Presidents Cup players were unanimous in their praise of the 17-time PGA Tour winner as a level-headed but fierce competitor who brings a brand of leadership that he already has displayed as a team member and with which they are comfortable.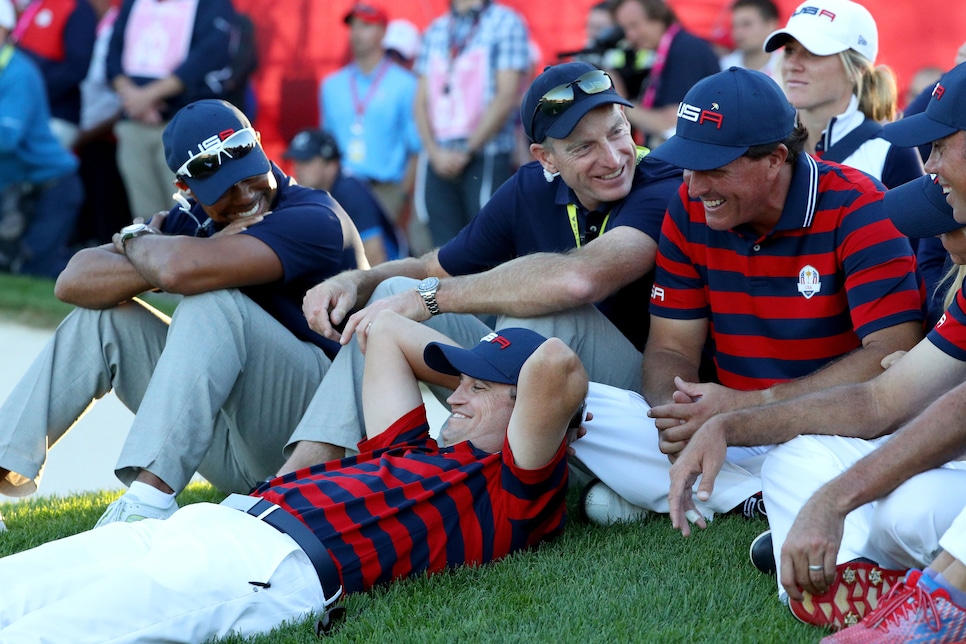 No one was caught by surprise by Furyk's selection, just as it was hardly unexpected that Thomas Bjorn was chosen to lead the European team after his years in the trenches as a player and assistant.
"It's a shocker, huh," Zach Johnson said sardonically. "They didn't need to overthink this one. He's already been a captain inside the locker room as a player with his experience, knowledge, wisdom … all the stuff you want in a leader. He will do very well."
"Jim and Phil [Mickelson] have sort of been the captains among the players, so to speak, so he will make for a smooth transition and do a great job," echoed Johnson's caddie, Damon Green. "Jim's always been one of the guys we go to for strategy; he's very thorough. He's a man's man. He's tough, which you see out on the golf course."
"He's got all the respect of the players," said two-time Presidents Cup player Bill Haas. "I truly think he could make the team, which tells you where he is as far as his rapport with whoever is on the team. He's stoic and such a grinder that I think every shot that every player hits he'd be invested in."
For that reason, Haas said Furyk, 46, should play if he earns one of the eight automatic berths from the U.S. points list. The last playing captain was fellow Pennsylvania native Arnold Palmer in 1963 at East Lake Golf Club in Atlanta, where he went 3-1 in pairs and 1-1 in singles. "There isn't a guy out there who wouldn't want him as a partner," Haas said. "He might not want that responsibility, but he could do it."
Keegan Bradley agreed. "I don't think you could ask for a better captain, but he could make that team," the former PGA champion said. "I love the way they are [selecting the captain] now. He seems like the perfect choice as the next guy to lead us."
"Jim is very passionate, and he wants to win worse than anybody," Jimmy Walker said. "He's a smart guy, and I think he'll do a really good job. I'm sure he wants to play, but it's a big undertaking just to be the captain, let alone play. I know he will be into it. And so will Tabitha [Jim's wife]. They are a solid couple. They get it. They know what's going and have been in a ton of these. They know how it works. They will have everyone on the same page, players and wives."
"It think it's cool," said Boo Weekley, a teammate of Furyk's on the winning 2008 team led by Paul Azinger, the last victorious American squad before 2016. "He brings a lot to the game, so much knowledge. Whether you're a veteran or a rookie, Jim's the kind of guy who relates to you."
"He's a great representative for golf and for the United States," Cink added. "He's the quintessential captain in my opinion."