LPGA Tour
New LPGA Commissioner Mollie Marcoux Samaan was destined for this moment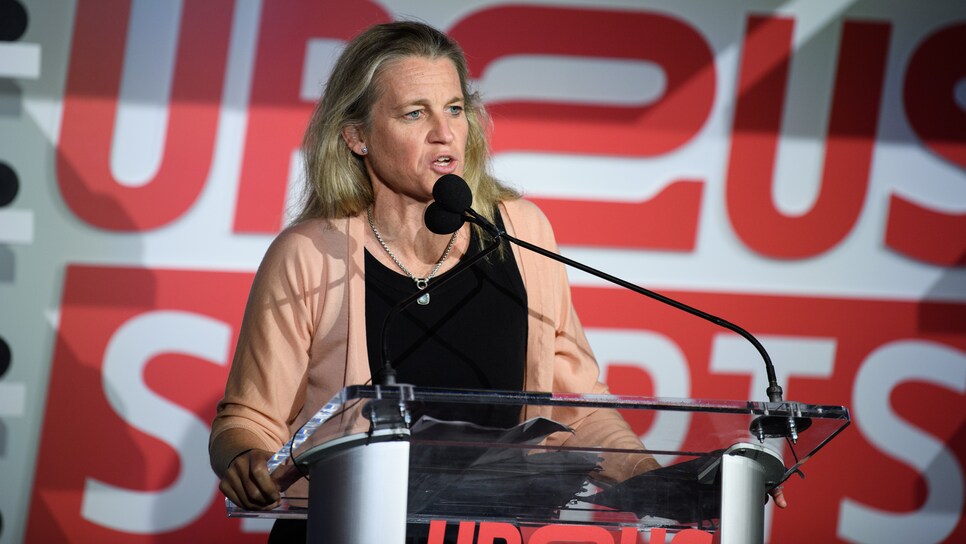 As a youngster the golf course was her summer "babysitter." As a teenager, she competed in the state amateur in New York against Dottie Pepper, and she consumed women's golf on television whenever she could find it. Though she played the game in high school—she opted for soccer and ice hockey at the collegiate level at Princeton University—she devoted her senior thesis to the history of women's golf. More recently, she has won her club championship five times.
Don't let her current title, athletic director at her alma mater, Princeton, mislead. Mollie Marcoux Samaan, the new LPGA commissioner, easily possesses a more thorough and impressive golf pedigree than any of the eight individuals who preceded her.
A love for the game isn't all the wife and mother of three children brings to the role. She is competitive, and she has leadership experience, and she knows how to deal with corporate sponsors. She also can connect with athletes because she was one herself. But it is her lifelong devotion to golf that makes Marcoux Samaan a compelling choice to succeed Mike Whan in leading the top women's golf organization in the world.
"My life would absolutely … I'd never be sitting here if I didn't have some success in sports and developed a confidence in my own abilities to perform under pressure and to handle really difficult situations," Marcoux Samaan said during a Zoom meeting with the media Tuesday afternoon. "I credit everything to my role in sports, but I think golf, too, even though I didn't play golf at a really high level … but I think that experience from a career perspective, you know, being able to be competent and go out and play with anyone and become competent in playing with anyone has helped me in my career every step of the way."
Marcoux Samaan, a five-time club champion at North Fork C.C. in Cutchogue, N.Y., where she carries a 7.4 handicap index, got started in the game the way a lot of youngsters might—by following an older sibling, in this case, her brother. Her parents didn't play, but when he began going to the local course in Ithaca, N.Y., with friends, Marcoux Samaan, then 12 years old, wanted to tag along. "I was hooked from that moment."
Her negotiating skills proved formidable even then. She talked her parents into paying the $45 junior membership fee for the summer at Newman Golf Course, "the best babysitter they could ever imagine," she said. They would drop her off at 8 in the morning, and she might play up to 36 holes in a day. At 14, she nearly won the women's city championship, losing in a playoff.
While the self-described "sports nut" was a four-time All-Ivy League selection in ice hockey, when it came time to write her senior thesis, golf beckoned her yet again. Her paper was titled, "The Social Construction of Sport and Gender: A History of Women's Golf from 1895 to 1955."
"The advice that I got was write on something that you're passionate about, write on something that you care about because it's such a big project; it's a hundred and some pages and you spend your whole senior year writing it," said the history major, who graduated cum laude in 1991. "So you might as well do it on something that you care about. And of course, the thing I care about most is sports. And golf has served a very critical social role for women for many, many years.
"So I came upon this idea of writing the history of women in golf. So, it was sort of mostly a history of women in society, but I use golf as an example of how women were living in society in the various eras."
Interestingly, Marcoux Samaan reread that thesis when she was preparing for her first interview with the LPGA. But, of course, it's this current era that she will help shape. In addition to her golf and sports background, Marcoux Samaan brings fundraising experience from her seven years as Princeton's athletic director and corporate leadership experience during 19 years at Chelsea Piers Management, the company that owns and operates two world-class amateur sports complexes, Chelsea Piers New York and Chelsea Piers Connecticut.
Upon hearing of Marcoux Samaan's resume, LPGA veteran Angela Stanford offered this hot take: "I'm not sure how to properly phrase this, but she sounds like a badass."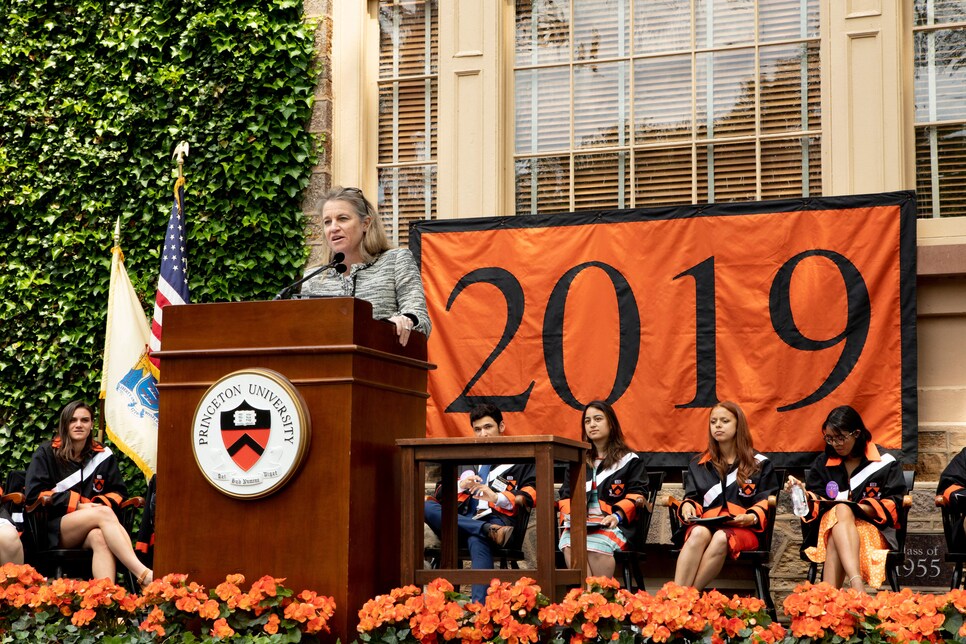 Denise Applewhite, Princeton
Marcoux Samaan inherits from Whan an organization on sound footing but with potential "for tremendous growth," she said. And her abilities to tap into that potential made her the unanimous choice of the LPGA search committee.
"One of the things that impressed me the most about Molly was her ability to build relationships with a wide variety of different stakeholders at Princeton, whether it was the university officials, the big donors, the alumni, the coaches, the athletes," said Diane Gulyas, Chair of the LPGA Board of Directors and the search committee. "When I think about our universe of stakeholders, I honestly think she's going to be awesome with our sponsors. And I think that will lead to even better relationships growing relationships with our sponsors. That of course always leads to more opportunities and bigger purses for our players. Um, I think she's really going to help us as we think about how to increase our fan engagement in new and creative ways, bringing in new technology, different ways of thinking about fan engagement."
"From her first interview, I could just see that she is down to earth authentic, someone that cared deeply for her athletes at school," said World Golf Hall of Famer Juli Inkster. "I think she's going to be a great players' commissioner. She's gritty, she's smart, but she keeps it simple. Her vision for where the LPGA wants, wants to go. I think she's the perfect person to take us there. I know it's probably not the greatest term, but she's a jock, and she loves sports and she's been in a man's world … knows how to collaborate and bring the LPGA forward."
"I just think at this moment," Marcoux Samaan said, "what could be better than sponsoring the LPGA and, sort of, how we're all working towards providing the most diverse and inclusive environments within our companies and to, to be able to use the LPGA as a platform and a commitment to that equity, I think is a huge opportunity."
And the opportunity to be at the helm of the LPGA at this moment, Marcoux Samaan said, is bigger than just a job growing purse size or maximizing exposure for golf's best female players. "This is a remarkable opportunity and a remarkable responsibility to get up every day and be able to try to change the world through golf," she said.
"I've always believed that sports have the power to change the world," she added. "And I think in this moment in time with, you know, just such tremendous positive energy around women's sports, around women's leadership, around sort of society's commitment to diversity, equity and inclusion. I think that we at the LPGA have just this unique platform to change lives for the better."
See, it comes back to golf. For Marcoux Samaan, it always comes back to the golf.