The Loop
Nelson lacking big-time feel of years past
IRVING, Texas -- That was then and this is now. The 1997 GTE Byron Nelson Classic was a media carnival, the first tournament played by Tiger Woods after his victory at the Masters. At the Tuesday interview that year, 26 television cameras lined the back of the overflow media center at TPC Four Seasons Resort Los Colinas. Woods won the tournament and the frenzy that would become know as Tigermania was in full swing
At the '97 Nelson, Woods had to contend with a field that included past or future major championship winners Nick Faldo, Nick Price, Davis Love III, Payne Stewart, Phil Mickelson, Tom Kite, Tom Watson, Corey Pavin, Jim Furyk, Mark Brooks, David Toms, Ben Crenshaw, Stewart Cink, Hal Sutton and Justin Leonard. Many of them were at the top of their games.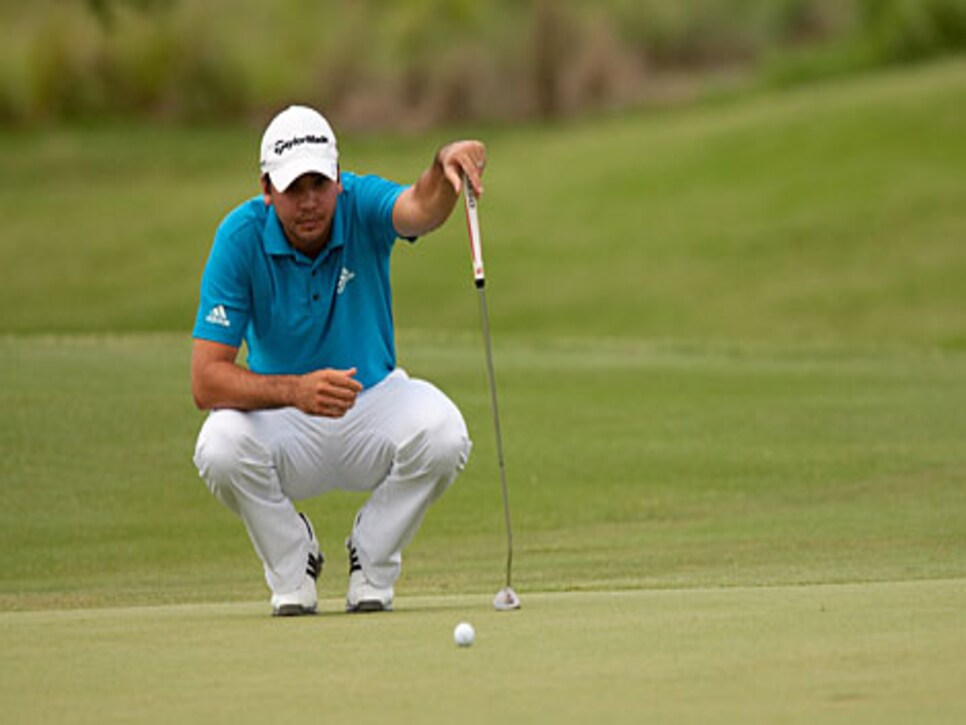 Defending champ Jason Day is one of the few big names in the field.
Flash-forward to this year's HP Byron Nelson Championship and the Tuesday turnout in the media room is short of the quota needed for a decent flag football game. The turnout by the pros isn't much better, either, as 40 of the top 50 in the World Ranking decided to take a pass. The highest-ranked player this year is No. 10 Matt Kuchar. Of the seven major championship winners in the field, the most-recent winner in a major was Vijay Singh in the 2004 PGA Championship.
But the lack of top-10 players doesn't mean this week won't be an entertaining tournament and that significant money won't be raised for charity -- it will. It just means the folks doing the marketing -- and selling the TV broadcast -- have to work a little harder. There are story lines here this week.
Also in the field are Jason Day, the talented young Australian who won here last year, long-hitting Dustin Johnson, WGC-Cadillac Championship winner Nick Watney, the always entertaining Rory Sabbatini, Players winner K.J. Choi and Colonial runner-up Charlie Wi. Still, when there is talk about needing the top players to do a better job of supporting a broader range of tournaments, this is one that should be included.
So what happened between 1997 and now? Well, for one thing, Byron Nelson, the massively well respected all-around nice guy who hosted the tournament, died in 2006 at the age of 94. A lot of the players who showed up as a sign of respect for Nelson no longer feel that obligation. And then there is the fact that a lot of tour pros are not fans of the golf course.
"I don't like it tee to green," Hunter Mahan said last week at Colonial about TPC Four Seasons. "I don't like the way the fairways are shaped. It's hard to hit a fairway for me. I don't want to rip it up or rip up the tournament, but it's a place where I don't play well, it doesn't suit me, it's a pain in the butt to play."
What makes Mahan's decision to skip the Nelson especially hard to swallow is the fact he lives in Colleyville, Texas, about 30 miles away. The redesign of the greens in 2007 by D.A. Weibring also didn't do anything to win over Mahan. "I don't like the way they redid the greens," he said. "I just don't think they're very good. [Weibring] couldn't do much. The course is what it is, and you can't really do much about it."
And then there is Woods, who sort of established the defection trend. He has not played the Nelson since his consecutive-cut streak ended here in 2005, the year before Nelson died, leaving in a huff and openly registering the fact that it was not one of his favorite golf courses. On Tuesday, as players were arriving to practice at TPC Four Seasons, Woods was holding a news conference at Aronimink GC in Newtown Square, Pa., for the AT&T National.
The chances of Woods returning to play here are about as good as the chances of the Pittsburgh Pirates winning the World Series this year. But let's make a fanciful forecast. Woods has played 55 majors as a professional, beginning with that 1997 Masters. His 14th Grand Slam title came at Torrey Pines in the 2008 U.S. Open, when he limped and grimaced his way past Rocco Mediate. Since then, Woods has missed two majors because of knee surgery and is 0-for-the-other-nine.
That makes Tiger's winning percentage in the majors 14-for-55, or almost exactly 25 percent -- a truly remarkable number. Let's assume Woods wakes up tomorrow morning and there is nothing wrong with his left leg, he has rediscovered his swing, the putts have once again started to fall and passion has returned to his game -- a lot of '"ifs" but let's imagine. When would he pass the record 1of 8 professional major victories held by Jack Nicklaus?
If, beginning at Congressional in June at the U.S. Open, Woods resumes his career winning percentage in the majors, he would need 20 more starts to get the five wins needed he to pass Nicklaus. That 20th major would be the 2016 Masters, the first Grand Slam event Woods will play as a 40 year old. That's what the math tells us -- if Tiger's future can follow the form of his past.
So Woods will win that 2016 Masters, pass Jack, take a month off and make his return to competition at the Byron Nelson -- just like he did in 1997, right? Well, the variables, of course, are enormous and unpredictable, but we do have that May 21 end-of-the-world thing behind us, so Tiger does have that going for him. So get you tickets for the 2016 HP Byron Nelson Championship now. Maybe the all the top players will return by then.
(Photo: Darren Carroll/Getty Images)