News
Nelly Korda one off lead, three up on sister in budding, but friendly, sibling rivalry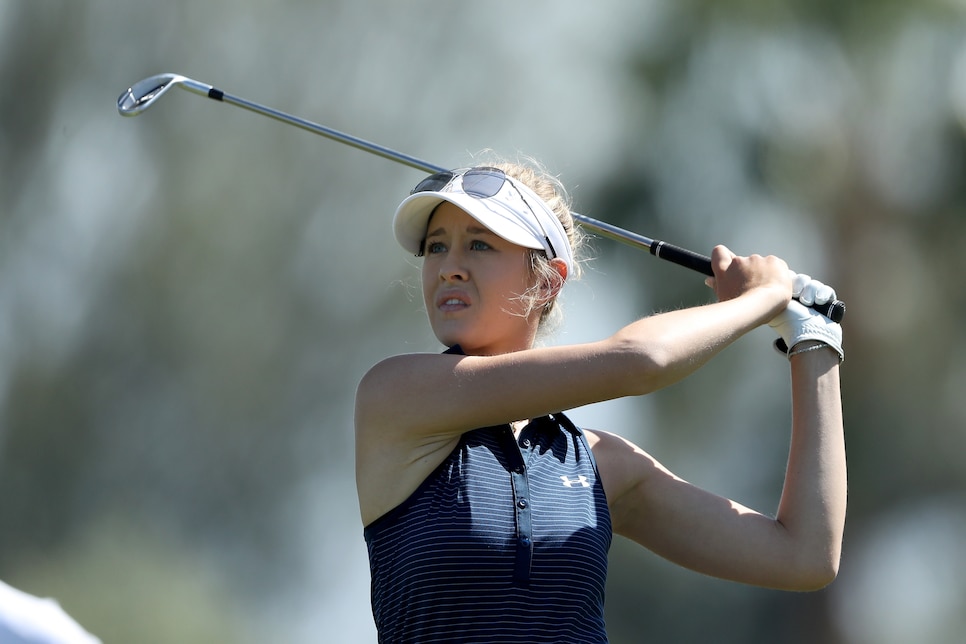 David Cannon/Getty Images
RANCHO MIRAGE, Calif. — Sibling rivalries aren't necessarily cordial, Cain vs. Abel having long ago set a precedent. The sisters Korda fortunately aren't similarly adversarial.
"I'm like, 'man, one day I wish I was as good as her,'" Jessica Korda said here late Friday.
Nelly Korda, 18, is an LPGA rookie who already is making an impression, and 36 holes into her first major championship as a professional is tied for second in the ANA Inspiration, one shot behind Suzann Pettersen.
Further down the leader board is Jessica, 24, a winner of four LPGA events, who is four off the lead, three behind Nelly.
"It's so great," Jessica said. "I know all the hard work that she's put in and I'm so proud to see that it's paying off and paying off really quickly. And obviously we have that little money match going at the end of the year."
Indeed, the two have a wager, loser buys the winner a purse of her choice based on who finishes higher on the money list.
"I'm a little worried," Jessica said, not convincingly, of course. These siblings get along famously and roomed with one another last week, while this week the entire family is sharing a house.
Jessica holds an $8,009 lead, though she has played in one more event than Nelly, who has the higher finish, a tie for fifth in the Pure Silk Bahamas LPGA Classic to open her rookie season.
"She's had a stellar, stellar rookie season so far and hopefully it continues," Jessica said.
That was a significant first step she took on the Dinah Shore Tournament Course at Mission Hills Country Club on Friday. Nelly shot a three-under par 69 in a round that included only a single bogey, on the 17th hole, that cost her a share of the lead.
"I'm just really happy to be out here," Nelly said. "I'm just over the moon, truthfully. Playing alongside my sister, too, and playing alongside the girls I used to look up to. I'm just really happy to be out here. Seeing my name atop the leaderboard is something I've always dreamed of. So hopefully I keep it going."
Jessica posted a five-under par 67 in perfect conditions and also had only a single bogey.
"I've been having a really hard time with my half-shots these last two weeks," she said, "and so that's been where my bogeys and doubles have come, where I just put myself in a bad position. All in all, I'm hitting the ball pretty well and today some putts dropped and I gave myself a lot of birdie looks, so that was good."
The Kordas' father Petr, incidentally, is a former Australian Open tennis champion. Their brother Sebastian, 16, is a promising tennis player, who has advanced to the semifinals in the Easter Bowl, a prestigious junior tennis tournament in nearby Indian Wells.
The sisters don't play tennis, Jessica said.
"My dad and my brother, they just like to make us run, so it's really not that fun. You have like two basically professionals on one side and two wooden girls. It's not good. It's not good."
On their own turf on Friday, it was all good. All good.