News
Nelly Korda excels on tees and greens, retains lead with a 67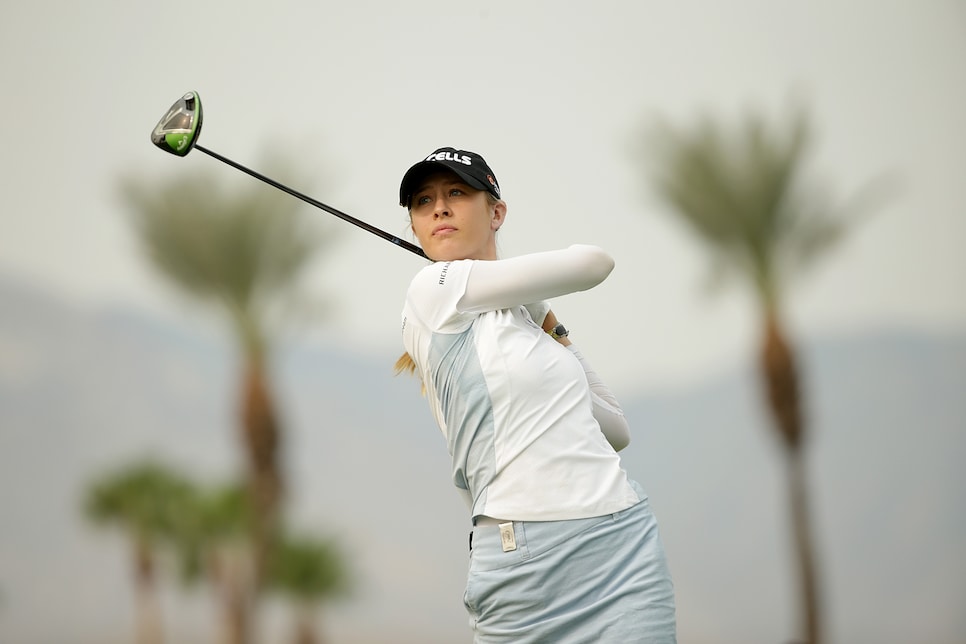 Nelly Korda plays a tee shot on the 13th hole during the second round of the ANA Inspiration.
Jeff Gross
RANCHO MIRAGE, Calif. — Nelly Korda's driving courted perfection on Friday and her putting was sublime, generally a knockout combination, as one-two punches go.
Of course there are no second-round KOs in professional golf, but her five-under-par 67 in the wake of a tournament-leading opening-round 66 stood her in good stead heading into the weekend at the ANA Inspiration.
It gave Korda a two-stroke lead over Mirim Lee and a four-stroke advantage over a past champion, Lexi Thompson, and Nanna Koerstz Madsen on the Dinah Shore Tournament Course at Mission Hills CC.
Clearly, the pieces are falling into place in a timely matter for Korda, a 22-year-old star chasing her first major championship victory. She hit 13 of 14 fairways and needed only 27 putts.
"The only fairway I missed was on number two, my 11th hole today, and I hit that shot good, too," she said. "I've been hitting it really good off the tee. Honestly, I've just been playing really solid golf.
"I was definitely very happy with my putting. Thank God for my putting today."
Korda played a bogey-free round courtesy of her putting, which bailed her out on her 11th and 12th holes. She holed a 20-footer to save par on her 11th and a 25-footer for par on her 12th. She also holed a series of shorter par putts.
Her success on the greens dates to the Women's British Open last month, when she decided to change her putting grip to left-hand low.
"I've always really wanted to go left-hand low, but I've never really had the guts to do it pretty much," she said. "And the first week I tried it I was like, 'well, this is a great week, it's [blowing] 40 miles an hour. But it worked out really well, and I've been putting pretty good with left hand low."
Her confidence was high coming into the week, but playing two rounds in 11-under par 133 in a major championship only reinforces it.
"Everything in golf I feel is all about confidence and momentum," Korda said. "So just having that confidence and believing in yourself is definitely really important."