U.S. WOMEN'S OPEN
'I've missed it so much': Nelly Korda offers details on rehab from surgery as she makes return at U.S. Women's Open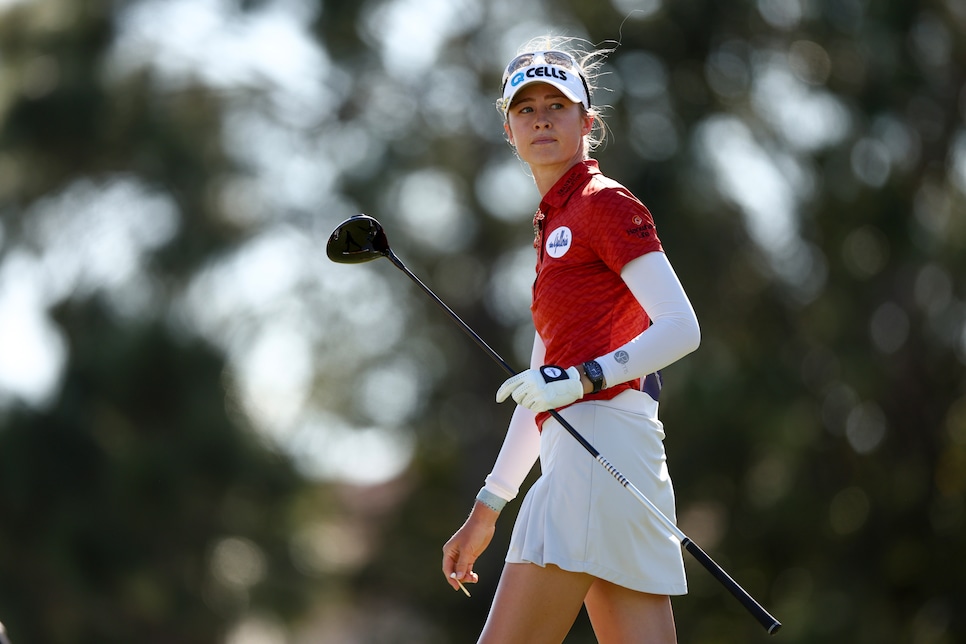 SOUTHERN PINES, N.C. — Arriving precisely at 10:49 a.m. for her 10:30 a.m. press conference ahead of the U.S. Women's Open, Nelly Korda smiled bravely but seemed none too thrilled to be joining her first media scrum since undergoing surgery for a blood clot in the subclavian vein of her left arm earlier this year. That arm was covered by a white compression sleeve as she fielded questions and gave snippets of information about her hiatus, all with the familiar bearing—somewhat sad, somewhat enigmatic—of someone who seems much older than her 23 years.
Korda was unable to provide exact dates for the major events of the past three months, but although her Instagram post revealing her surgery was posted on April 8, she puts the moment when she first felt something strange in her arm as "late February or early March." (Another Instagram post seems to indicate that she first noticed the clot on March 11.)
"I called my family doctor, and he advised me to go to the ER," she said. "I went to the ER, found out I had a blood clot, went back home, searched for a specialist, found one in Sarasota that was great, and then obviously had my procedure."
Following her surgery, she flew to California—the Calabasas area of Los Angeles County, specifically—to rehab with her coach Jamie Mulligan. She described that process as "mostly shoulder and back exercises," which simultaneously helped with a shoulder issue that had been bothering her for the past year.
By the end of April, while the Palos Verdes Championship was underway nearby, she began hitting balls.
"I started obviously gradually, really slow," said Korda, who plays her first rounds with Danielle Kang and Atthaya Thitkul. "I probably went like 60 percent. I was hitting like my 8-iron 100 yards to see how it was feeling, and then once I got the clearance from my doctor, then I was good to go."
Korda didn't want to reveal the cause of the blood clots, citing medical privacy, but she did admit that it was painful to see the golf world proceed without her.
"It was actually really hard to watch. I think I watched Jess's final round only at Chevron," she said, referring to her sister Jessica's second-place finish at the Chevron Championship. "But yeah, I've missed it so much. Definitely as I got closer to this week, I started finally hitting it a little longer, I think the juices started flowing a little bit more, but I'm so happy to be out here. I've missed everyone, and I'm just grateful."
Gratitude and perspective was a big theme for Korda on Tuesday, and her time off seems to have come with a kind of psychological silver lining.
"It's like when you're sick and your nose is stuffy, you're so grateful to be able to breathe," she explained. "I feel like it's the same way. I think when it's kind of taken away from you, you kind of sit back and you realize how amazing of a sport it is and then how you can travel the world and how you can just do what you love."
Her expectations for her first tournament back this week seem modest—she's not peering into the future any further than her first tee shot on Thursday—and she knows that even though she feels 100 percent, her competitors have an entire spring of competitive rounds under their collective belts. She may not win her second career major at Pine Needles this week, and it may be a long time before she reclaims the World No. 1 ranking from Jin Young Ko, but the road back starts here in the Sandhills of North Carolina, and even at such a young age, she's already shown us how high this road can go.