The Loop
Need a hunch bet for Kentucky Derby? Bet on an avid golfer -- or not
Hunch players among golfers interested in making a play on the Kentucky Derby on Saturday might be tempted to bet on jockey Corey Nakatani, surely the most avid golfer among the jockeys, trainers or owners involved in the race.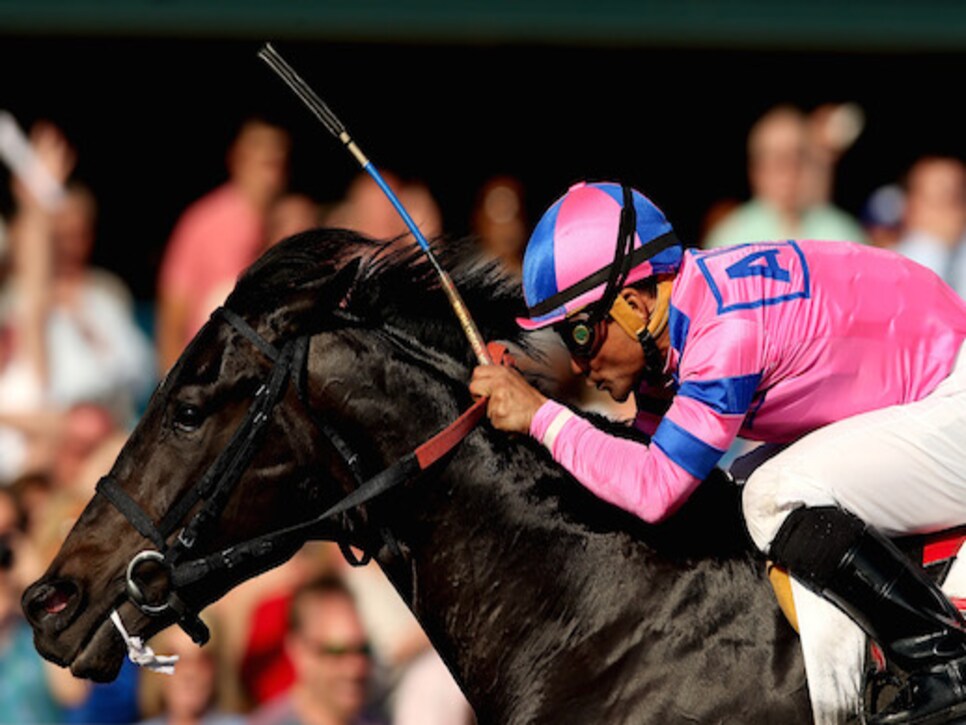 They might also want to resist the temptation. It will be Nakatani's 16th ride in the Derby and he has yet to win, and the odds on his mount, Dance With Fate (shown above with Nakatani), currently are 20 to 1.
Still, the man takes his golf seriously. It was 1998, with two weeks left in the Hollywood Park meeting in Los Angeles, and Nakatani was leading the jockey standings, when he chose to take four racing days off to play in the annual celebrity golf tournament at Lake Tahoe. The days he missed likely cost him the riding title; Chris McCarron finished with 52 wins, to Nakatani's 50.
"Horsemen saw Nakatani's golfing spree as a case of misplaced priorities," Kevin Modesti of the Los Angeles Daily News wrote. "Someone suggested that the men and women of the press box, in addition to naming the best horse, jockey and trainer of the meet, also vote for Golfer of the Meet.'"
Nakatani, 43, lists Tiger Woods and Fred Couples as role models in his Jockeys' Guild biography. In 2007, he was 55th in Golf Digest's ranking of best golfers from the world of sports, with a three handicap. Speaking of handicaps…
Several years ago, Nakatani and another jockey/avid golfer, Don Pierce, played a match. Pierce asked Nakatani what his handicap was. "Six," Nakatani replied. Pierce was playing to an eight and lost $100. They were late for the race card at Del Mar in San Diego, so Nakatani told Pierce to pay him when they got there.
"When he left, I called his home course and they said he was really a two handicap," Pierce told Ted Johnson for a story in the Southern California Golf Association's Fore magazine. "So when I got to Del Mar, I went to the Winner's Circle Foundation and donated $100 in his name. I gave him the receipt and said, Here's your winnings.' He screamed like a mashed cat."
Nakatani's defense? The club provided his trending handicap index, not his current number.
Remember that when you place your bets.