If you play golf, you're going to have to be prepared for the sport to slap you upside the head. Yet that isn't always a bad thing, as Aaron Wise has learned in his short but interesting career as a professional golfer.
Last June, Wise was as confident as he had ever been in his game. The 20-year-old from Lake Elsinore, Calif., was coming off winning an individual and team title for Oregon at the NCAA Championship, then earned a spot into the U.S. Open by being medalist at his sectional qualifier in Dallas. Wise had already announced that he was going to forgo his final two seasons at Oregon to pursue pro golf—having secured a card on the Mackenzie Tour in Canada in May—but now his debut would be at Oakmont Country Club. No, he didn't think it was going to win in his first start, but he did think he could play well, make the cut and perhaps convince a few PGA Tour events he was worth a sponsor's exemption.
Instead, he shot rounds of 74-76 and left Western Pennsylvania shell-shocked.
"I truly felt like going in I was prepared to go compete with them. And looking at it now, the reality was I had no chance," Wise said. "You think you know what to expect but you really don't."
Nearly three months later, Wise has recovered. In five starts on the Mackenzie Tour, he has four top-10 finishes, including a victory in Edmonton in July. His scoring average is 68.47, with his worst score in 21 rounds being a 72.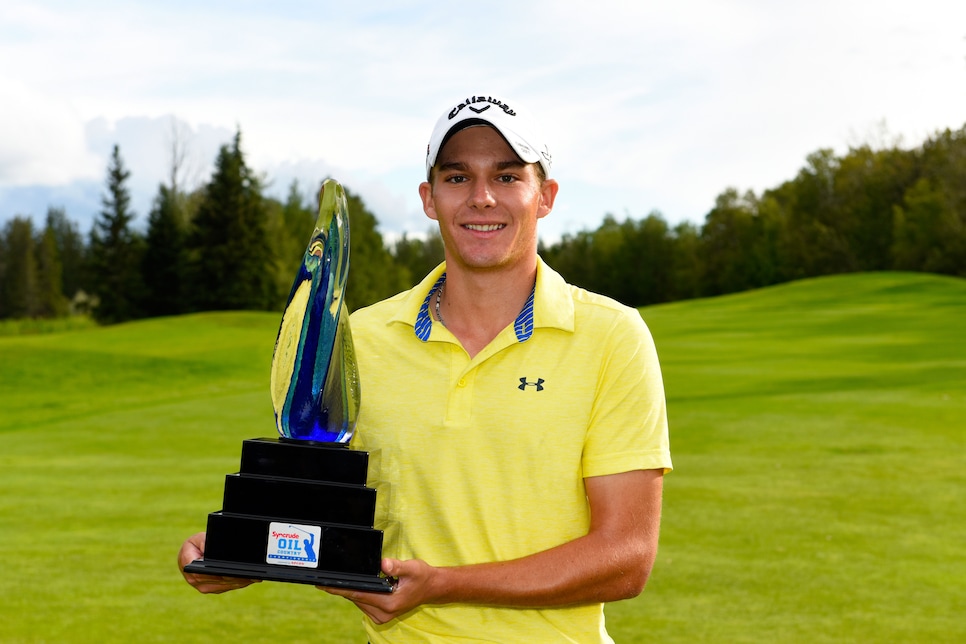 Fifth on the money list entering this week's Niagara Championship, Wise shot a second-round 66 to sit just off the lead entering the weekend. With only next week's Freedom 55 Financial Championship remaining on the 2016 schedule, if Wise can stay in the top five on the money list he'll earn a conditional card on next year's Web.com Tour.
Wise looks back to the U.S. Open experience as a pivotal moment in his development. If not for falling flat on his face, he isn't sure if he would have been mentally prepared to put in the effort needed to make the transition to the pro game.
"I used that as a learning experience and motivation to work hard and make sure I can compete at whatever level I'm playing at," Wise said. "In college you only get enough time to put two or three hours in [of practice each day], and I thought that was plenty. But you quickly learn these guys put a lot more work in."
What Wise says surprised him the most in the transition is the depth of competition, even on what many would consider a minor-league circuit. That depth is best illustrated in how far you fall on a leader board with just one bogey.
"At amateur golf, you drop a shot, it's not a huge deal, you can still fight back," Wise says. "If you do that on the PGA Tour, you could be dropping from eighth place to 20th all of a sudden just because the leader board is so bunched because everybody is just as good as the next guy. So all those margins push you to practice that much harder.
Wise got a chance at last month's John Deere Classic to once again assess his game against the tour's best. The results were an improvement from Oakmont; he finished T-16. He'll get to do the same next month at the PGA Tour's Safeway Classic, where he has already secured a sponsor's exemption.
"Hopefully I get a few more and you never know, before the Web.com Tour starts maybe make a splash on the PGA Tour," Wise says. "I got really close to doing something special at the John Deere. And that just shows you if I can stay on top of my game and be really prepared for those events, I could do something special there."