The Loop
NBC secures prime real estate for its telecast
PEBBLE BEACH -- A not-insignificant part of what makes Pebble Beach such a spellbinding walk is the selection of elaborate homes aligning the fairways, from Charles Schwab's (off 5) to George Lopez's (off 15) to the dozens of homes of people whose name you might not know but who, one can safely assume, are not having any problem paying their cable bill.
The home that has probably drawn the most attention so far this week is the last one up the right side of the 18th hole, directly adjacent to the Lodge at Pebble Beach. The reason has little to do with architecture or immaculate landscaping, and more to do with the 120-foot crane that sits on the lawn. It is from there that NBC will mount a camera for its aerial shots of the 18th hole, a setup so unwieldy it's occupying most of the back lawn and has forced the removal of a series of hedges.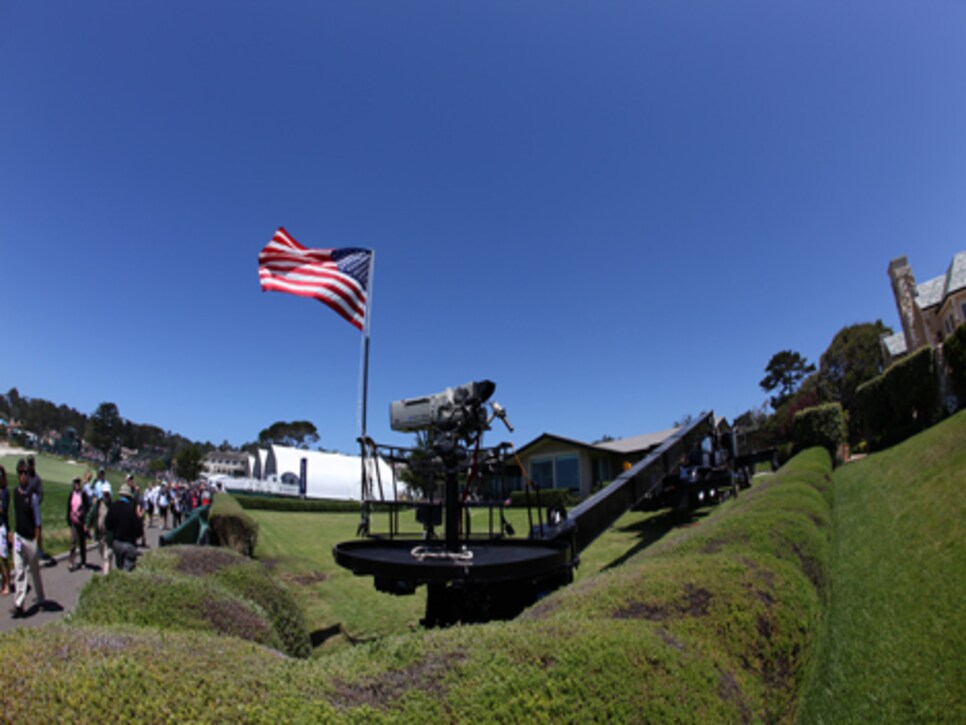 (Photograph by Steve Szurlej)
First question: How much did the network pay the homeowner for the right to use their lawn?
"I have no idea," said camera operator John Boeddeker, who manned the same camera from a location closer to the tee in 2000. "Hopefully it's not too much, because that would put pressure on me."
Second question of the day: Does Boeddeker have full run of the facilities inside the house?
"They've offered," he said of the homeowners, who he described as polite, cooperative, although perhaps a bit concerned about the hedges. (Not to worry: They will be replaced.)
Which is not to say Boeddeker has a lot of time for lounging around. When play begins Thursday he will spent some 12 hours a day atop the crane, which will give him plenty of time to assess the golf course, Stillwater Cove and, of course, whether the homeowners need to replace their roof.