Depending on your point of view, the announcement Sunday morning that Paul Azinger would no longer be the lead golf analyst at NBC Sports was either a surprising development or a long time coming. Opinions about the job that Azinger, 63, has done since joining Dan Hicks in the booth after the retirement of Johnny Miller in 2019 usually come in two flavors: love him or hate him. And it seems the latter group has been growing in numbers in the past year, with criticism on social media peaking this summer with a handful of publicized gaffes.
Perhaps that's what led Azinger's current contract being allowed to expire without an extension. "We want to thank Paul for his work with us over the last five years," NBC said in a statement. "His insights, his work ethic and relationships in the golf industry are well known, and we appreciate what he brought to our team. We wish Paul the best in his future endeavors."
Rather than give him one last broadcast to say farewell, Azinger's call of the Ryder Cup in September at Marco Simone turned out to be his last with the network. It's unclear who will be in the analyst chair next month at the Hero World Challenge, or when NBC resumes its regular PGA Tour broadcast schedule in 2024.
So who should pick up Azinger's mic? Golf Digest writers mulled a handful of questions about the departure and what the network should be considering in finding a successor to join Dan Hicks in the 18th tower.
Azinger's tenure as a TV commentator at his various stops has drawn both raves and criticism. What was your assessment of his time in the booth?
Azinger wasn't afraid to criticize anyone and everyone, an increasingly rare trait to see from the booth. However, his lack of preparation and homework became noticeable in recent years. It's tough to see him go, but it's the right decision. —Joel Beall
I might be a bad one to ask, because I've always liked Azinger's personality, and the stuff that got under the skin of the more discerning golf viewers never quite bothered me. When I think of the top 10 things that bother me about an average golf broadcast, Azinger was never one of them. That said, I understand the criticism that he was coasting lately, so it's not like I'm enraged at NBC either. It's just unfortunate, and I do hope Azinger has some public role still to play in the golf world. Ryder Cup captain, anyone? —Shane Ryan
I thought Azinger was a very good successor to Johnny Miller in that he wasn't afraid to speak his mind and was sharp at analyzing situations. He wasn't there to always just pat guys on the back. He was never a stats guy, so some thought he came across as unprepared. But knowing the guy, I wasn't of the opinion that he would ever mail it in. He played to his strengths. —Dave Shedloski
Sorry Dave, but he sounded unprepared to me. There's a reason he was routinely a punching bag on Golf Twitter. Replacing a legend is never easy, but he didn't do a good job. And rarely do so many fans agree on something. —Alex Myers
Much like the loveable uncle who trots out the same lines and stories during the Thanksgiving NFL games, I really didn't mind Azinger and his clichés all that much. The problem? Usually, you only deal with that uncle in small doses. Once or twice a year, tops. Zinger, meanwhile, is on our TV screens every other Sunday, often calling the biggest events. I can see how the 19th retelling of the time Phil Mickelson was scarfing down waffles while sitting on the 54-hole lead at whatever tournament would begin to wear on the viewers. I personally found it hilarious, in addition to the "straighter than train smoke" line and "players choke over two things: prayshure or prestige" line, but again, I get why others had had enough. —Christopher Powers
What would you say a golf analyst should bring to the table to make sure a good broadcaster?
You need the obvious stuff—all the knowledge and TV poise and etc. etc. But what I'd love to see is NBC focus on personality and energy, because when I'm watching a golf broadcast. What I want is someone relatable, with the right energy, and some charisma and intelligence. I personally don't think golf needs a Tony Romo equivalent—some hyper-intuitive who sees himself as more of a teacher—nor do they need someone who forces jokes down our throats. It's a cliche, but I want someone that would be fun to have a beer with, or to play 18. —S.R.
Bring back Lee Trevino. The analyst has to be insightful, but in this era, he should be able to entertain. Give me smart commentary, some humor, spin some yarns, offer instruction or situational lessons on the fly. —D.S.
Please bring some energy and some knowledge of modern stats. That's shouldn't be too much to ask for someone sitting in such a coveted chair. —Alex Myers
What's something "outside the box" that golf broadcasts need to consider to make them more interesting overall?
Make the presentation more conversational. The majority of play-by-play is unnecessary or superfluous. Viewers would learn so much more—and be more entertained—if a broadcast mirrored the back-and-forth of a podcast. —J.B.
I'm with Joel. I think the default position when making a new hire is, "let's not screw this up." And within that context, you're not going to take huge risks. But in the long-term, there's a massive opportunity for the first broadcaster that tries to break the mold and can pull it off, particularly with young viewers, and I believe an adapted podcast model is the way to go. Today, we only see that once in a blue moon, and it's relegated to ESPN+ or something similar, but there are plenty of content creators out there who have proven they can grow an audience independently, and I can't help but think they could succeed under the right conditions on a network broadcast. —S.R.
What I wish I saw / heard from a lot of television booths, no matter the sport, is less. Less is so much more in this occupation. Shoutout Pat Summerall. Interject when necessary with a thought or a piece of knowledge that the viewers at home might otherwise have never known or thought of. Cut the mindless chatter and definitely don't be afraid to be critical in big moments, a la Johnny Miller. Of course, with the incessant ads and "playing through" nonsense, I'm sure these guys feel like they only have so many moments to actually speak, which can lead to them overdoing it when it comes time. —C.P.
Who should NBC hire to replace him?
Geoff Ogilvy would be a home-run hire. Knowledgeable on so many fronts yet can distill that knowledge in ways the average fan can digest. I would also like to see Jim "Bones" Mackay given a chance. We already have proof of concept that he can get the job done. —J.B.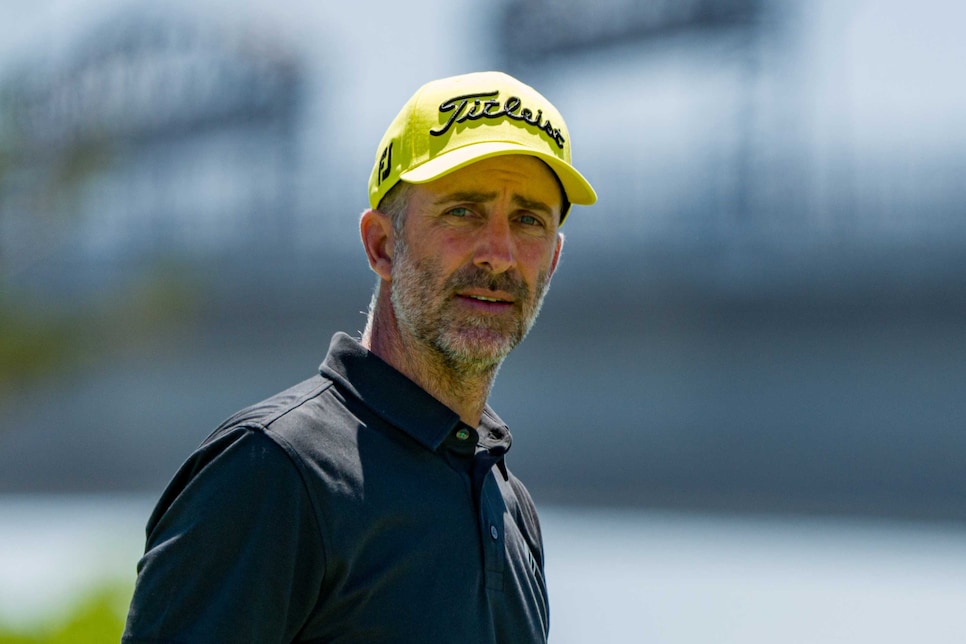 Matt Every. Unfiltered as hell and he's a young voice that might connect with younger viewers. Novel concept. But what the hell do I know. —C.P.
My first thought was Geoff Ogilvy, too. Very well spoken. Opinionated. Knowledgeable as a major winner and competitor as well as a course designer. He has a lot to bring to the table. —D.S.
Ogilvy would be great because he'd be much better at bridging the old school ("Pressure!") with modern stats. Plus he still plays some so he's more plugged in. Brandel Chamblee wouldn't have the same relationships with current players, but at least he would always know what he's talking about. Unfortunately, Phil Mickelson has probably burned too many bridges, and Tiger Woods isn't ready to retire or they'd be fantastic. —A.M.
Give all the money to Paul McGinley and let him roll. —S.R.