Courses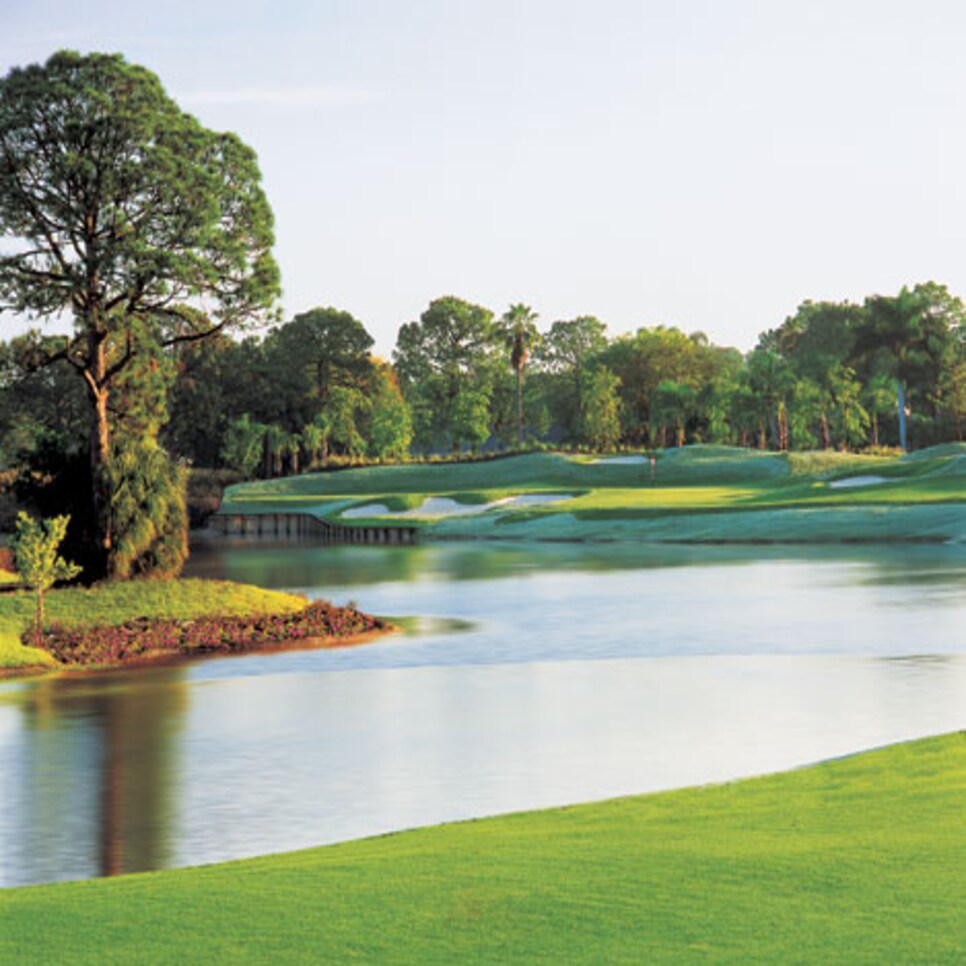 The playa's the thing: No. 18, a par 4, at the completely redesigned La Playa Golf Club.
There may be some travel destinations that have changed more in the past decade than Naples, Fla., but there can't be many. Once a sleepy little village on the Gulf of Mexico, in the late 1990s it evolved into what The New York Times called "Florida's chicest city," a place to rival Palm Beach as the place to winter. Collier County's poky little retirement villages have made way for ritzy gated communities, fine restaurants and a trendy A-list crowd that buzzes in and out of Naples Municipal Airport in private jets.
All the Platinum Coast lacked in its transformation from Crackerville to Carmel of the East was a platinum resort golf experience. For years, the only place for the traveling golfer was the Naples Beach Hotel Golf Club, and that 1940s design was hardly in the same league with Florida's other five-star golf destinations. If you wanted high-end golf, you had to visit a private club such as Hole in the Wall.
That is, until the late 1990s, when Greg Norman and H. Wayne Huizenga started making helicopter visits across the Everglades from their headquarters on the state's east coast. Norman came first to an old tomato field three miles east of the existing Ritz-Carlton hotel on the beach. From those 800 acres he carved out a 36-hole golf club called Tiburón, which is Spanish for shark. Huizenga, the South Florida entrepreneur, golf lover and owner of the Miami Dolphins, hired Rees Jones to design 18 holes south of Tiburón for the Registry and Edgewater Beach hotels. Soon after, courses designed by Raymond Floyd and Bob Cupp opened. Almost overnight Naples was on the map as a place to take the clubs.
Naples used to be practically inaccessible, but that ended in the 1980s when Southwest Florida International Airport opened 30 minutes away in Fort Myers. A decade later, Interstate 75 wrapped around from Tampa/St. Pete to Fort Lauderdale, connecting East and West. Now it's a little more than an hour across Alligator Alley on a four-lane road through the heart of the Everglades. That makes South Beach doable, especially on a moonlit night.
The beauty of Naples is that it never really shuts down. The high season runs from January to April, and the average winter temperature is in the mid-70s. Price points range from steep in-season ($659 a night at the Ritz-Carlton Golf Resort) to remarkably affordable once the snowbirds head out. Sure, it is brutally hot in the middle of a summer afternoon, but there are worse places to be than Naples beach on a July 4 weekend, paying less than $200 a night, with your toes in the Gulf of Mexico and a frozen drink going down slow. And though staying "on property" will help your chance of getting a prime tee time, you can check in at the Courtyard Marriott on U.S. 41, and they'll take your credit card at any of the resort courses -- year-round. Naples is pretty laid back, whether you can afford it or not.
Tiburón G.C., Gold Course/Black Course (239-594-2040, $60-$225).
Norman got a lot of attention for his high-testosterone Great White Course at the Doral in Miami, but his resort courses aren't always more ego-busting than playable. At Tiburón, there are none of the the Pinehurst-type greens that re-route approach shots into nasty collection areas or the sharp-edged coral rock that Norman used to border water hazards at Doral. Other than a few forced carries and tight tee shots, Tiburón doesn't require you to be Greg Norman to play it.
The Gold Course, site of the Franklin Templeton Shootout, is a composite of the original North and West nines. The Black Course combines the tight South nine with nine new holes that opened last year. Norman's trademarks—fast fairways, tight lies around the greens, no rough, transition areas of coquina shells, and sod-wall bunkers—are all on display. By not moving great quantities of earth, and letting native vegetation serve as buffers, Norman has created 36 holes that you could play every day.
Tying the package together is the Ritz-Carlton Golf Resort, a 295-room castle overlooking the Gold Course and the Rick Smith Golf Academy. Just a shuttle ride down Vanderbilt Avenue is the Ritz-Carlton-Naples, with a private beach, a 51,000-square-foot spa and the area's best grouper sandwich at Gumbo Limbos.
Naples Grande G.C. (239-659-3700, $75-$175).
Land in Naples is basically flat, but Rees Jones knows how to move dirt, put contours in greens and use his surroundings as well as anyone. The centerpiece of the 250-acre site is a 30-acre lake that Jones featured on his signature hole, the par-5 16th. With the green sitting 20 feet above the water, it makes for a white-knuckle approach. What's smart is that Jones designed the course to be progressively more difficult, allowing the resort golfer time to get the feel of his or her game. There shouldn't be any morale-killing big numbers on the card early.
Like Huizenga's Floridian Golf Yacht Club, there are no homes or condos on the course—a feature almost unheard of in resort golf. The amenities include a Tom Patri Golf School and two first-rate hotels. Huizenga recently pumped $21 million into the Registry, though if you have a family or a foursome that wants to bond at night, the Edgewater Beach features 126 suites with full kitchens.
Raptor Bay G.C., not yet rated (239-390-4600, $55-$185).
The charm of Raptor Bay is its playability and the way it fits into the environment without encroaching on the wetland preserves. This Raymond Floyd design features no traditional sand bunkers, no rough and not that many forced carries. That may or may not be a reaction to the criticism Floyd took for putting too much teeth back into the Blue Monster course at Doral. Floyd placed an emphasis on the short game by building Donald Ross-type greens that spill into collection areas. In other words, leave your 60-degree wedge at home.
La Playa Golf Club, not yet rated (239-597-3123, $65-$165).
Bob Cupp took the tired Palm River course and created an environment that combines the shot values of a links and the beauty of a tropical garden. It works. When it opened for play in January 2002, Cupp had moved more than 600,000 cubic yards of dirt, landscaped with 3,000 trees, added 19 acres of water features and given the course some elevation changes by piling up the landfill used for lakes into what the club calls its Himalayas. Throw in a David Leadbetter Golf Academy, a big new clubhouse, and a 189-room resort and spa on the gulf, and LaPlaya becomes a sleeper pick in a market that suddenly has a lot of resort-golf options.
Naples Beach Hotel G.C. (239-261-2222, $57-$120).
This is what Florida golf used to look like, right down to the thatchy Bermuda greens. The Watkins Family, which has owned the resort since 1946, wants to keep the charm of Old Naples intact. It doesn't have man-made waterfalls or some of the other New Age accouterments of its rivals, but it's still nice to go back in time to the way Naples was before the golf rush. The South Florida PGA Open is just one of many tournaments played here annually. Renovation work is continual on the hotel, which now has a spa as well as 318 rooms on the Gulf.
One of the area's best new courses is Fiddler's Creek, a two-year-old Arthur Hills design on nearby Marco Island. Though it is private, you can play the lavishly landscaped course if you stay at the Marco Beach Ocean Resort (800-715-8517), a 100-suite hotel that opened in late 2001. In the December-April high season, a one-bedroom starts at $379 a night, and green fees at Fiddler's Creek are an additional $212. Discounted rates are available, however, if you stay more than one night.
Course ratings are derived from the exclusive 5-star Golf Digest Places to Play scale. A single star represents "basic golf." Five stars indicates "golf at its absolute best." Golf Digest's Best Places to Play guide, based upon the ratings of tens of thousands of readers, is available for $24.95.
Very good. Tell a friend it's worth getting off the highway to play.
Outstanding. Plan your next vacation around it.
Superb. Golf at its absolute best. Pay any price to play at least once in your life.
The equivalent of one-half star.
If a course has no star rating, it means that the course did not receive a minimum of 10 ballots, either because it is very new or simply was not visited by a sufficient number of Golf Digest readers. If you've played one of these courses and would like to rate it, click here.