News
When a very pregnant Annika Sorenstam visited Golf Channel's Grey Goose 19th Hole on August 19 to talk about her friend Tiger and the upcoming Solheim Cup, she muttered something about how difficult it was for her and husband Mike McGee to agree on a name for their unborn daughter, who was due to arrive September 18.
Most parents have some initial disagreements about what to name their children, but eventually come to a decision. It seems the McGees were battling it out to the very end. They even put up a poll on Sorenstam's blog.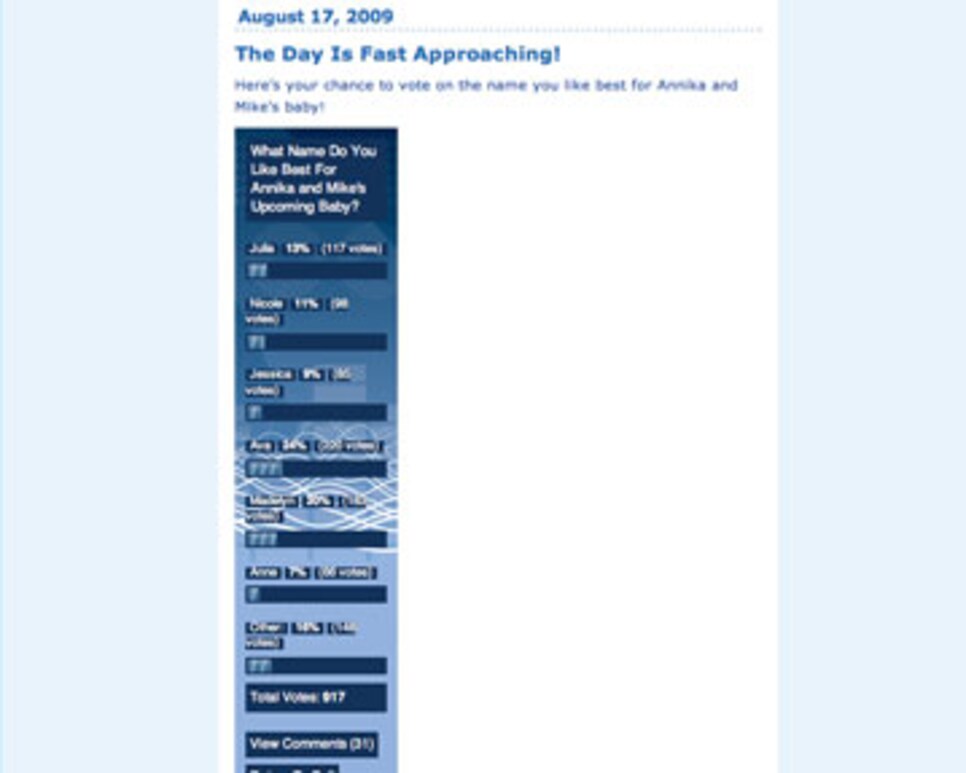 So did Sorenstam and McGee actually let the people decide what they should name their baby?
Not exactly. Back in June, Sorenstam did an interview with the Swedish website golf.se while visiting her home country. In it, she revealed that she and McGee had already narrowed it down to two names but were deadlocked on which should come first. "I like 'Madelene' [the Swedish spelling], Mike likes 'Ava,'" she told reporter Carl Magnus Hellsten. "He has already come up with a logo, with the two 'A's, just like in 'AnnikA.' We've gone through a lot of names, but these are the only two we agree on. We'll see what happens."

It seems the couple eventually decided that father knows best. Or perhaps they agreed to let the online poll determine which of the two names should come first. (In which case, Sorenstam might want want to make sure her husband didn't do any ballot-stuffing.)
Either way, GDW offers its sincerest congratulations.