News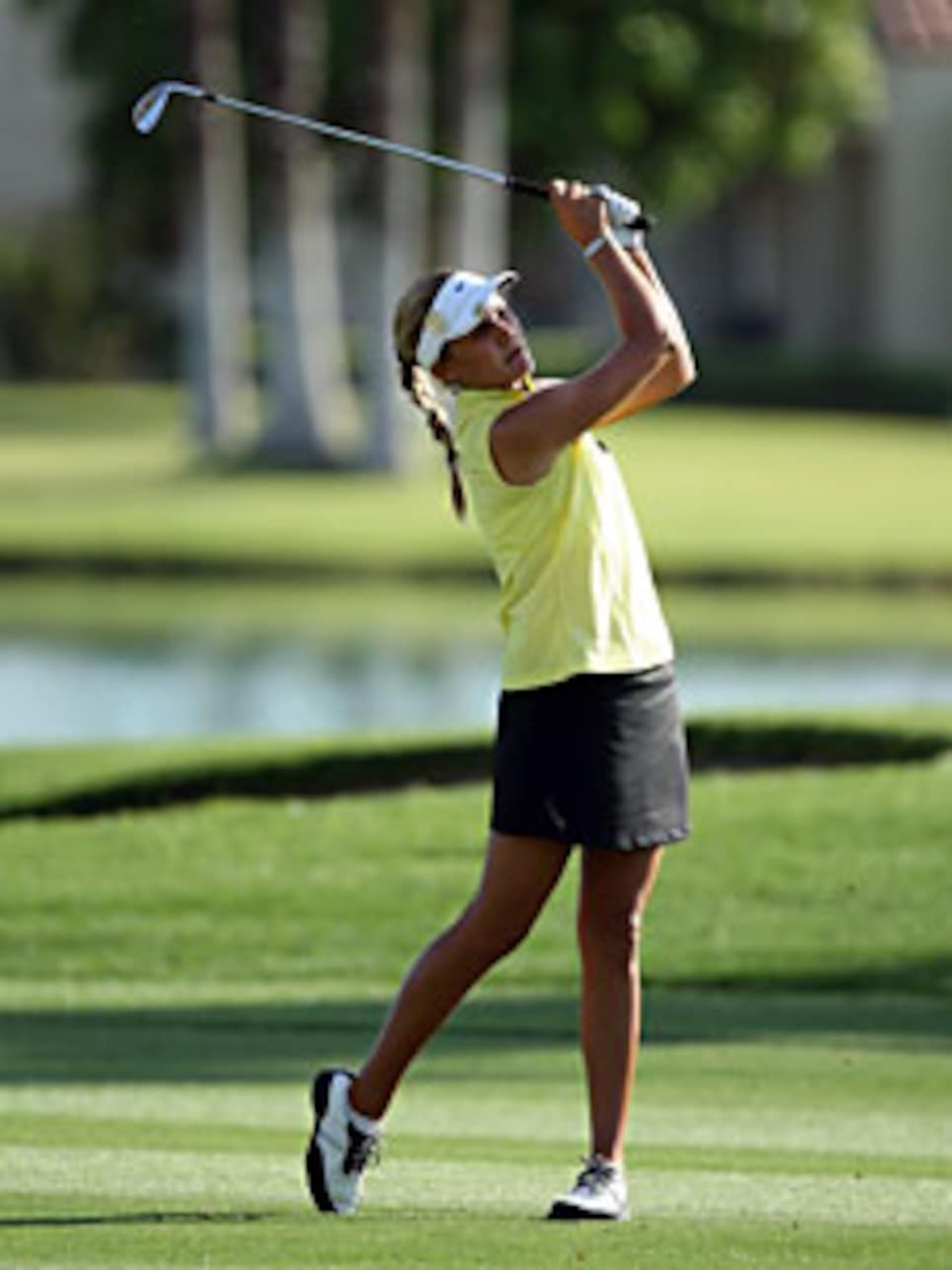 Alexis Thompson was already the youngest player to compete in the U.S. Women's Open, but she wants to stand out for more than her age.
RANCHO MIRAGE, Calif. -- Braces on her teeth speak to her youth, but her golf game bears the refinement of age. Alexis Thompson is 14, but her golf is all grown up.
This is the verdict, based on 36 holes of evidence on the difficult Dinah Shore Tournament Course at Mission Hills. Thompson stands at even-par 144 in the Kraft Nabisco Championship, good enough to advance her to weekend play, good enough even to keep her within striking distance of the lead.
"I'm not surprised, not at all," her coach Jim McLean said. "Yeah, for a 14-year-old, but not for her. She came out here to play well. She can compete. I worked with Cristie Kerr forever. Cristie is a phenomenal player. And you can tell when someone's got the gift."
Thompson already has qualified for and played in the U.S. Women's Open twice (and was, at 12, the youngest ever to play), is the reigning U.S. Junior Girls champion and only a few weeks ago finished second in the Florida Women's Open.
"I think she's got all the potential in the world," McLean said. "She's a beautiful athlete. She's got a great golfer's body, a great athletic body. She hits it long. She's very competitive. She wants to play. She comes from a great golfing family. They're all good, all very supportive. She's got the whole package."
Alexis' brother Nicholas is in his third year on the PGA Tour, and even held the lead for a time Friday in the Shell Houston Open, yet his future doesn't loom as bright as that of his little sister.
That she is too young to understand how difficult the game is has eliminated the seams in her transition from junior amateur golf to the women's professional game. Indeed, her performance here seems to be part of a pattern. Michelle Wie was 14 when she finished fourth in this tournament in 2004. Aree Song was 13 when she tied for 10th here in 2000.
"Yeah, they're fearless at that age," McLean said. "It helps. Girls develop faster than boys. Alexis just turned 14. But she's just learning. She's got a lot of upside. She's going to get better and better."
Thompson might have been threatening the leaders had her putter kept pace with her ball-striking. Even after four practice and two tournament rounds, she has not dialed in the speed of the greens.
"Overall I hit it good," she said, "but I struggled with putting again. I left a lot of putts short again. My head is going under and and I'm finishing really high (with the clubhead) and decelerating a lot. I'm not trusting it. I worked on that for about 20 minutes after yesterday's round and I'm going to do it again today. I need a lot of work."
Her dissatisfaction speaks to her mindset coming into this week. She did not come here wide-eyed and content simply to make the cut.
"Once I had a few practice rounds I knew I could do pretty well if I had my A game," she said. "I figured I was going to shoot a couple under."
She took her score under par twice with birdies on Friday only to follow each of them with a bogey that might have kept her out of the top 10. She attributed them to mental lapses, one of them the driver she chose from the tee at the narrow par-5 second hole. She blocked it right of the fairway, the first in a series of miscues that might have been averted with a 3-wood from the tee.
Thompson, at any rate, is a quick study. Though she missed the cut in each of her U.S. Women's Open appearances, she apparently has learned from them and grown more comfortable in a major championship environment.
"Two U.S. Opens was good experience for me," she said. "It's great being in them while you're young, to get the experience and see what you have to do when you grow up and how good you'll have to be."
When she grows up, the rest of women's golf in all likelihood will already be running for cover. Meanwhile, we ask only partly in jest, who let her out of day care?