News
Under Par, But On Level Footing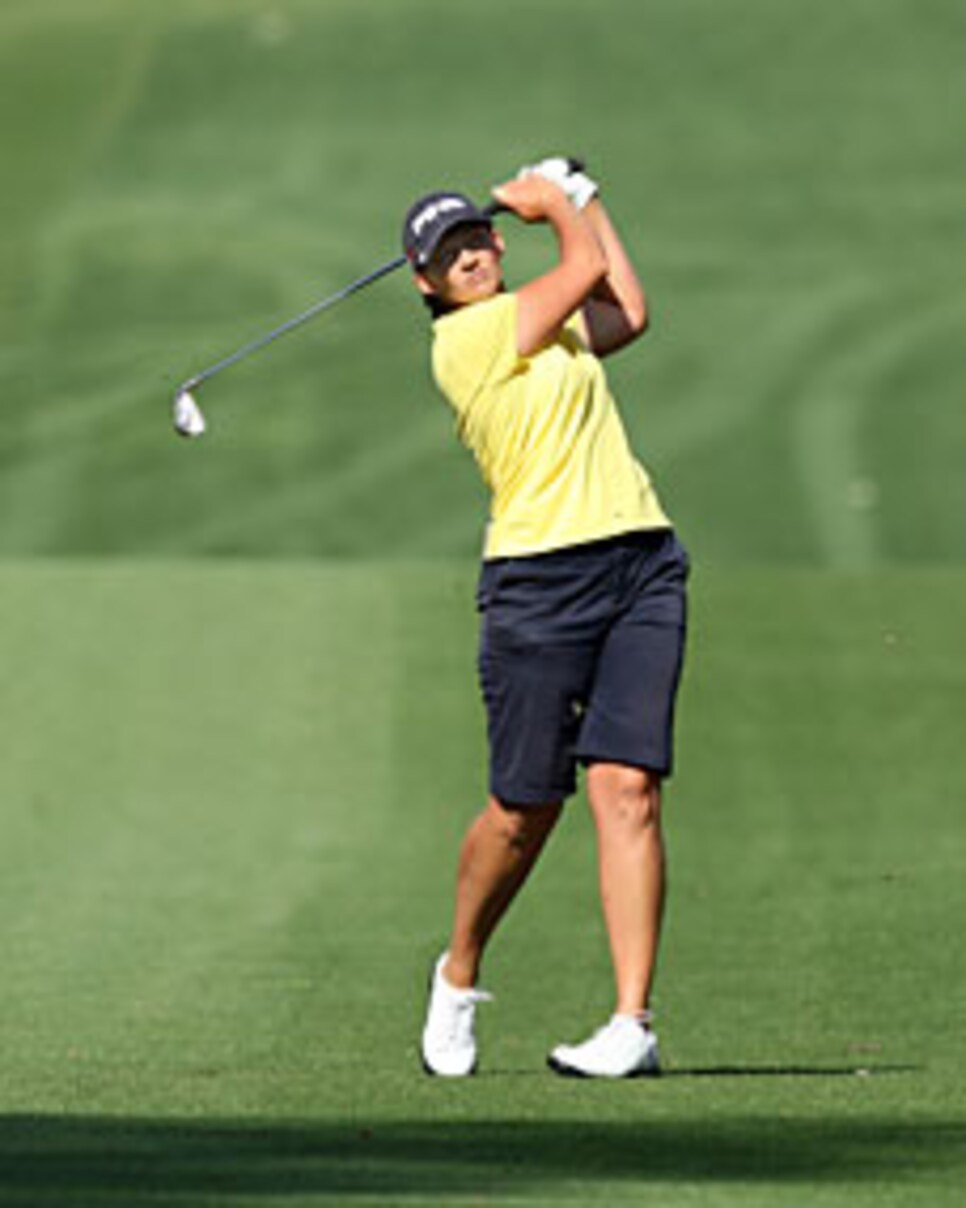 With three wins in the last six months, Angela Stanford has a chance at her first career major after opening with a 67 at Mission Hills Country Club.
RANCHO MIRAGE, Calif. -- Angela Stanford does not reside on Easy Street, though she likely could afford to do so, were she so inclined. Instead, she chooses to live in the real world, where others' concerns are her concerns, even by choice.
She won the Bell Micro LPGA Classic last September, earning $210,000, of which she gave a third away -- $50,000 to a pair of churches in Galveston, Texas, damaged by Hurricane Ike, the other $20,000 to the LPGA Foundation in honor of a veteran caddie, Jeff Jones, who had died a few days earlier.
"I think God blesses people," she said Thursday, a few minutes after concluding a round of 67 to open the Kraft Nabisco Championship in Rancho Mirage, Calif. "And I think He blessed me with that win. And I had a gut feeling early in the week, and I told my parents that if I win I'm going to donate to those churches because they need it. It was a blessing and I was just passing it along."
Stanford, 31, has played herself into a position to be able to give back, earning more than $1 million in the last six months, a majority of it coming in three victories, including the SBS Open at Turtle Bay to start the 2009 season.
Yet she remains grounded in reality, cognizant of the fact that wealth is not an entitlement, that the gravy train won't necessarily chug along in perpetuity. It is a perspective that often goes missing in professional sports.
"I've never feared for my job until the last couple of years," she told USA Today. "Some of my fear stems from the tour losing tournaments left and right. Some of it stems from the economy. I play golf for a living, and my livelihood is in jeopardy."
A struggling economy does not discriminate. It even touches sports, more so those removed form the mainstream, women's golf, for instance. The LPGA schedule has five fewer tournaments in 2009 than it had in 2008, and the outlook isn't encouraging.
"It's the same for everybody in America right now," Stanford said. "I think everybody is a little nervous."
That said, it only looks as though Stanford is playing with a sense of urgency these days. It has more to do with talent leavened with confidence than anything else. A tie for 15th in the J Golf Phoenix International last week was the only time she finished out of the top seven in her last 10 starts. She has won three of them, including the season opener that she said validated her play at the end of '08.
"Sometimes you don't know if it's just a streak in golf, or if your game is really getting better," she said. "I think the win in Hawaii made me feel like, 'OK, my game's getting better.' It was a streak and it was a great streak, but my game is getting better and better. So that win kind of validated my confidence in that area."
Her round on Thursday, which placed her a stroke behind the leader Brittany Lincicome, was two shots clear of her best score in five previous appearances in the Kraft Nabisco, an event that largely has confounded her in the past.
"I think it's just the newfound confidence," she said. "I believe I can hit certain shots, better shots. I feel like I can spin the ball a little bit more, so the shots that this course calls for, I feel like I have the confidence to hit them. In the past, I didn't have maybe all the shots that I needed to play this course."
Only a pair of three-putt bogeys from the fringe marred an otherwise flawless round that included an eagle three at the par-5 18th hole.
Is it a portent of another memorable week? A resume that tends to look more gilded by the week -- she's now ranked sixth in the world -- does not yet include a major championship. In 2003, she lost to Hilary Lunke in a playoff for the U.S. Women's Open.
But her game is more refined now, and if she is in fact playing with a sense of urgency, it isn't about the money. It's about the major.